The weather in Chicagoland can change drastically from one week to another. Last weekend we broke a record for the high when temps soared in to the upper 80's. This weekend I was hoping for some milder temps but the forecast was looking a bit chilly and rainy with temps below average.
The Gerbing heated liner Mike ordered came in but was too small for him and he just wasn't sure if we should tour all weekend in this cool weather because he didn't know if he was going to be too cold to ride having no experience riding the Tiger in colder weather with his Joe Rocket Alter Ego gear.
The leaves were definitely peaking in some parts of Wisconsin according to some websites
The plan was to ride the entire Kettle Moraine Scenic Drive. It is 115 miles that runs through six Wisconsin counties. The scenic drive is not 'a' road, but 'many' roads, marked by a Kettle Moraine Scenic Drive sign. The roads are marked very clearly and the signs are very easy to follow.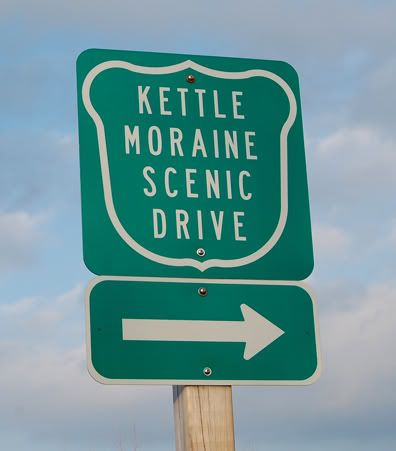 Kettle Moraine Scenic Drive signs
The roads consist of narrow rural roads, county roads and state routes. For us in the south, the drive starts at the Whitewater Lake in southeastern Walworth County and ends in the north, near Elkhart Lake in northern Sheboygan County. The scenic drive connects the South and North Kettle Moraine forests.
A moraine is glacially formed accumulation of debris which occurs in glaciated and formerly glaciated regions. Ten thousand years ago, the last continental glaciers receded from what is today Wisconsin, leaving behind a landscape of ridges, hills, lakes and wetlands. This beautiful and rare landscape stretches 135 miles south-southwest from Manitowoc County almost to the Illinois border.
The weather wasn't the only thing that had us concerned this weekend. Friday evening I had the hardest time finding a motel room around Elkhart Lake, WI. Everything was booked up for this weekend. After a pretty lengthy search and a bunch of phone calls I did end up finding a cheap motel room, but it was a smoking room (we don't smoke). I was tempted to make a reservation but in case we ended up not going, with a 24 hour cancellation policy, we wouldn't be able to cancel the room and we'd have to pay for it anyway. We were going to take a chance that the room was still available if we needed it.
So Saturday morning we got up, bundled up and took off. If and when Mike got cold we would just turn around and came back home, if he was OK, we'd call the motel and book the room and continue on. At 9:00AM it was overcast and in the upper 40's. Since I don't commute on my bikes anymore I haven't had an opportunity to ride the 954RR in the last two months, since we've been doing a lot of touring and I've been riding the ST3 exclusively. The good old Honda started right up but the tires needed some air, so we didn't leave until 9:30AM. It's always so weird switching to the 954RR after riding the ST3 for a month or two. It just feels so little and light.
I couldn't find the foam non-slide bottom for my Fieldsheer tail bag, which I need for the 954RR, because it has that slippery vinyl seat. It took two times of pulling over and re-strapping the bag, to secure it enough so it wouldn't slide in to my back. Yes, that is a GIVI rack on the 954RR but it really does change the handling of this bike so on short weekend trips like this when I don't need a lot of storage, I rather use a tail bag.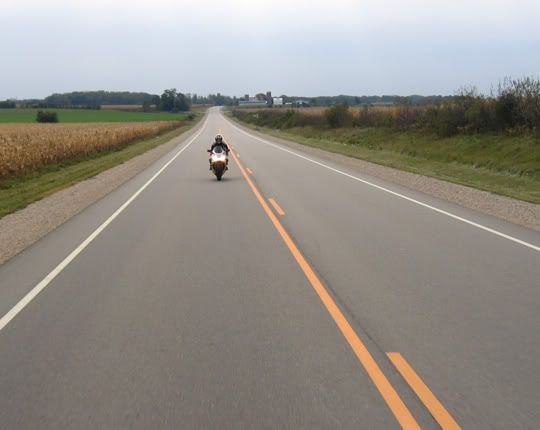 Straight roads of Illinois
In Harvard, IL we stopped at the McDonalds. I didn't eat yet today and was getting hungry. Breakfast was officially over so Mike and I grabbed some snack wraps to tie us over until lunch, which turned out like a good move since our lunch came 3 hours later then we wanted it to.

Entering Wisconsin
A few hours after leaving the house we made it to the start of the Kettle Moraine Scenic Drive near Whitewater Lake, WI. By the time we arrived in Palmyra we decided to make that call and reserve the motel room. We got lucky; the motel only had one room left.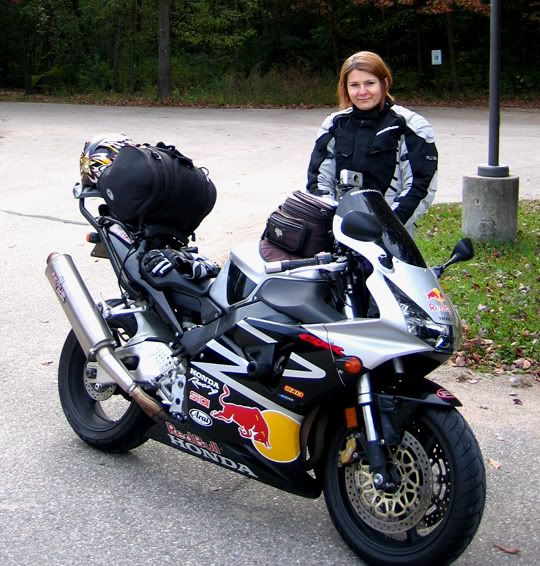 Taking a break at the Kettle Moraine state park
Now with the temps in the low to mid 50's we pushed on northward and the colors got better and better. Finally, a couple more hours later and it was very pleasant and 61 degrees, the high temp of the day. The clouds thinned out a bit too and the sun started to peak through. Sunshine makes a world of difference on a cold day.
A church in Eagle, WI

We have found some twisties
Hardly any colors in souther Wisconsin
Soy beans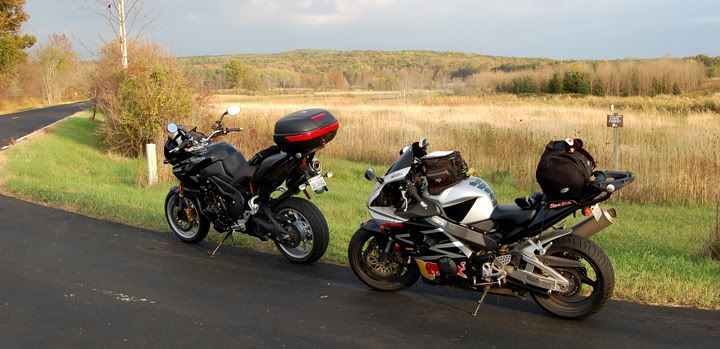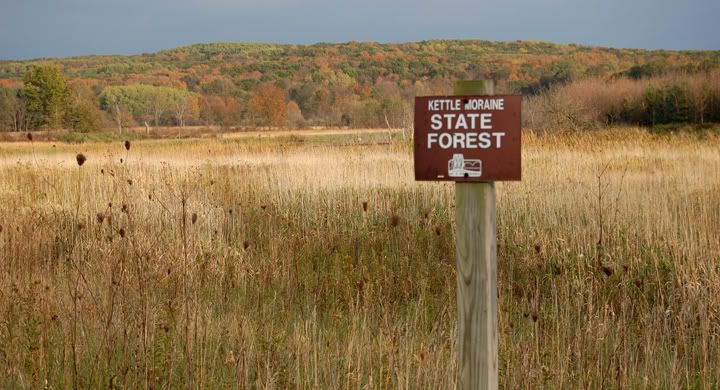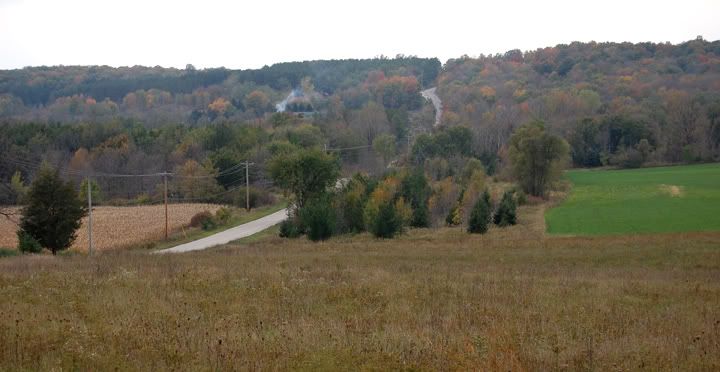 The heated grips now turned off and the Widder electric vest put away, enjoying the ride and the nice weather, we stopped at Holy Hill which I have been to before but Mike hasn't. We didn't have time to go and see it today and the place was packed anyway.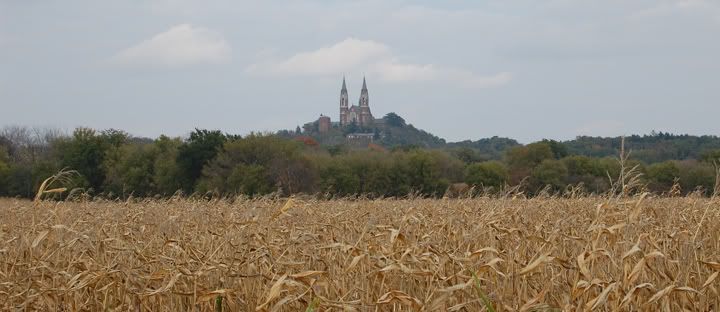 Holly Hill in the distance behind all that corn
On the road to Holy Hill (not part of the Kettle Moraine Scenic Drive)

Holy Hill is very impressive. It's located on the highest elevation of southeastern Wisconsin. As early as the beginning of the 1900's, Holy Hill was declared a Shrine of Mary. In 2006 the Shrine was raised to the status of Minor Basilica. The American Indians came to Holy Hill in the 1700s and perhaps even earlier because they considered it a sacred place. I'm not religious but I love architecture, old churches especially, and this neo-Romanesque style Church, with its stained glass windows and mosaics is quite a sight, especially here in the Midwest.




This is as close as we got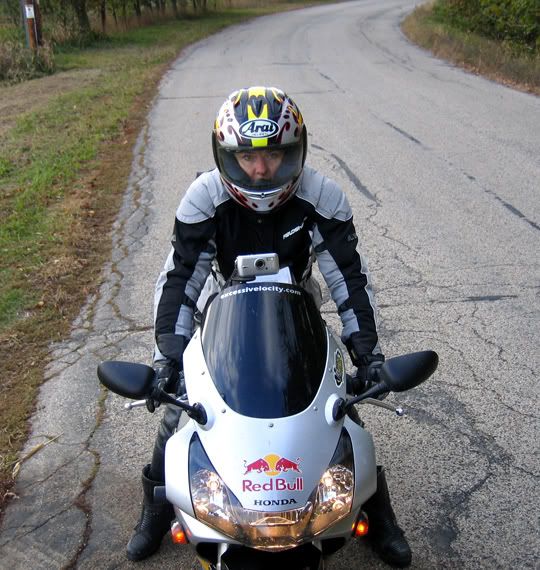 Lets go already


Finding more colors as we head north

Shortly after 1PM we started looking for a place to grab a quick lunch but didn't come across anything. Finally in Slinger, WI we found a few places to eat and settled on Sammy's Taste of Chicago.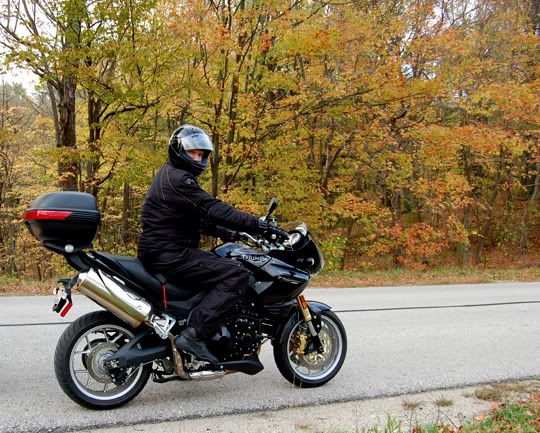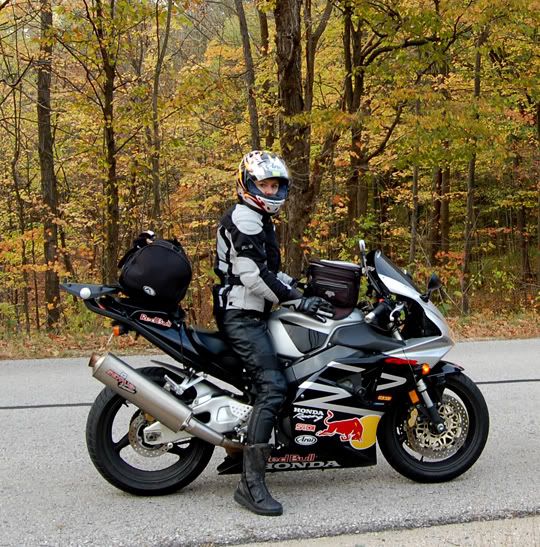 Slinger, WI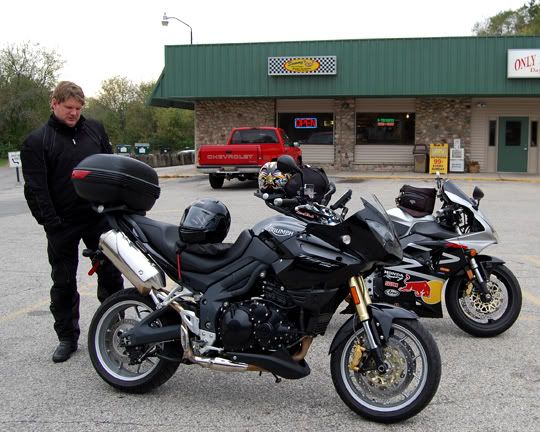 Parked in front of Sammy's Taste of Chicago in Slinger, WI

Slinger is best known the Slinger Speedway, the fastest quarter-mile asphalt track in the world. Back in the day, this town used to be called the village of Schleisingerville after its founder, Baruch Schleisinger Weil, a Frenchman who settled and developed this area in 1845.

I've been through Slinger two years ago and ate lunch at the Slinger House, a bar and grill just a couple of blocks from here, but a meal there would take a bit longer and we wanted to hit the road quick, the temps were going to start falling soon and we didn't want to ride in the dark, it was already 3PM and the sun was supposed to set around 6.




A pretty good lunch at Sammy's Taste of Chicago consisting of Italian beef for Mike, Chicago style hot dog for me and cheese curds for sharing.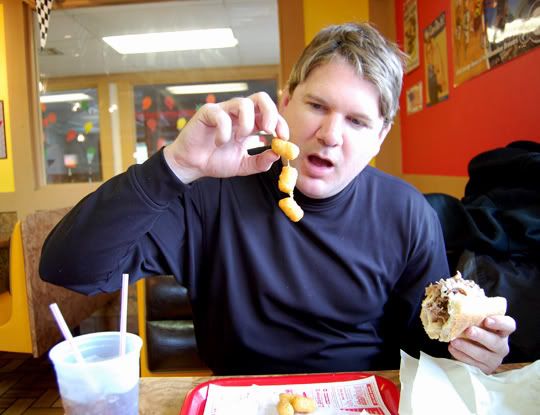 Cheese curd triplets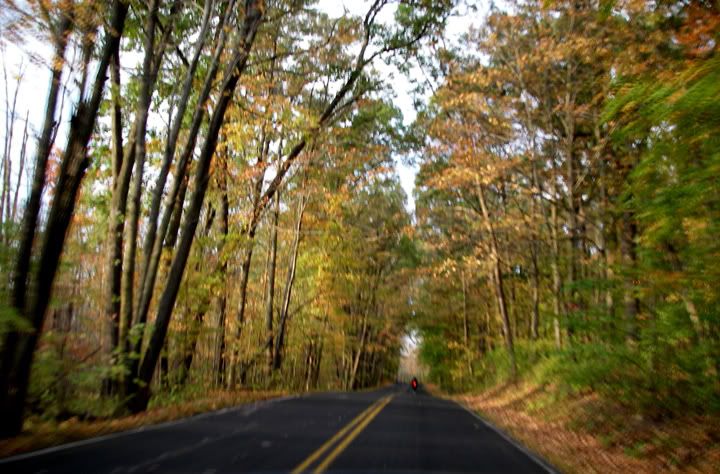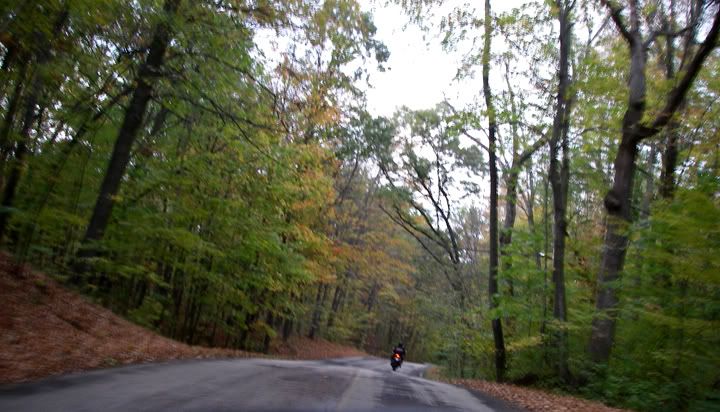 The Tiger and the 954RR in the woods
Snowmobile crossing... yes, we're in Wisconsin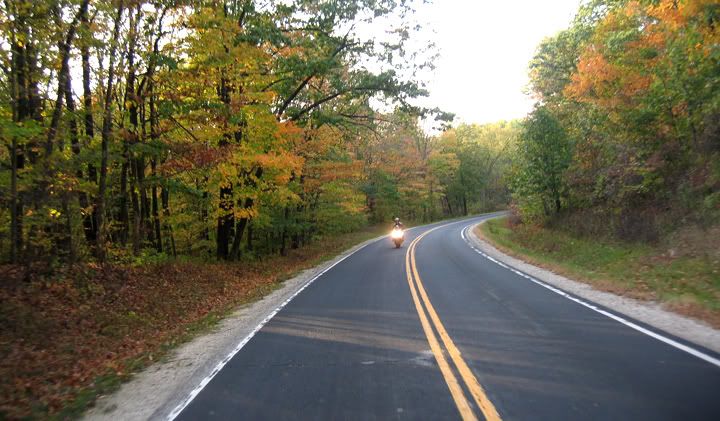 Our next stop was the Parnell Observation Tower located on County Highway U, one quarter mile west of County Highway A. With a series of steps leading to the highest point of elevation in the forest, the 60-foot observation tower rises above the treetops for a birds-eye view of the glacial landscape.


Illegal parking on the grass near the Parnell Observation Tower, see all those cars on the side of the road, they're doing it too




I guess no one wanted to pay the vehicle fee, I think it was $10




Walking the many stepts to the tower




Parnell Observation Tower

This was the only time today that we felt warm, even hot at times, that was while we were climbing the stairs to the tower and climbing the tower itself. The view was great and totally worth the climb. There was another tower that we passed earlier, or should I say missed, since we didn't see it. That one is called Lapham Peak located just south of Delafield. Lapham Peak has an elevation of 1233 feet above sea level, and is the highest point in Waukesha County. At the top of Lapham Peak is a wooden observation tower that is 45 feet.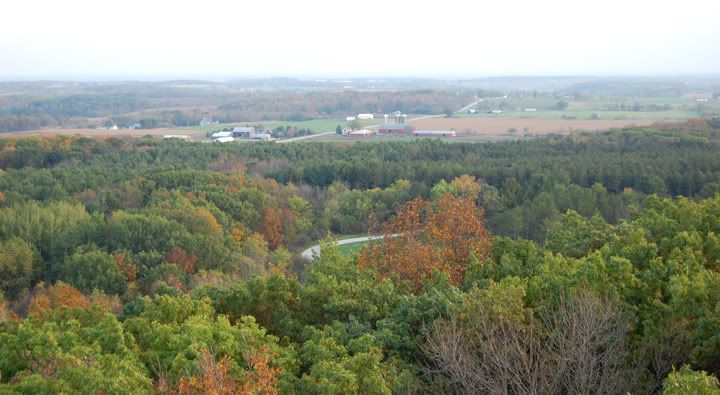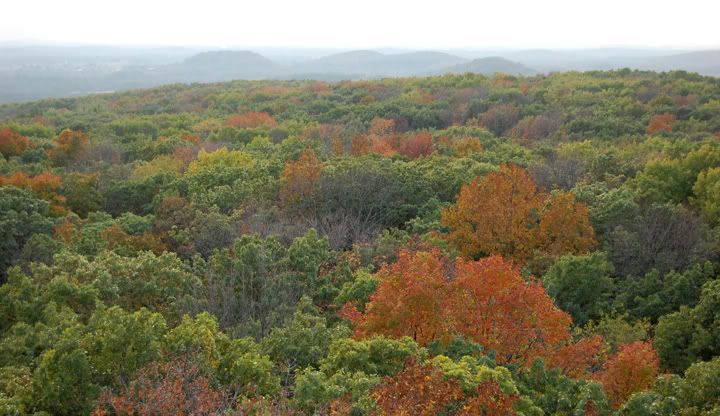 Views from the tower, it was worth the climb

Looking straight down, see the people?

The sun was sliding towards the horizon now and we needed to get going. Instead of finishing the Kettle Moraine Scenic Drive we turned towards Plymouth, WI and the location of our motel for tonight. We would have to finish up the scenic drive tomorrow morning before heading home. Riding through forests at dusk in never a good idea here in deer country.
Half an hour later we were in Plymouth, the sun had just set. Keeping with the theme of a "fall colors ride" we checked in to the appropriately named Maple Leaf Inn on State Road 57 just south of 23. At $49 a night it was exactly what we though it would be. The room was small but had a microwave and refrigerator. Even though it was a smoking room, it didn't small that bad. I'd definitely recommend it if someone was looking for a cheap and clean room.

The town of Plymouth was named after the town of Plymouth, Connecticut. It stared out around 1845 as a stagecoach stop on a Native American trail and wilderness road. It was first named Ta-quit-qui-oc by the Indians, meaning "Crooked River". The Mullet River was what first attracted settlers from New England and New York to this area of Wisconsin. Back in the early transportation years, Plymouth was known for the manufacture of wooden hubs. It was also popularly known as the Cheese Capital of the world for its numerous cheese plants.

I spent a few minutes on the internet last night checking out Plymouth's website before coming out here and knew exactly where I'd want to have dinner tonight. From the motel, it was a short ride to downtown Plymouth and to the address of 52 Strafford where there was a restaurant which was also cleverly called 52 Strafford located inside the Irish Inn. The 1892 building has the title of the longest continuously operating hotel in Wisconsin and the restaurant is listed as one of Wisconsin's top 100. http://www.harpandeagle.com/stafford_landing.html
We got there and we were told there would be a 20 minute wait for a table. I guess we must have looked surprised or something because the hostess quickly added that on Saturday nights reservations are suggested, even though this is a small town.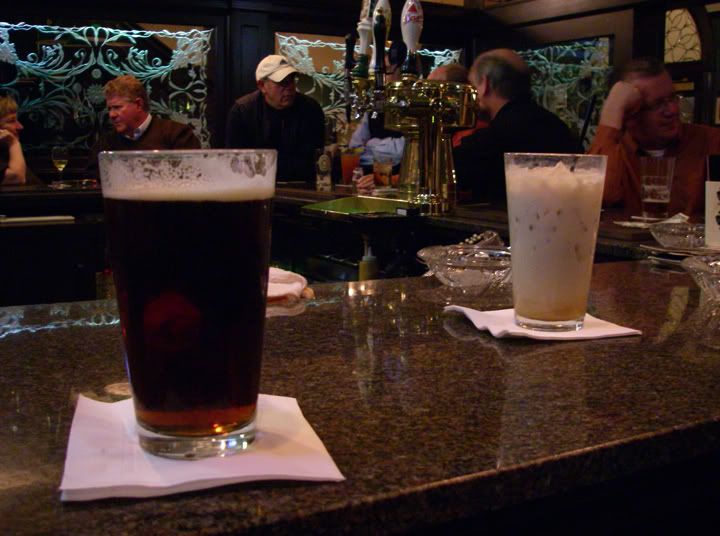 At the 52 Stafford bar waiting for our table

The place had three dining rooms and it actually didn't look all that packed, the hostess must have figured out that we were thinking that and also added that they only have one chef. Inside there is also an Irish Pub there so Mike and I went to have a drink. I had a glass of Smithwick's, which I've never had before and which was really tasty.
Our table
Our dinning room
30 minutes later we were at out table ordering our dinners. Dill salmon for me and shrimp fettuccini for Mike. The dinner ended up costing way more then out motel room and we didn't have any appetizers or dessert, this place is not cheap but I have to say that the Irish Inn is very charming, the service was good and the food was really, really good. Of course they sat us in the back dinning room next to the bathroom like the rowdy bikers that we are.
My salmon dinner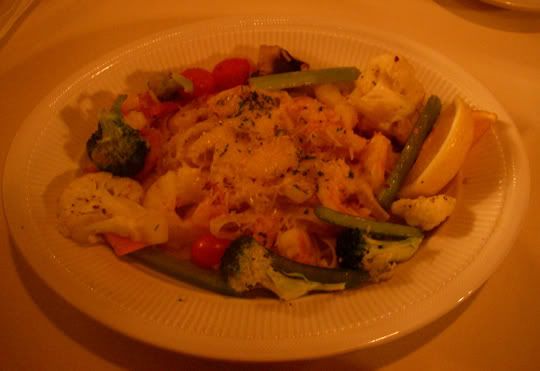 Mike's shrimp
It was a short but chilly ride back to the motel.