My ST3 has a new addition, the GIVI (it's actually a Ducati rack) but it's made by GIVI .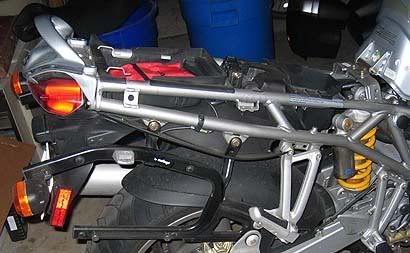 Rack install, removing
tail piece plastics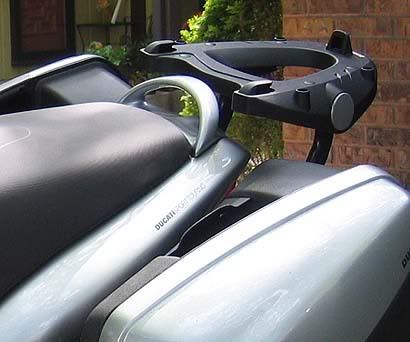 Rack for top case
The GIVI mounting plate didn't come with the rubber stoppers, otherwise I would have taken the top case out for a spin too. I've got some coming, so soon I'll be able to try it out with the top case.
Today was just a short ride, I was gone about 5.5 hours. I took the Olympia Airglide jacket and pants out for a longer ride, to see if they are tour worthy. They did OK, pretty comfortable, it was pretty warm today too, in the upper 80's even.
I managed to run in to rain, so instead of heading west and get wet I went south on 251 where the skies were still clear. Then I remembered the cool windmills off 251. I went past them to Mendota, stopped there for a drink and a snack and headed back.
I turned toward Paw Paw to get a closer look at the windmills, they are pretty cool but there was no where to pull over for a picture. The rain was moving in so I jumped on I-39, then it started raining, I got to 64 and headed for home. The temperature dropped and I was almost thinking of putting on the rain liner, I was a bit chilly, but then the rain stopped and it was pleasant again.
Even though I ran in to some rain, the weather was pretty nice today. Traffic was heavy in the suburbs as I got closer to home and even though the days are their longest right now, it was starting to get dark at 8:45PM when I got home.