I guess this is officially the first ride of 2008 and boy did we get lucky today. Today's forecast was calling for a high temperature of 39 degrees, partly cloudy, becoming cloudy by 2PM and rain starting at 5PM. We got up late but I wanted to ride even if it was for a bit.
Chicagoland has some weird weather. Last week when we got back to Chicago from out trip and we were welcomed with the single digits and lows below zero, but a few days later there was a warm up on the way. Last weekend it got up to 50 degrees but it was overcast and dreary. The roads were a mess with all the snow melting. Even though the temperatures were warm enough to ride and I did think about doing just that, we had too many things to do like unpack from the trip. Unfortunately, around here when you pass up a ride in the middle of winter you never know if the next time you'll get to ride will be the following weekend or in two months.
Today there was no snow on the ground and the temperature was above freezing, so a ride was in order. Once we decided we were going riding, the rush to get ready was on. I didn't want to waste any time since rain was on the way. Mike's bike was pretty much ready to go. He rode a bit a few days ago when the temps got in to the low 40's, working from home has so many advantages.
I haven't ridden the 954RR since November 4th, so today I was going to let it out of the garage for a bit. The bike was in Winter mode though, up on the front and rear stand, with the seat completely off and the trickle charger connected to the battery which is located under the seat. It took a while to get it unplugged, back on the ground, moved out of the garage and ready to ride. I thought getting the bike ready was going to be most time consuming part of getting ready for the ride - wrong. It took me way longer just to find my all my motorcycle gear and get all layered up than to get the bike ready. Finally, just before 2PM we were off.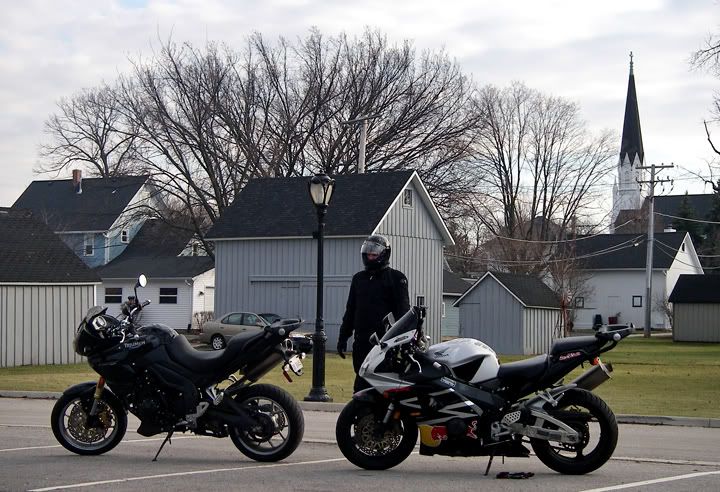 Taking a break in Itasca
A metra train going through the suburb of Itasca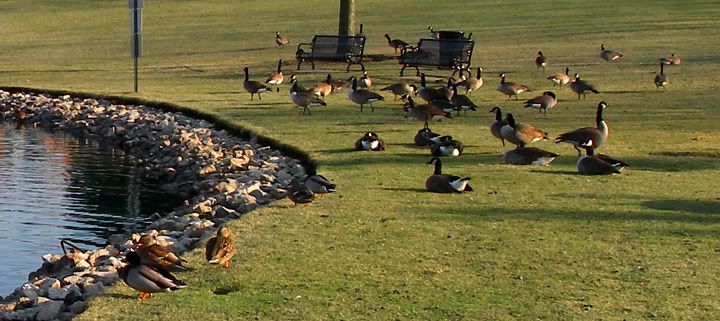 The Canadian geese enjoying some sunshine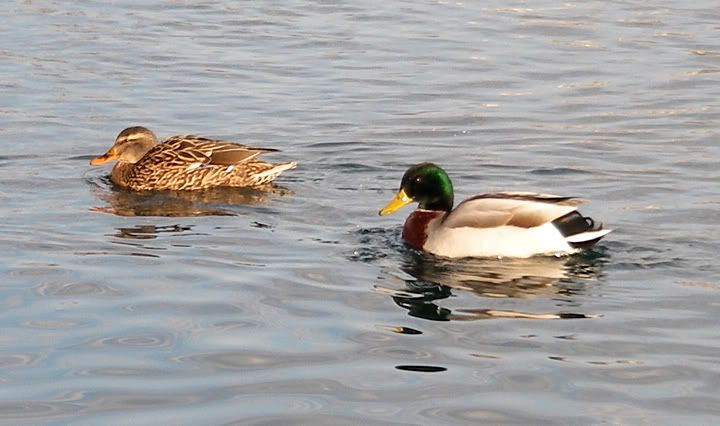 Looking at this pair of ducks, you'd think it was Spring already
We were just a few suburbs away in Itasca when we pulled over to take some pictures and to figure out where to go next. We should have been turning around by now, but the sun was actually out and there weren't too many clouds around so the threat of rain was delayed at least for now. We weren't cold either, most bank signs were displaying a balmy 42 degrees and at times I have to say that I was a bit warm. I was really bundled up today not wanting to be cold. Balaclava and wool socks, spandex leggings, liner for my Fieldsheer Adventure pants. Under my Marsee jacket I had the liner from my Marsee jacket and then the liner from my Fieldsheer jacket. Under that my Widder electric vest, a thin fleece zip up and a turtle neck. Plus the heated grips and only my regular riding gloves to let the heat though.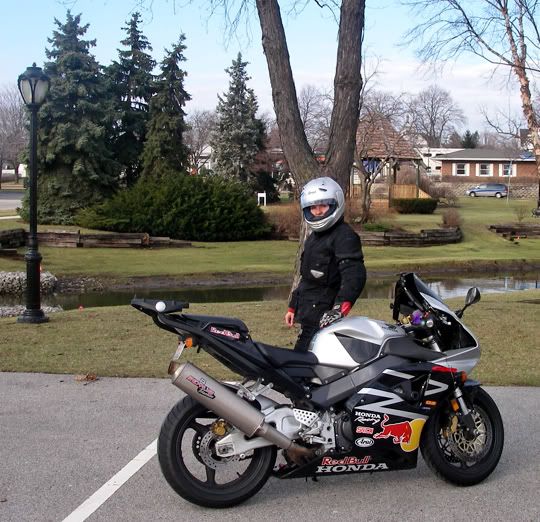 Bundled up like the Michelin man on a balmy January day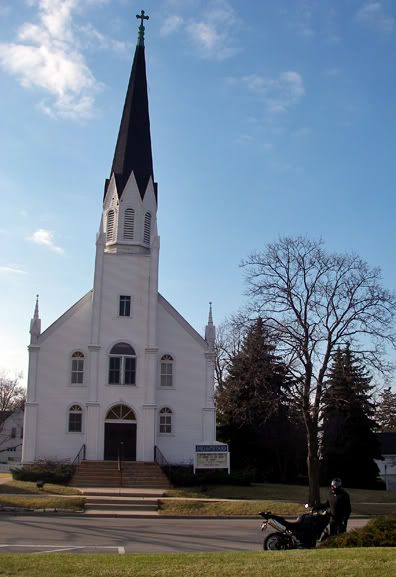 A nice white church in Itasca, reminds me of the one I pass on my way to work everyday in Lombard
So off we went, riding further away from home. We ended up in Barrington Hills, where I knew of a few twisty roads. Sorry Rick, had we known that we'd be up here we could have called you and possibly hooked up for a ride. It was a few degrees colder up here, so we just looped through and headed home arriving at sunset, which now a days is about 4:30PM.
Taking a break in Barrington Hills, that white stuff on the tires is salt from the roads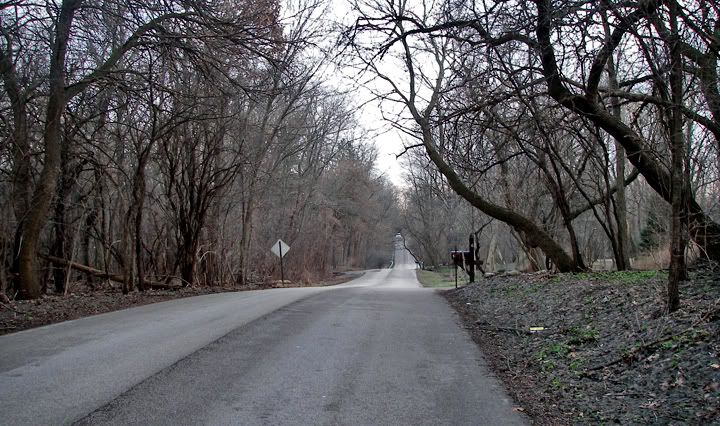 For as great of day it was today, we only saw 3 other bikes, two sport-tourers and one sport bike.
Bateman Road located between Penny Road and Lake Cook Road, was very wet with a lot of salt still on the road. It was hard to enjoy the 15MPH curves under these conditions. Funny, this road doesn't even look that twisty on the map. I was going to take some pictures of this curvey wonder on my way back, but we took another route back, not wanting to ride through all that salt.