This whole weekend was all about organizing. Now that my tools are organized in the garage, and every piece has its spot, I had needed to start organizing the rest of my junk. Since my move late this Summer, I've been living in boxes, too busy riding every weekend to take time out to figure out what I needed to get to become organized.
Since shopping yesterday wasn't too painful, I decided to head out to IKEA, hoping that no one was shopping for furniture on Thanksgiving weekend. It wasn't too bad and I came home with 3 pieces. Got to give some props to IKEA, the instructions were phenomenal and the fasteners were genius, no wood glue, no mess. By myself I had the biggest piece assembled in less than 2 hours, an entertainment center for a TV. Of course I didn't use the allen wrench ikea provided, I used my t-handle hex key set to assemble it. The chair I bought needed very little assembly, but the table was a different story. It had metal legs that needed to be screwed to the table top. There was no tool in the box with this piece and I realized that I didn't even own a screw driver, it was on my list but I just simply didn't need one yet. But screw that. 4 legs, 5 screws each, I needed more than a screwdriver, I needed a power drill/driver, which wasn't on my list of tools to buy.
So back out to the store I go, at least there were some good sales out there, so I got every thing really cheap.
I'm now an owner of a Delta 9.6v cordless drill/driver.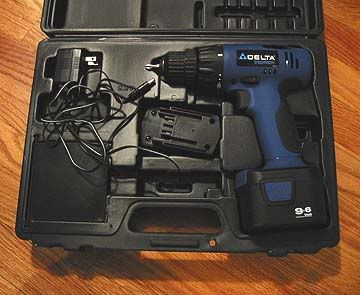 So you are curious why I bought a Delta instead of Black & Decker or Skill. There was a sale on the Delta, $10 off regular price, which made it about $15 less then the Skill, my preferred brand. The Black & Decker power tools were cheaper and I like orange, but I just didn't like their esthetics. It didn't sit as nice in my hand as the Delta or Skill drills. The Skill is red, and I'm not a fan of red. The Delta in navy blue, I like navy blue. It looked the best of the three. I placed it in my hand, the rubber grip felt nice in my palm, the weight was distributed evenly, the controls black and easy to work. Maybe that's not the way most people would buy a power tool, but the specs were the same, the prices similar so I decided to buy the pretty drill.
And since I was there I picked up a drill and drive set and a set of regular screwdrivers too.