I'm one of those people that want to ride a motorcycle in every state. Actually what I'd really like to do is tour all of North America and tour each state extensively, but since that would require a lot of days off and I only have two weeks of vacation per year plus holidays, that's just a dream for now.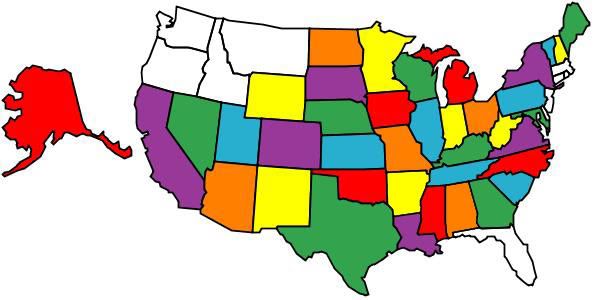 My visited states are colored in, the ones I still need to ride in are white

For now I'm just happy to ride every state, but that isn't my focus, if it was I'd be done already. It's just one of those things that I try to incorporate in to my sport-touring and dual-sporting rides. I like to go and see new places. As rides come up, I try to incorporate new states in to my route. The reason I want to ride in each state is to have a better understanding of how the terrain is, how the roads are and what makes each state unique. It's not just about checking states off the list although I like checking them off to show my progress.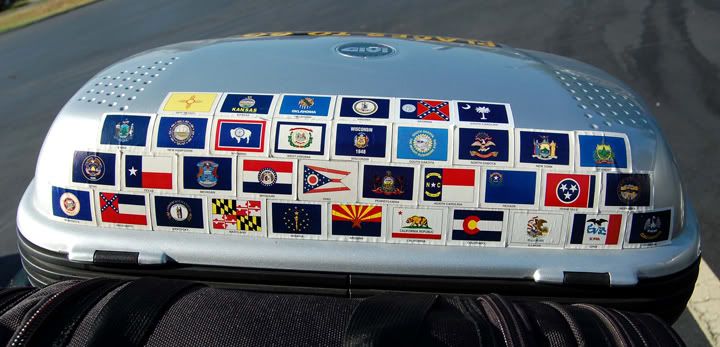 For every state that I ride in, I place a sticker of that state's flag on my GIVI top case
So little by little my progress continues. So far I've ridden in 39 states, which means I have 11 more states to go. I also want to ride in Canada and Mexico.

I still remember the first time I rode in each state and on which bike. Those are special memories since there is only one "first time".

I didn't sport-tour when I started riding, my first two bikes never even left Illinois. The bike I started sport-touring on was my Honda CBR 600F4. In 2001 I did Indiana, Kentucky, Wisconsin, Iowa and Minnesota. I also towed the bike to Pennsylvania and rode in Maryland.




First time in Pennsylvania – This is Hershey, PA - notice the street lamps are shaped like Chocolate Hershey kisses

In 2002 I bought a Honda CBR 600F4i and continued touring on that bike for the next 4 years. Well, not so much at the end since I got the 954RR which became my dedicated sport-touring bike. The new states I saw on the F4i were Tennessee, North Carolina, Michigan and Missouri.




First time in Tennessee - above picture was snapped at the KY - TN state line

The big rides came with the purchase of the Honda CBR 954RR in 2003, which became my ultimate sport-touring bike and was capable of long distance rides. The new states the 954RR took me to were Nebraska, Colorado, Wyoming, Utah, Arizona, Nevada, California, Texas, Louisiana, Mississippi, Ohio, South Dakota, North Dakota, West Virginia, New York, Vermont, New Hampshire and Maine. This bike has been coast to coast, not as one continuous trip, but as many trips. On this bike I have also been as far north as the Canadian border and as far south as the Mexican border.


First time in Colorado, Northeast of Cortez, CO

In 2005 I bought the Ducati ST3, my first real sport-touring bike and continued riding more new states. On this bike I finally visited Arkansas, Oklahoma, Kansas, New Mexico, South Carolina and Georgia. More new states will be visited this summer as I'm planning to finish off the east coast and start on the Canadian provinces.




First time in New Mexico - NM - OK state line

Even my little Dual-Sport Yamaha XT225 has been going to new places. With this bike I have ridden for first time in Virginia and Alabama.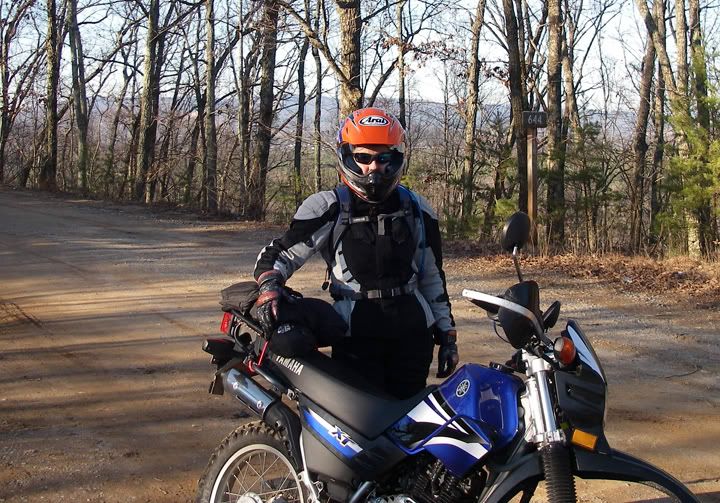 First time in Alabama - Talladega Mountains

In 2006 while I was in Alaska, I borrowed a bike to ride, but I do hope to tour Alaska in the future and actually ride there form home.




First time in Alaska - Somewhere between Anchorage and Girdwood

So what's left on the "to do" or more like the "to ride" list?

Florida
I was going to have that one crossed off the list two months ago, we had our dual-sports in Florida, we were planning to ride the western part of the state, but we got rained out. All the dirt roads were super muddy. I'm bummed, who knows when I'll have the opportunity to ride Florida again.

Connecticut, Delaware, Massachusetts, New Jersey and Rhode Island.
So it looks like I have 5 small states left on the east coast to ride my motorcycle in. I hope to be able to get those done on the way back from Canada this summer.

Idaho, Montana, Washington and Oregon.
This is a trip I'm hoping to do in 2009.

Hawaii
I guess the only way I'll get to do Hawaii is if I can borrow or rent a bike and who knows when that will be. I have no plans to ride Hawaii.

Canadian Provinces and Territories

Ontario, Quebec, Prince Edward Island, Nova Scotia, New Brunswick and Newfoundland and Labrador.
This Summer Mike and I are doing a 10 day ride, we hope to ride through the above Canadian provinces, but to be honest, I've already started on the route and I'm just not sure we can get through them all in that short amount of time.

Alberta, British Columbia, Manitoba and Saskatchewan.
I hope to do a ride to the above Canadian provinces in 2009.

Northwest Territories, Nunavut, Yukon Territory.
The above Canadian provinces I'd like to hit on my way to Alaska, whenever that might happen. I'd have to go out of the way to hit Nunavut, so I'll have to see how much time I'll have to do the trip.

Mexican States

Aguascalientes, Baja California, Baja California Sur, Campeche, Chiapas, Chihuahua, Coahuila, Colima, Durango, Guanajuato, Guerrero, Hidalgo, Jalisco, México, Michoacán, Morelos, Nayarit, Nuevo León, Oaxaca, Puebla, Querétaro, Quintana Roo, San Luis Potosí, Sinaloa, Sonora, Tabasco, Tamaulipas, Tlaxcala, Veracruz, Yucatán and Zacatecas.
Mexico has 31 states. I'd really like to visit them all in one trip, just take like a month off and tour Mexico. That's my dream, I can dream can't I? I have no plans right now to ride Mexico, but I'm sure I'll get to ride at least some of it in the next 5 years or so.