I flew in to Houston last night; Mike drove from Louisiana and met me at the airport. It was already late and all we could find was a Bennigan's next to the Courtyard by Marriot.
Today it was overcast, the highs only in the mid to high 50's, but heck, it's been only in the teens back home, some days just single digits, so to me this was balmy.
Today the only agenda was to drive from Houston to Galveston. Both of us have never been there so that seemed like a good enough reason to go. Galveston is a small island tucked deep within the heart of south Texas possessing the charm of a small southern town and just 40 minutes south of Houston.
By the time we got to Galveston, we were starved and decided to find a place to have lunch before trying to find our hotel.
Gaido's Famous Seafood Restaurant at on Seawall Blvd.
http://www.gaidosofgalveston.com/
looked interesting. The restaurant was across the street from the gulf, so the view wasn't all that great and the interior of the restaurant looked a bit "mature" but man oh man was the food tasty. Mike and I both ordered fish, and both dishes were amazing. Funny thing is, I usually take pictures of the food I order so years later I can remember what I got and how it looked like, I also believe that a picture of a dish tells a lot about the restaurant, but somehow taking a picture of the food slipped my mind, maybe I was just too hungry or since I wasn't on a bike I forgot my routine. Either way, I highly recommend this place.
We were stuffed after lunch, we got in the truck to find our hotel and it turned out, it was just across the street from the restaurant. Commodore on the Beach on the Seawall Boulevard overlooking the Gulf. "Each room features a private balcony with breathtaking view" a website had written. Don't know about the "breathtaking" part but we did have a view of the gulf.
View from the balcony
We ate so much at lunch today and so late already, we weren't hungry for a real dinner, but as we walked the Historic Strand District we did stop in at the Joe's Crab Shack on Pier 19. The restaurant was right on the water, a great location for a Joe's Crab Shack.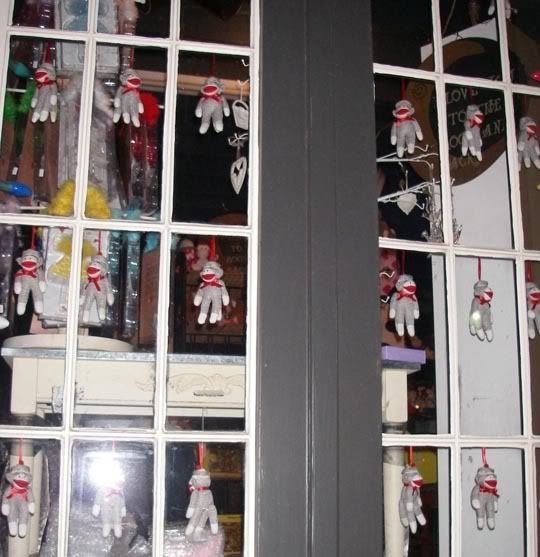 Funky Monkey at 2029 Strand, a store that only sells monkey stuff