Today's event - the 2007 Mosquito Classic National Enduro. We woke up early to the sounds of dirt bikes. By 7AM I was up, making my way to one of the Porta Potties. Of course with hundreds of people here, there was a line. I'm just glad there were porta potties here, the shower or sink I can do without, and I had to do without those last night.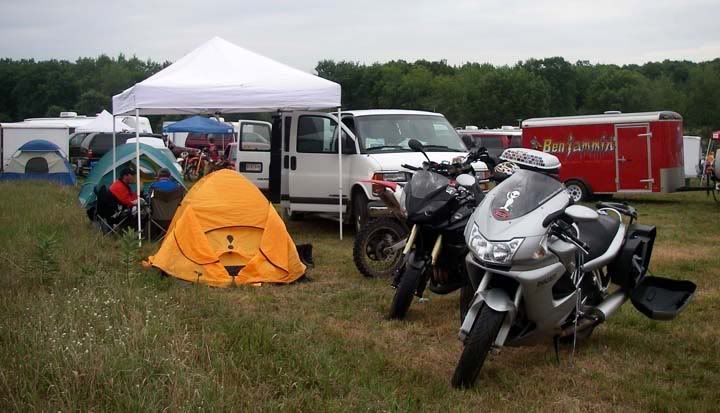 A cool and cloudy morning, two hours before the race
KTM racing and Red Bull
At 9AM the race participants started to trickle to the start line. The cool thing was, the race started right by our camp site. It was nice to watch all the groups ride by without having to go anywhere.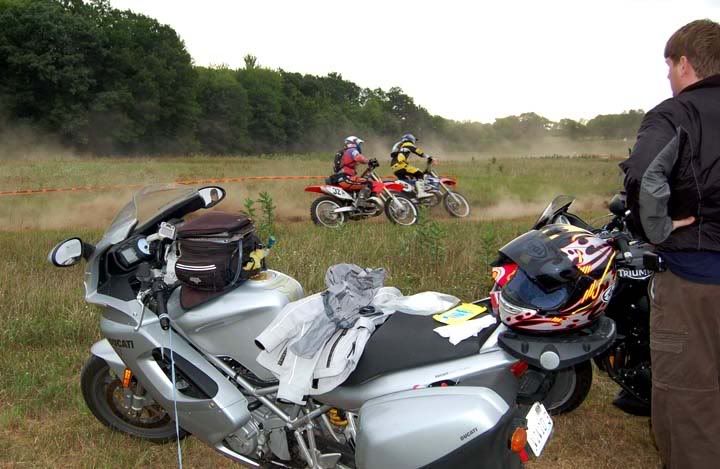 The race is starting
Chris getting ready to take off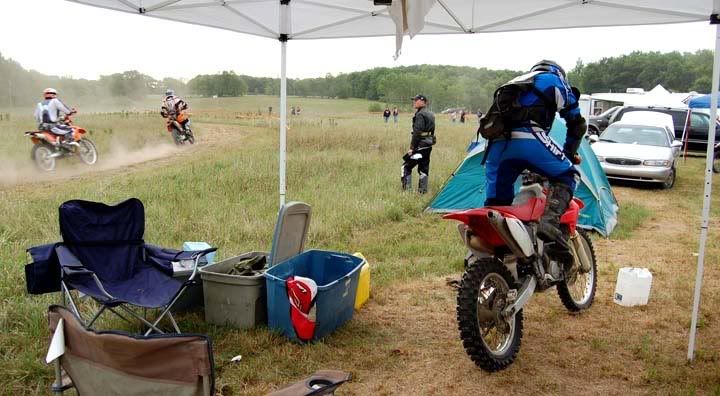 Darren's bike took a while to start
Chris and Darren at the starting line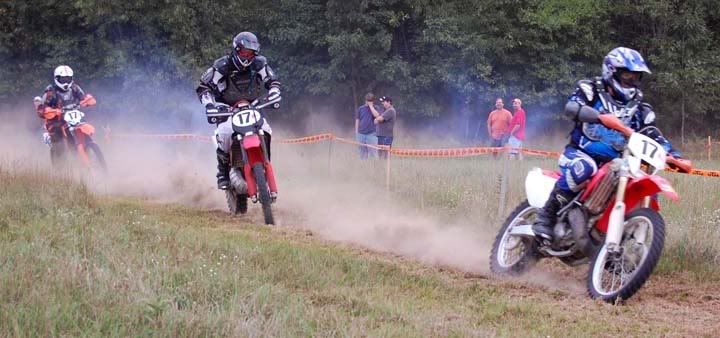 And they are off...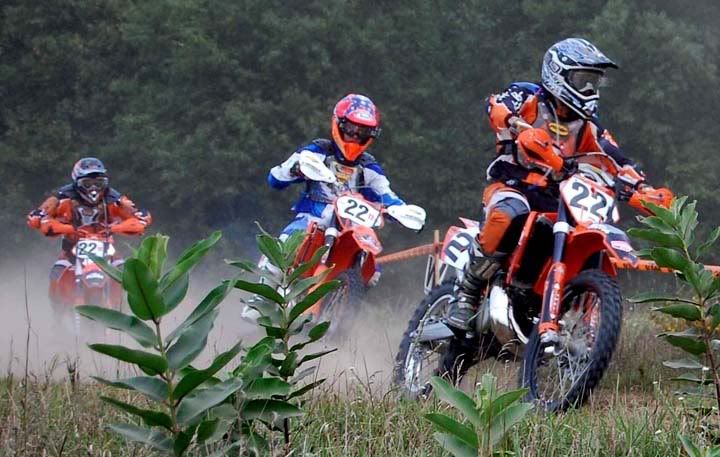 And here are some random shots of people I don't know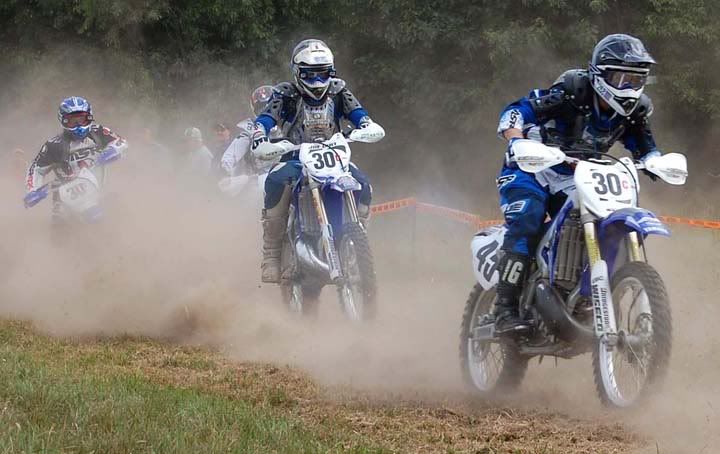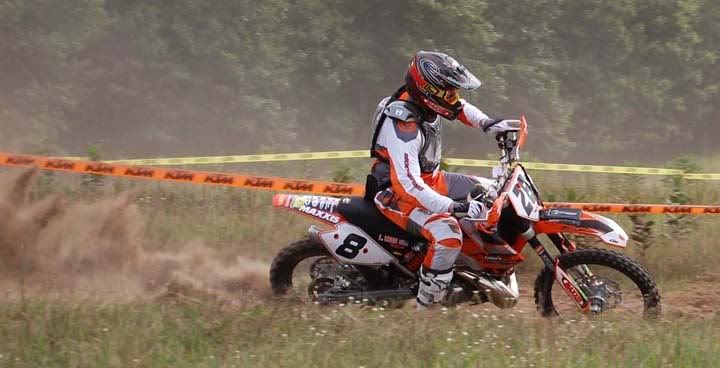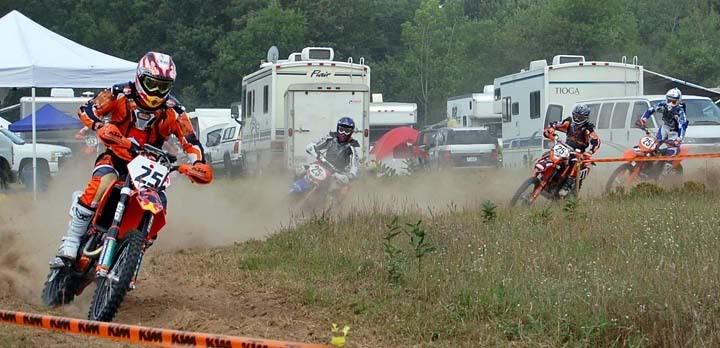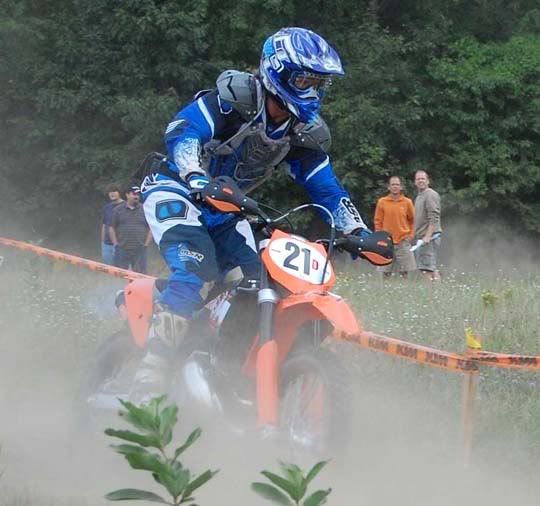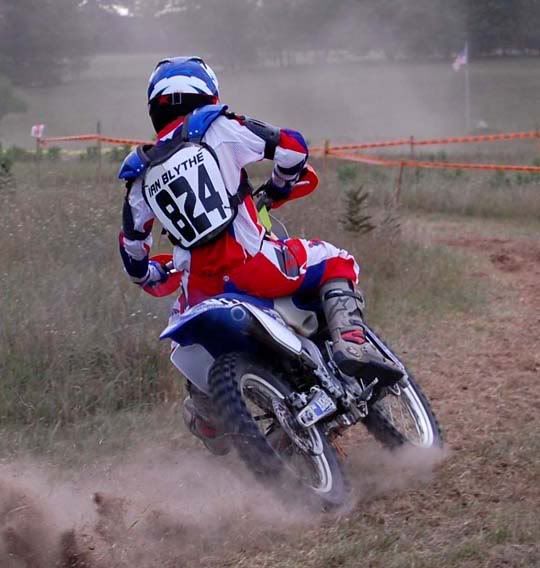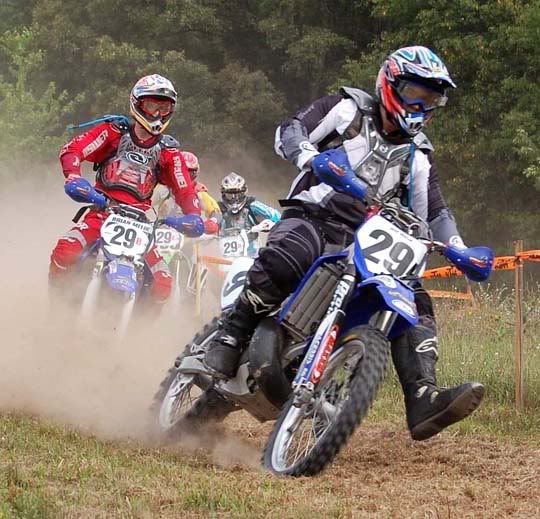 Once the race moved to another area, Mike and I finished packing up and started to get ready to leave. I rode back through the grass portion but couldn't do the dirt road today. The entry way and the portion going up hill was now torn up and loose from the dirt bikes riding it back and forth, and if that wasn't bad enough, the road was part of the enduro, and bikes were riding it right now, and so were the trucks, as people went to chase down the next place to watch the race.

The first section of the road was torn up and sandy today
Mike went ahead to investigate the road conditions, he came back saying that only the first portion was bad, the rest was good. With out any further delay, he took off on my bike and I followed behind him on foot, we me half way on foot and he handed me my bike key as he walked back to get his bike. I found my bike pulled over on the other side of the hill parked in someone's dirt driveway, got on and rode it to the pavement where I waited for Mike.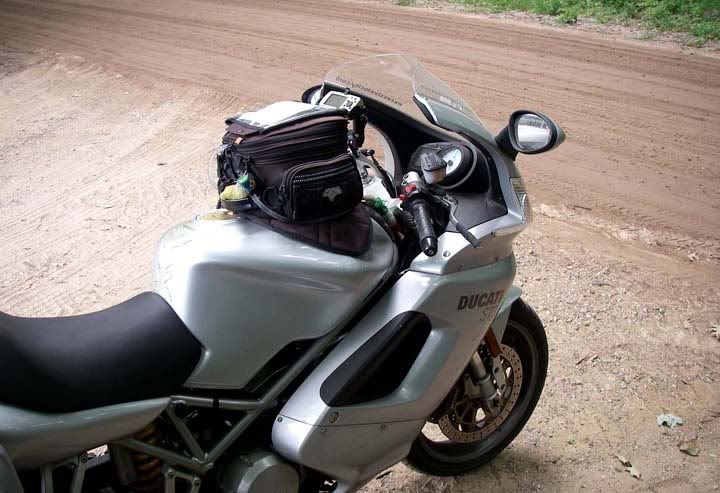 The nice portion of the dirt road that I got to ride back on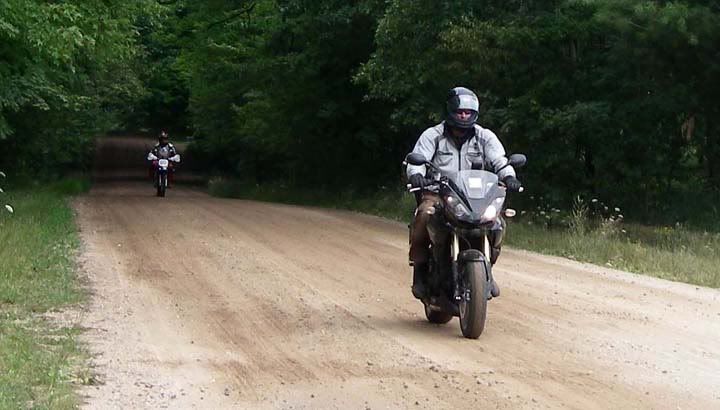 Mike being followed by an enduro racer on the dirt road
We had to get going in a couple of hours but we at least wanted to make it to one of the rest sites where we could see Chris pull in. We rode west then south arriving at such a location. It was a sea of orange clad humans and machines.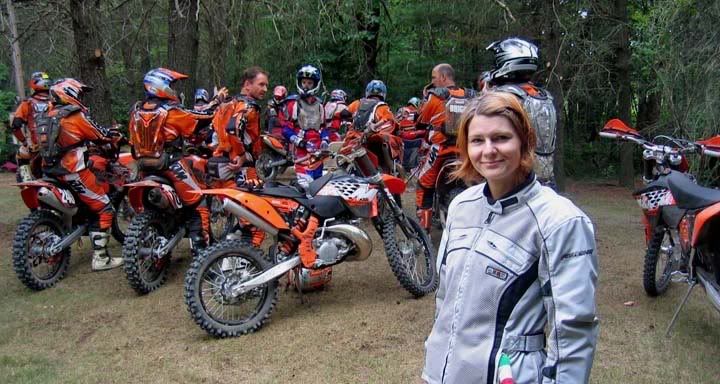 There were a lot of KTMs here today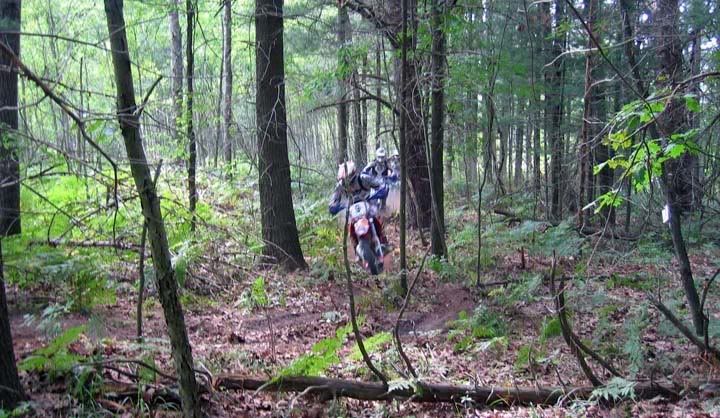 Racing through the woods
We hung out for a while waiting for Chris, but he was already late by the time he got there, so he zoomed past us and kept going, he didn't have the time to stop and rest.
We had to get going now so we got on the bikes and started heading south, then west to Baldwin where I was finally going to meet someone in "real life" that I've know from the message boards for at least the last two or three years. I know Cheryl from two message boards and we have made previous attempts to meet up and ride, but somehow it had never worked out.
Mike and I arrived at the designated gas station on the corner of 10 and 37 at exactly 1PM and five minutes later Cheryl and Don arrived. It was time for lunch, the four of us rode seven miles north on 37 to the Club 37 restaurant.
Club 37 - my chicken burger on the left, Mike's burger on the right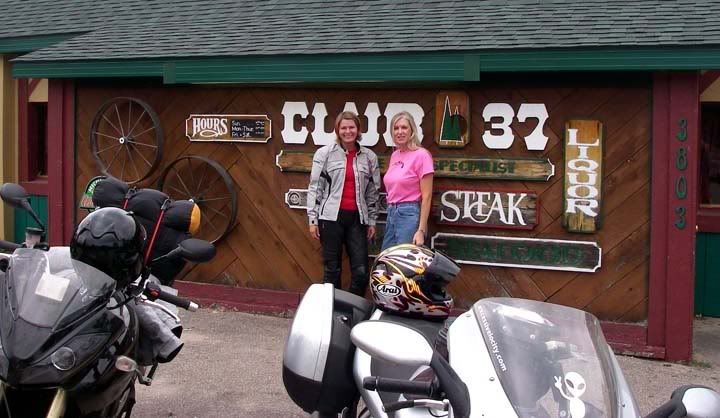 Cheryl and I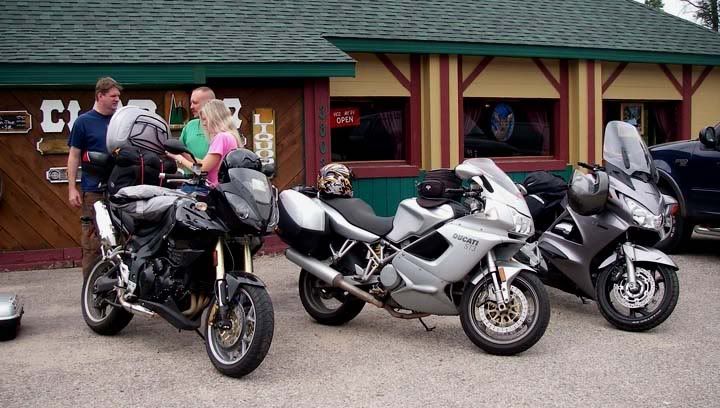 Mike checking out to see how Don's topcase fits on his bike
After lunch Don led us on some back roads to the Hardy Dam located in Newaygo at the Muskegon River, one of Michigan's largest rivers. This dam is the third largest earthen-filled dam in the world and the largest east of the Mississippi River. As we walked the dam Cheryl was our tour guide, telling us stories of the biggest flood on the Muskegon River in 1986.
Checking out the Hardy Dam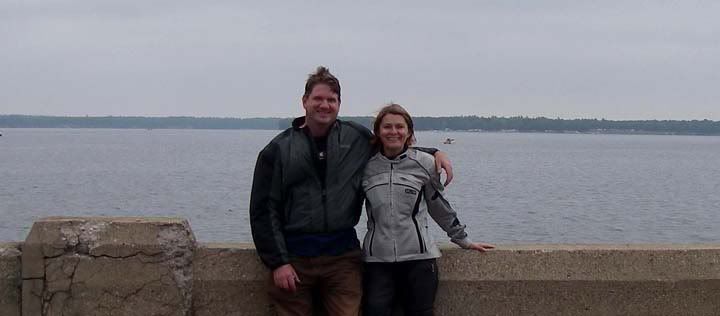 Mike and I at Hardy Dam
After riding a couple more back roads, Don and Cheryl escorted us to I-196 in Grand Rapids, where we said our good bye's just as it started to drizzle lightly. There was rain near Chicago today, which I was hoping not to run in to but it looked like it was closing in on us. Today we didn't see the sun at all, there were thick rain clouds hanging above us all day, many times I thought it was going to rain but it didn't. The temperature was cool all day, the highest reading that I saw was 73 degrees.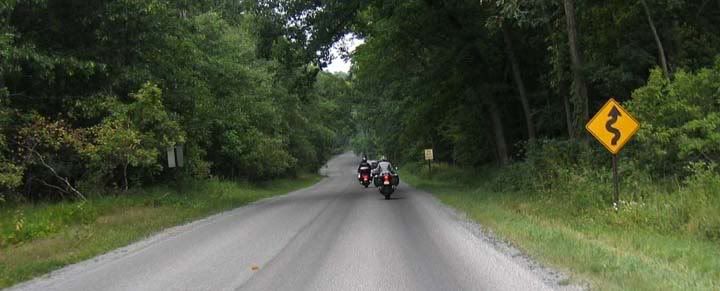 Riding some back roads, Don's ST1300 and my Duc behind him

Now at 6PM eastern time, I finally put on my rain/quilted liner, to keep me dry and warm when the temperatures dropped tonight. The drizzle didn't last very long, I-196 was moving nicely and before we knew it we were on I-94. The all the sudden the sun came out and the temperature went up like 20 degrees. The next time to pullover was for gas, and that wasn't for a while, I unzipped my liner underneath my jacket to let some air in, but it was hot and very humid now, the roads were wet, it had rained here recently and I was still way too hot. The heat finally became too much to deal with so we made an uncheduled stop to get the extra layers off, top of with gas, drink something and continue.
The traffic got heavier as we got closer to Chicago. Around Holland, MI, I noticed that most of the cars on the interstate had Illinois plates. It was just like coming home on Sunday evening from Wisconsin, highways packed full of Illinois residents that get away to their weekend homes in Wisconsin, Indiana and Michigan.

It's been a long weekend and I was looking forward to getting home already, but the worst was still to come as we got closer to the big city. The I-90 Indiana tollway was packed, as was the Chicago Skyway as well. There was no rest stops anywhere for a while so we decided to stop at the McDonald's oasis on the skyway and since we were there and it was already late, we grabbed some food also. The traffic was backed up at the toll booths and even though I read the signs "cash only" and "I-pass only" I have never seen a cash toll booth that didn't accept the I-pass. When we got going again, I decided against passing 4 lanes of traffic to get to the I-pass lanes and sure enough the cash only lanes didn't accept the I-pass so we had to dig for cash.
Then through the construction again, it was much worse heading home, the ramp from the skyway to I-94/1-90 was stop and go all the way down and the traffic jam continued all the way from there to the I-290 exit. The bike was running hot, I was barely moving at 5-10MPH in first gear, stopping all the time. That just wore me out. Even I-290 had a lot of traffic on it, we arrived at the house at 10PM totally drenched in sweat and exhausted from the traffic and the heat. We did get lucky, all the way from Michigan, the roads were wet but we didn't see any falling rain, except for some lightening in the background.
It was a fun weekend, packed full of new things, new places and new people. But I'm still shocked by the amounts of people traveling in and out of this state every weekend and all the construction and madness that we have to ride though, especially now that the high gas prices, you would think more people would stay at home.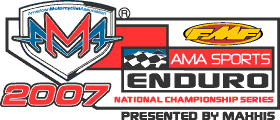 As for the race today, KTM factory riders Mike Lafferty and Russell Bobbitt, along with Am-Pro Yamaha's Barry Hawk, tied for the win at 34 points each today at round six of the AMA/FMF National Enduro Series. Lafferty now leads Bobbitt by 11 points in pursuit of his eighth National Enduro Championship.