The crazy weather continues. Last weekend we experienced heavy rain, thunderstorms and flooding in Southeastern Minnesota and Western Wisconsin.
Damaged roads due to floods in Wisconsin and Minnesota
These same storms moved east hitting Ohio, causing more floods and damage there, we in Chicago, were somehow spared that time. Then some more bad weather came this way, this time right in my backyard - literally. A tree fell on to the powerlines.
On Thursday August 23 in the afternoon, intense thunderstorms creating tornado-like conditions swept through the Chicago area. The skies turned dark and the tornado sirens sounded.
The storms took hours to pass and did a lot of damage. Winds as high as 90MPH were reported and lots of flooding and fallen trees resulted from the storm.
From the local paper's website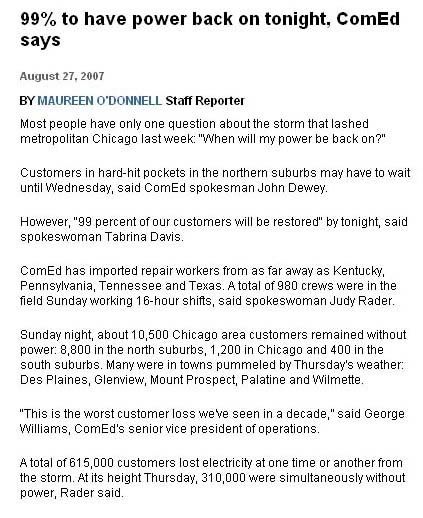 From the Chicago paper's website
The electric power went out across the city and suburbs, I lost power at 3:30PM on Thursday and I finally got the power back at 3:30PM Today – Monday. If this was any other weekend, we could have just packed up the bike and went riding somewhere, the weather on Saturday and Sunday was great, but this weekend we were getting the bikes ready for our 9 day trip and needed to get the laundry done and start packing also. I also was still working on the route and making campsite reservations.
Just not a good weekend to have no power. And it wasn't just us, no one around us had any power either. A lot of business were closed. Even supermarkets and gas stations. A lot of that needed to be done for this trip, simply wasn't.
We did remove and install the wheels on my ST3 without power, so I could get some new tires mounted, but we could only work during the day, while the sun was shining and the garage door was open. I'm glad we have electricity back, but now we have to kick it up a notch and hurry up since we couldn't do much over the weekend.