Winter is still in full swing outside, but today instead of thinking about riding motorcycles, I'm thinking about sitting on motorcycles. The 27th International Motorcycle Show is in town. I've been going to the show every year since 2000 and every year there are new and exciting bikes to look at. This year the show is bigger then ever, even though Triumph has not exhibited in a the last two or three years. Too bad, I'd really like to sit on the new Street Triple.
Sitting on a motorcycle is a very important thing to do. By sitting you know if the bikes fits or not. And the only way to enjoy a motorcycle is when it fits and when you're comfortable. That's why I make a point to sit on as many bikes as possible. Being short, unfortunately many bikes don't fit me, most are too tall for me and I can't touch the ground with my feet, it's still fun to try them on.
The Buell booth usually has some fun displays, here I am doing a stand up wheelie on a
Buell Lightning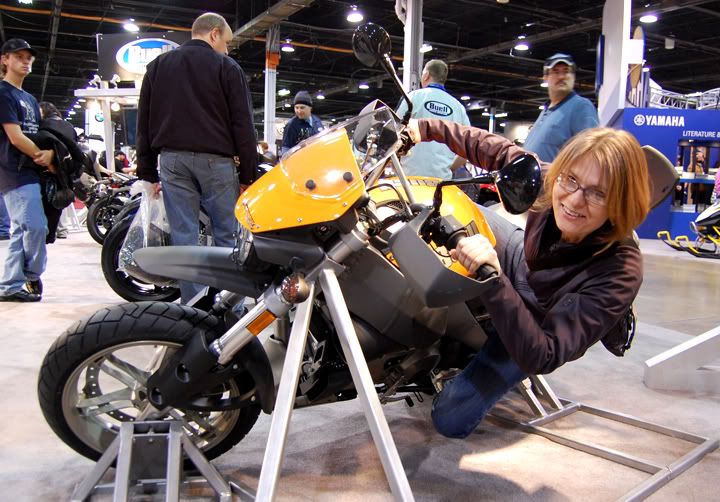 Draggin' a knee on a
Buell Ulyssess
I've always liked KTM bikes, but since I've started riding off road I like them even more. If I was taller I'd be riding a 900 Adventure for sure, I like the way the bike looks and what it can do, go off road and on pavement. But at 5'5" I'll never ride one. I sat on the 990 Super Duke and the 690 Supermoto, and liked them both - a lot. I just wished I could sit on the 690 Duke to see how it compares to the Super Duke, but I didn't see it at the show. I'm really digging the naked bikes and the supermotos lately.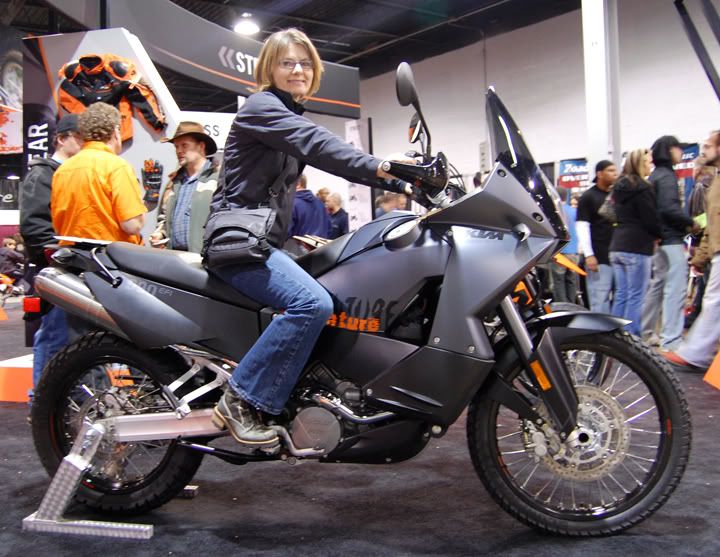 KTM 990 Adventure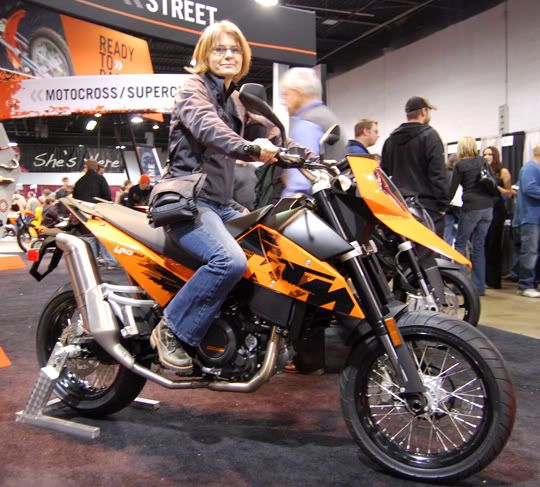 KTM 690 Supermoto

KTM 990 Super Duke
BMW F800ST
Over at the BMW stand, I drooled over the F800GS, but the bike is just too tall for me. I really wish they still made the F650GS for shorties like me. The F800ST is a nice bike, very similar to my ST3.
BMW K1200S
I still like the K1200S, although not this color scheme. Boy this bike feels heavy compared to the others.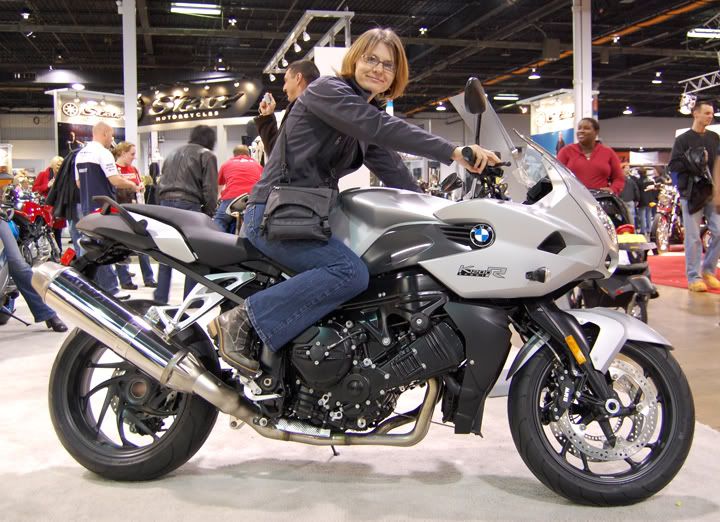 BMW K1200R
This bike was a lot taller than the 800ST or the 1200S, but I found it interesting.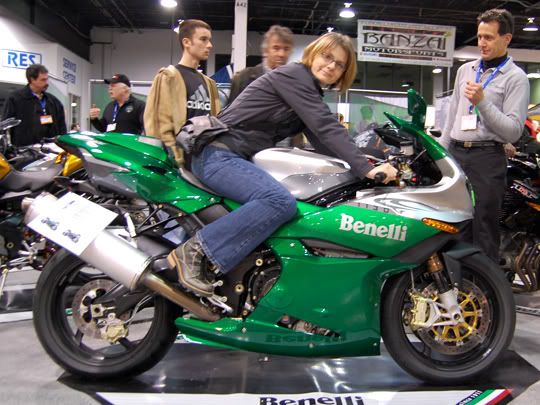 Benelli Tornado TRE 1130

This is the most time I have ever remembered spending at the Benelli booth. They must have had more bikes this year and a bigger booth, I just never noticed Benelli before. Very nice bikes, the TNT was my favorite, it had a low seat and fit me pretty good, seems like a it would be a fun bike to ride. All the Benellis have a 1130cc triple engine and tubular frames.
Benelli TRE 1130K
Benelli TNT 1130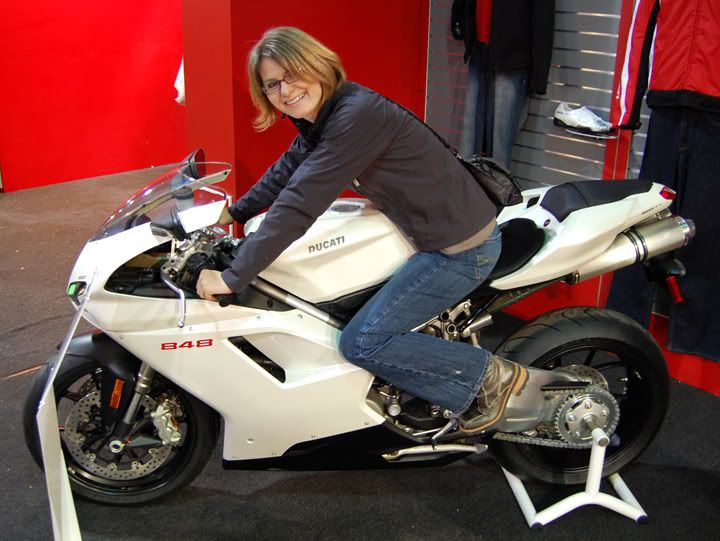 Ducati 848
The Ducati 848 is a stunning bike, so is the 1098. This design is definitely nicer then the previous, resembling more the 748 and 996 that people liked so much. I wouldn't mind having one of those, although just like the 999, it's not as comfortable to me as the 996 was. But I'm sure I could get used to that, not that I'm getting one. I have to say that the Hypermotard is a better bike for me then the 848 or 1098, more comfortable and as I said before, I'm really digging the supermotos.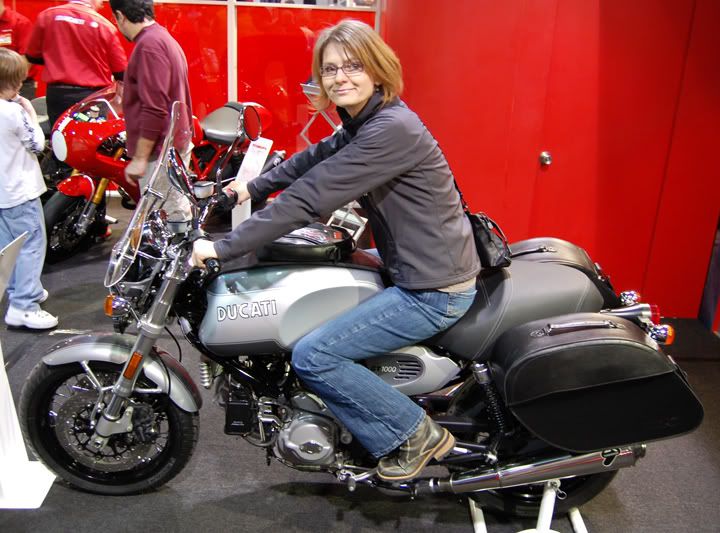 Ducati GT 1000 sport classic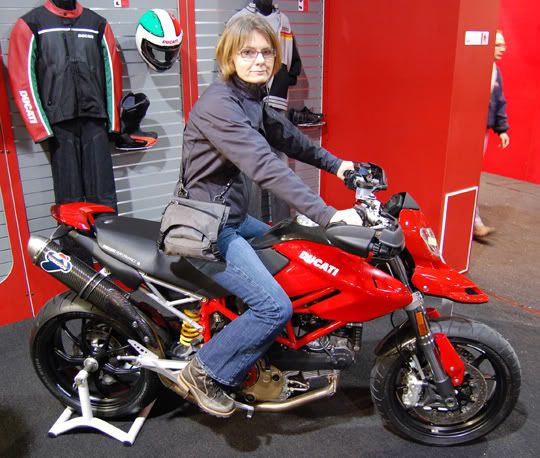 Ducati Hypermotard
Ducati 1098R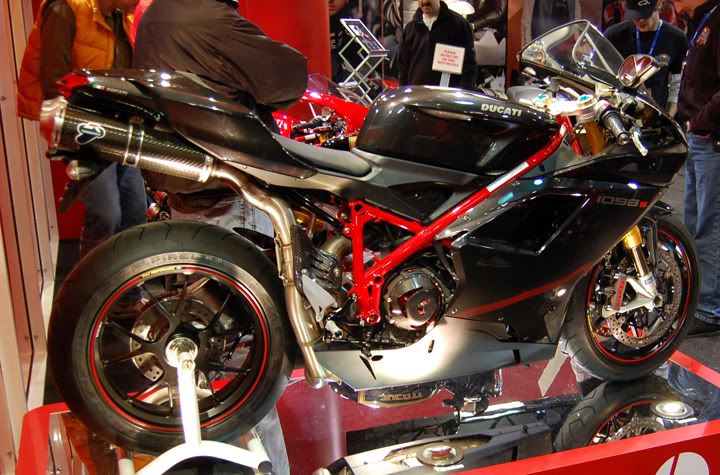 Ducati 1098S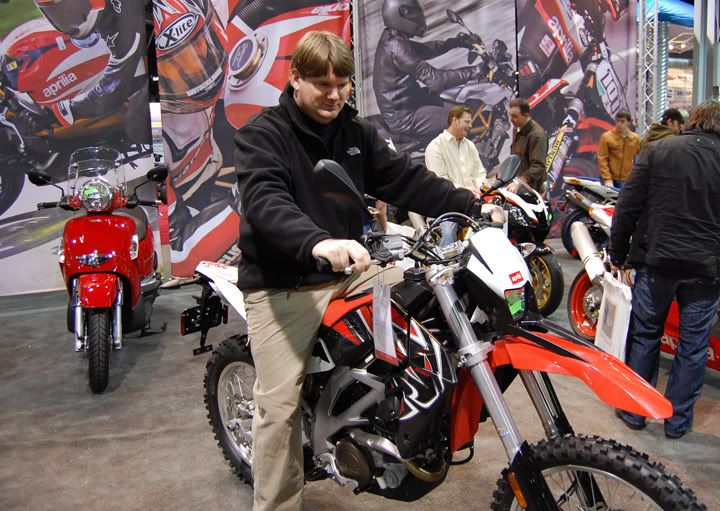 Aprilia RXV
Mike liked the RXV twin cylinder enduro. I saw the Aprilia Shiver, but it looked so much like an MV Agusta Brutale to me, that I didn't even sit on it. I guess I didn't even realize that it was a new bike, it didn't stir anything in me. The Aprilia Tuono and RSV are still nice looking bikes and look nothing like the Shiver, which has very sharp corners the way the Futura did.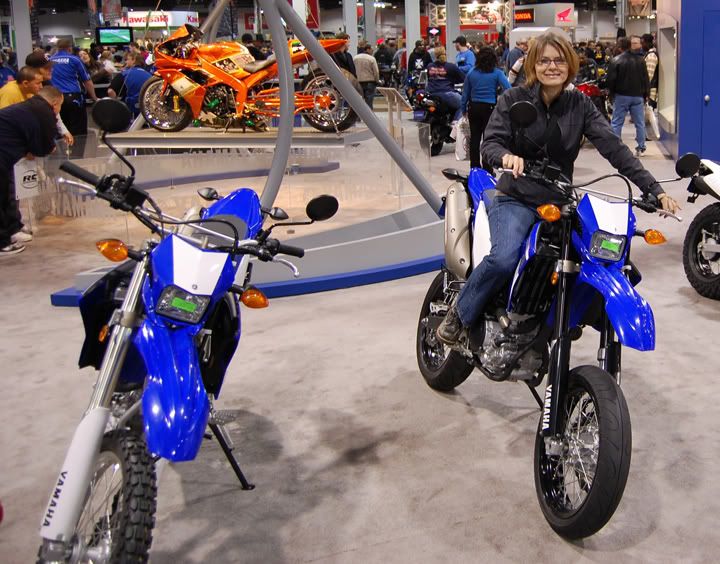 Yamaha WR250R and WR250X
Yamaha has a few bikes that I wouldn't mind having. WR250R and WR250X, both nice but a bit too tall for me, I think I could lower the WR250X and make it work.
I've been super exited since I found out that the XT225 has been replaced by the XT250. Not only does it have a larger engine and a few extra ponies, but also a larger gas tank and now it has disk brakes in the back. It sits just like my XT225, but it sure is nicer. I don't like the round headlight though, everything else is nice. I'm keeping my XT225 for now, I don't think all those improvements are worth getting a new bikes when there is nothing wrong with mine.
Yamaha XT250
Honda CRF450R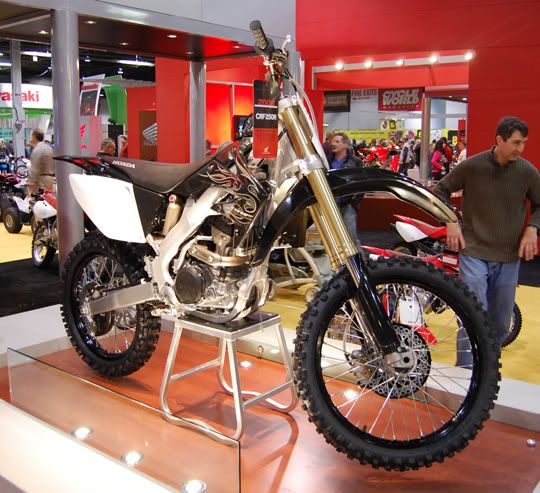 Honda CRF250R


Suzuki GSXR 1000
I'm not getting any Japanese liter bikes, but if I was it would be the GSXR 1000, very comfy.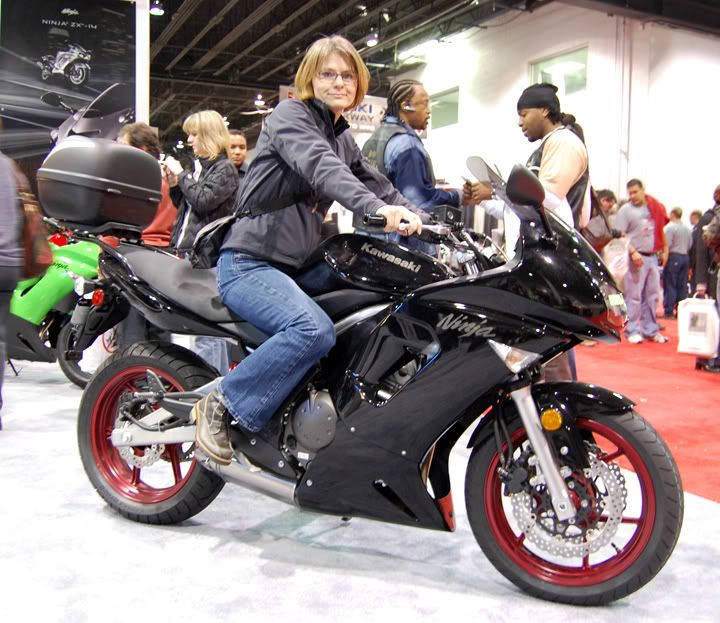 Kawasaki 650R
This is becoming a very popular bike, especially for touring with the shorter riders. I didn't like it that much last year, this year it's growing on me.
The baby Ninja,
Kawasaki 250
I just have to say wow, what a pretty little ninja this is. A really good looking bike, doesn't look like a 250 at all. It was the only sportbike at the show that I could flatfoot.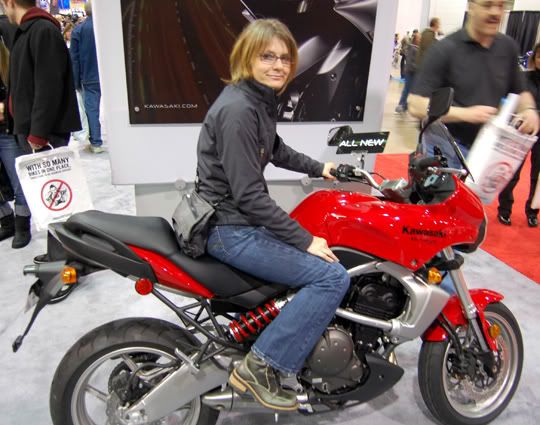 Kawasaki Versys
This year Kawasaki came out with a bike that is similar to the popular Vstrom. The Versys is tall and heavy, I don't see why they can't make these bikes lighter, especially if they claim that they are good for riding some easy dirt and gravel roads.


There was a lot more gear this year. I went ahead and tried on some stuff that I would never buy. This Icon jacket was a size small and fit me nice, also seemed well made but too cute for me.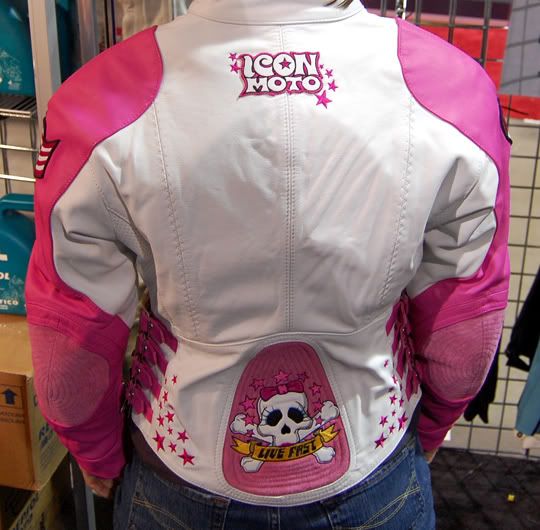 Live Fast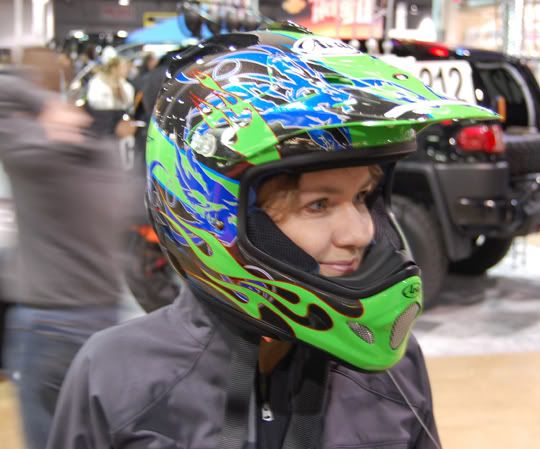 And I finally got to try on an Arai dirt helmet to compare it to my Arai XD, I like my XD better, but if I ever needed a dirt helmet, I'd go with an Arai, they just seem smaller to me.