I really thought I was done with snowshoeing until winter but since the Front Range received lots of rain, three days of rain to be exact - and non stop, that meant new snow for the mountains. Today was the first day since the rain had stopped, the sun was shining again and the temperatures were in the low 60's so that meant a drive up to the mountains to go snowshoeing (possibly last time this spring).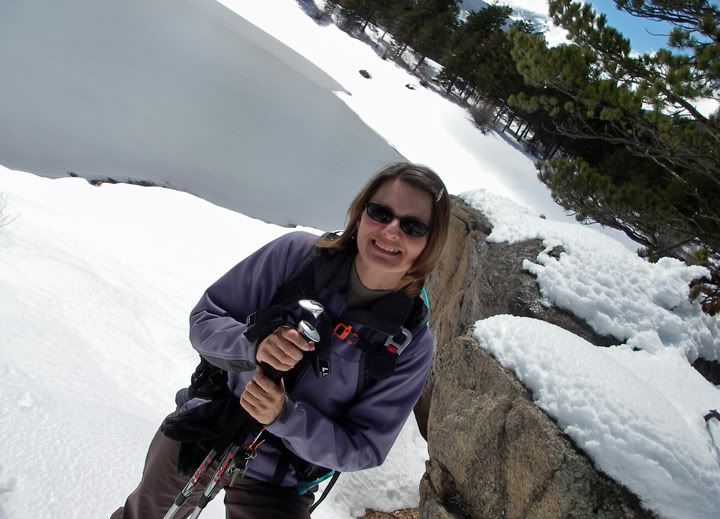 Copeland Lake
I wanted to go somewhere different so I headed to Estes Park then turned on to highway 7, drove by the Twin Sisters, Longs Peak and Mount Lady Washington and headed further south to the Wild Basin area of Rocky Mountain National Park. There was no attendant on duty to check my annual parks pass, I read that during winter there is no attendant on duty ...but it was spring already?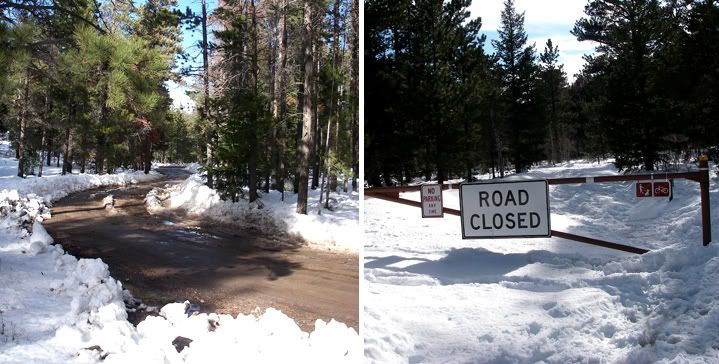 The road to the winter parking area (left), road closed to Wild Basin in winter (right)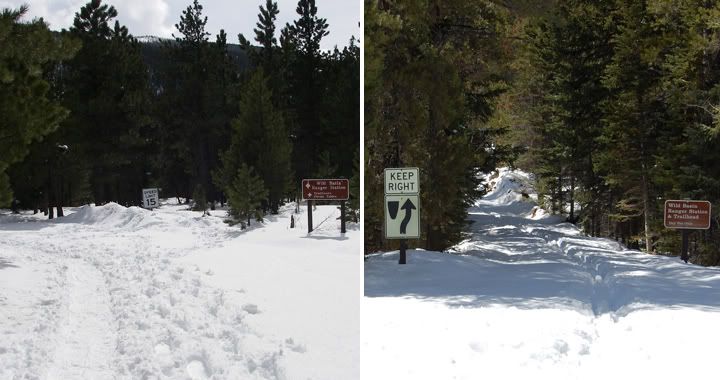 The trail is actually the road to Wild Basin during the summer months
I parked, got my snowshoes on and started snowshoeing from the Sandbeach Lake Trailhead. I wanted to get to Wild Basin Trailhead and from there I wanted to get as far as Calypso Cascades. Unfortunately I misunderstood what I read on the internet. I read that in the summer time you park the car at the Wild Basin Trailhead, but in the winter time (and when there is snow) you had to use the winter parking area. I guess I assumed that the paved parking lot near the entrance was the winter parking lot. But it wasn't. There was another parking lot further down a dirt road, which would have saved me about a mile and half of snowshoeing.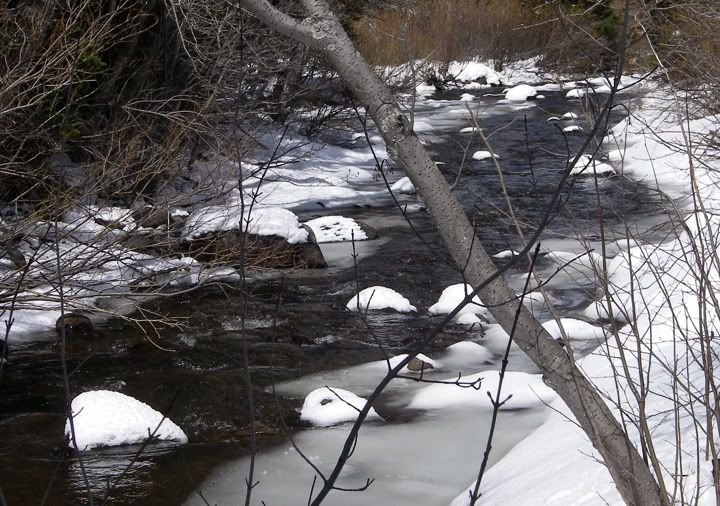 Lots of creeks along the way to Wild Basin Trailhead
So I started to snowshoe from the Sandbeach Lake Trailhead toward the Wild Basin with was 2 miles. Unfortunately no one had been on this part of the trail except for the couple that started to snowshoe a few minutes before me. I found them 15 minutes later looking all confused. Apparently they didn't know where the trail was, they were making it as they snowshoed. From the spot we all stopped at they went one way and I went another way, then I stopped to take my jacket off. It was very warm. I checked the map and tried to figure out where the trail might be. Then I found the dirt road that went to the winter parking area. I was so tempted to go back to the car and drive to the winter parking area and start to snowshoe from there, but I was already too far. I have already snowshoe a mile. All I have to say is that snowshoeing without a trail was very, very hard today. The snow was so wet and so heavy. It was like walking in quicksand. The snow would suck my snowshoes in and it took effort to pull my foot out again. After a mile I was already feeling exhausted and the trail was flat. What a difference the snow can make. I love to snowshoe in fresh powder, but I have to say that dislike this heavy wet snow.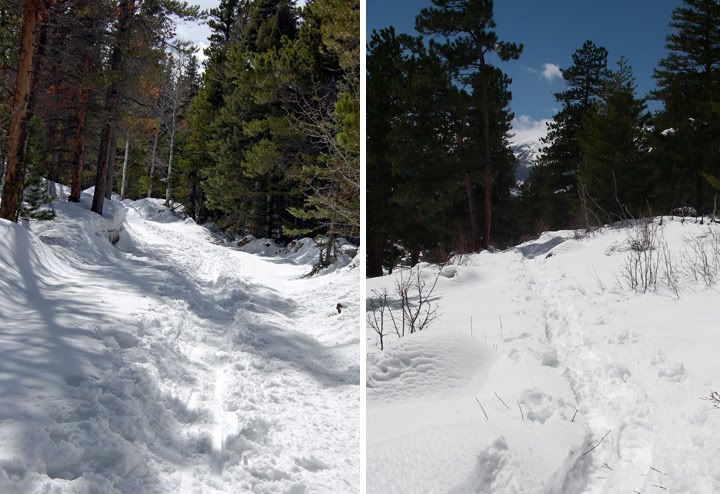 Not a lot of tracks in the snow
Past Wild Basin Trailhead the area becomes more scenic

Since the snowshoeing was harder and I parked so far away I new that I would not make it to Calypso Cascades. I continued not knowing how far I would go, I couldn't believe how tired this was making me. Once I passed the winter parking area, there were actually a few people out using this trail and snowshoeing was not as difficult as earlier with no trail. But the snow was still deep and it still took effort to snowshoe it.
By the time I made it the Wild Basin Trailhead I was very much tired. I looked at the sign and saw that Copeland Falls was only 0.3 miles away. That wasn't far and I really wanted to see some kind of waterfall. I continued on but the 0.3 miles to Copeland Falls seemed like a mile in this snow.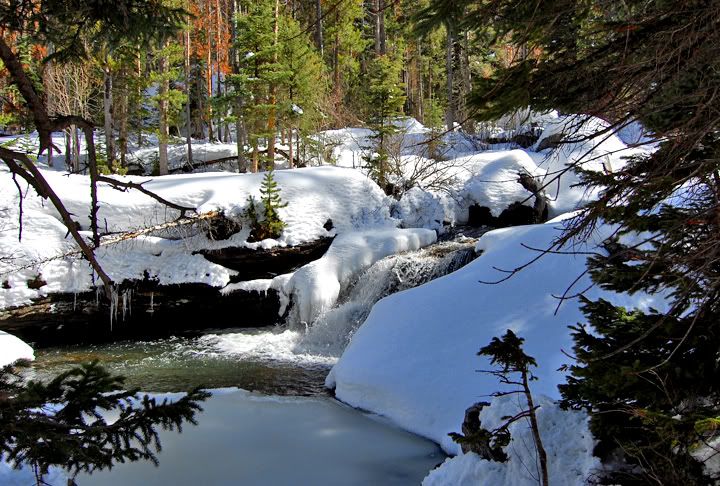 Upper Copeland Falls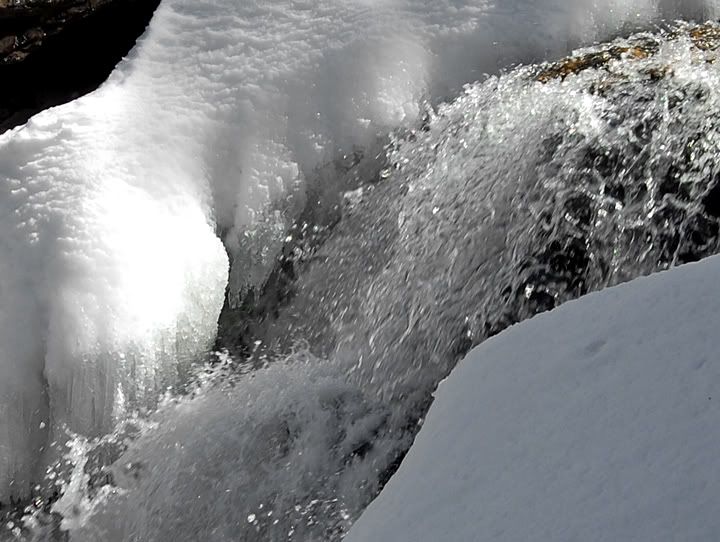 Zoomed in - Upper Copeland Falls

When I finally arrived at the first sign for the lower falls, I went in search of them. But I couldn't see much. They were just a trickle in the snow. The upper falls according to the sign were just a fit further. It's actually another 0.1 miles to the upper falls. The upper Copeland Falls were better but not as full as some of the pictures I've seen from the late spring or summer months. The snow was really deep near the upper falls, these falls were not as close to the trail as the lower falls, and no one had been here since it snowed. I couldn't really get a great view, not wanting to step really close to the water. After a few pictures it was time to go back. I was already tired and by the time I reached the winter parking area I was so wishing my car was parked there. Was it just the wet snow that was making this snowshoe trek so difficult? I couldn't believe it. I had climbed mountain summits and I wasn't this exhausted during the climb or afterward. My legs were so sore now and my back was hurting me too.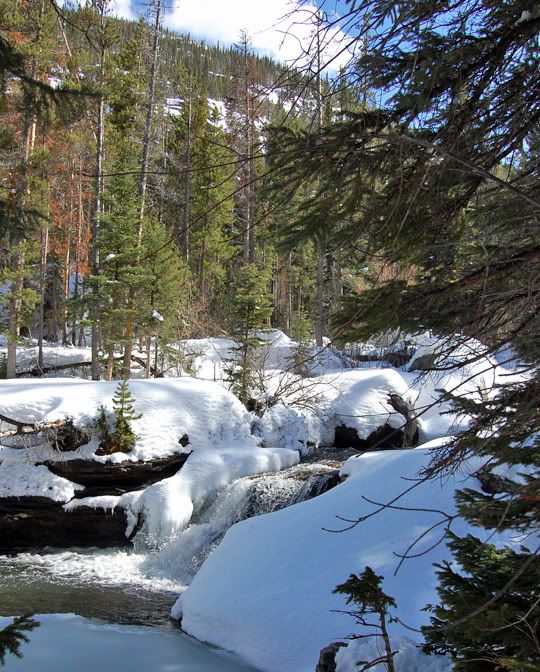 Last one of upper Copeland Falls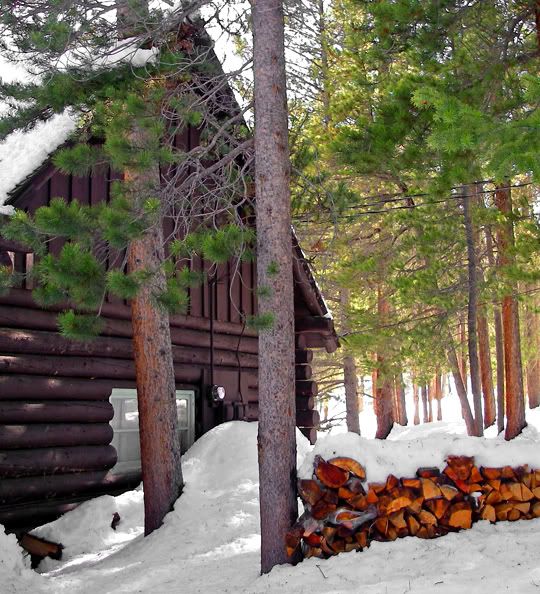 The ranger's cabin at Wild Basin Trailhead

I was tempted to take the snowshoes off and walk in the road but it was very muddy. I continued through the deep wet snow, now even wetter since the warm sun was melting it all these hours, following my own tracks back. I was so glad when I saw my car. I was so exhausted and so sore yet I had snowshoed 5 miles.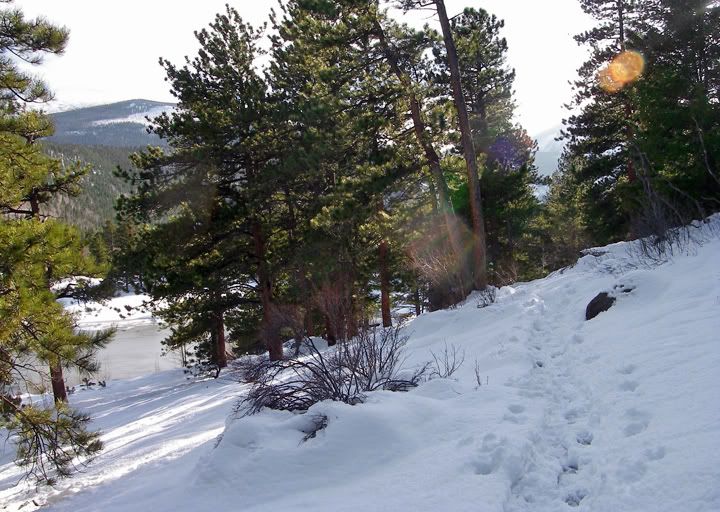 Heading back to the Sandbeach Lake trailhead in the late afternoon sun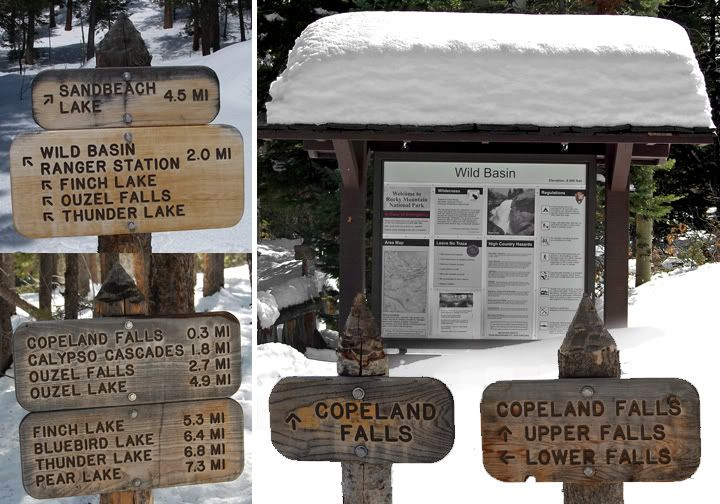 Signs along the trail
I headed to Estes Park just to find out that there was a police road block on highway 34. They detoured us to highway 36 and I had to drive to Lyons, then to Longmont, then take 287 to Fort Collins. Kind of out of the way. I was so glad when I got home, but very perplexed to why I was feeling so exhausted and sore.
Sandbeach Lake TH elevation:
8,320 feet
Copeland Falls elevation:
8,515 feet
Elevation gain:
195 feet
Distance:
4.8 miles round trip
Difficulty:
Easy