Yes, it's the end of May here in Colorado and today was my last day on the slopes. Arapahoe Basin is still open for awhile but my first snowboarding season is officially over. Next weekend is Memorial Day Weekend and I'm heading on a three day motorcycle ride. I have not been riding my motorcycles very much this Spring, although not all of it can be blamed on snowboarding. We've had a very snowy Winter and Spring here this year, in the mountains and in the city. I do have to admit that I'm not ready to put the snowboard away just yet. Just as the season is coming to an end I finally feel like I'm getting the hang of this thing.

But let's back up a little bit here. Since I moved to Colorado I thought that one of these days I should try snowboarding - one of these days, like in the future. After I moved to the Denver area I started to think about it some more, since I was so close to the ski areas – one of these days became like maybe next season. But when CJ told me he had some lift tickets that he still needed to use up this season and asked me if I wanted to tag along with him, my mind was pretty much made up. So in early March of this year I got this idea to start snowboarding. It was actually great timing since it was the end of the season and all the snowboarding gear was on sale. Pretty much everything I bought was half price or less, which all cost me about the same as renting the gear 5 times. After all, snowboarding wasn't something I just wanted to try a few times, it was something I wanted to do – season and after season – so I wanted my own gear.



March 7, 2010 - Guanella Pass
With my new gear I packed up my car in search of snow. It was a very warm the last few days and all the snow kind of melted. I just wanted to find a small bunny hill to get used to the snowboard since I've never been on one before and have only been on downhill skis once or twice long, long time ago. Not knowing where to find snow I headed toward Guanella Pass, where I rode my XT225 last month. I did find some snow and spent a few hours practicing. I didn't want to look like a complete fool at the slopes tomorrow.
March 8, 2010 – Eldora
Today CJ and I headed over to the local ski hill where I rode a chair lift for the first time in my life. I'm deathly afraid of chair lifts, something about the heights and them just dangling from the cable, blowing in the wind. I really dislike this part of snowboarding, but since it's the only way to get to the top of the slopes, there is really nothing I can do about it. After 4 hours of snowboarding and falling down a lot, and I mean – a lot - I have to say that I don't remember being this sore or this exhausted in a long time. I'm very surprised how much effort it takes to snowboard and I guess I'm using muscles I have never used before . And lastly, snowboarding is not easy.
Wrist guards, knee pads and elbow pads - geared up to fall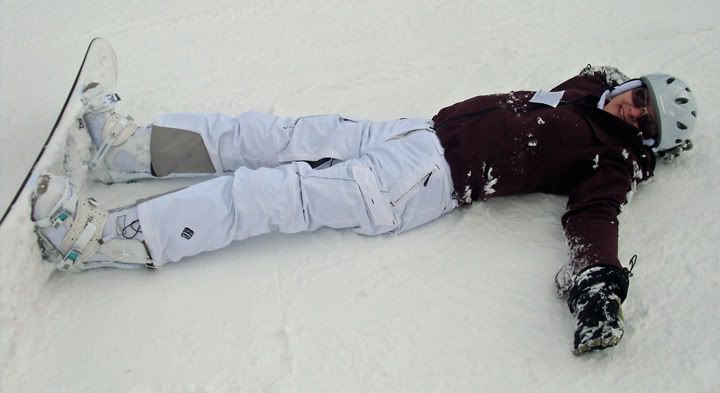 And fall I did - a lot!
March 13, 2010 - Steamboat Springs
CJ was headed up to Steamboat Springs for a whole weekend of snowboarding and I was heading up there myself, although I wasn't planning on snowboarding with CJ who has been snowboarding for over 20 years. I was going to be doing my own thing.
On Saturday I took a beginner snowboarding class and was planning to do some snowboarding afterwards, but I was just too exhausted after the class ended. The class was good, and I did learn a few things. I think the most valuable thing I learned was how to get on the snowboard. Even though I have been reading a snowboarding book and have been watching snowboarding video's, the class taught me some neat little tricks that I just didn't know before today.
March 14, 2010 - Howelsen Hill (Steamboat Springs)
Today CJ and I parted ways, he was heading up to ride the slopes of Steamboat and I headed over to Howelsen Hill to practice on the bunny hill. Unfortunately they had to shut down the ski lifts in Steamboat because of high winds, so CJ ended up coming over to Howelsen Hill to give me some pointers and then ended up heading home and I hung around for a bit longer to practice. The instructor yesterday told me to adjust my bindings differently and I had a hard time adjusting to the new setting. It's as if I was starting over, which was very frustrating. Plus the bunny hill at Howelsen Hill was pretty steep, so it was harder for me to get to the bottom without falling a lot. Toward the end of the afternoon I finally got a handle on it. I was beat by the time I left, but felt I had made good progress this weekend.
Getting better but still falling a lot



March 28, 2010 – Mary Jane / Winter Park

CJ and I headed over to Mary Jane where I discovered the Galloping Goose, a bunny hill. The chair lift was still pretty scary to me, especially after CJ left to ride some of the harder trails and I was left to ride the chair lift all by myself. But after a few runs I finally managed to get off the chair lift without falling and make it to the bottom of the hill without falling as well.
Snowboarding the big hills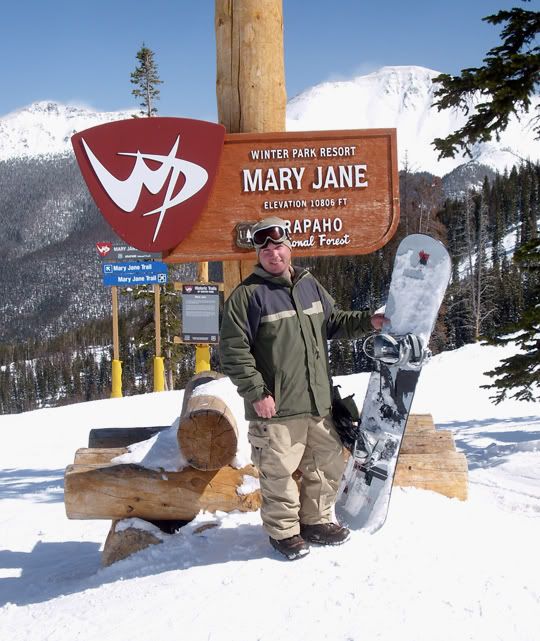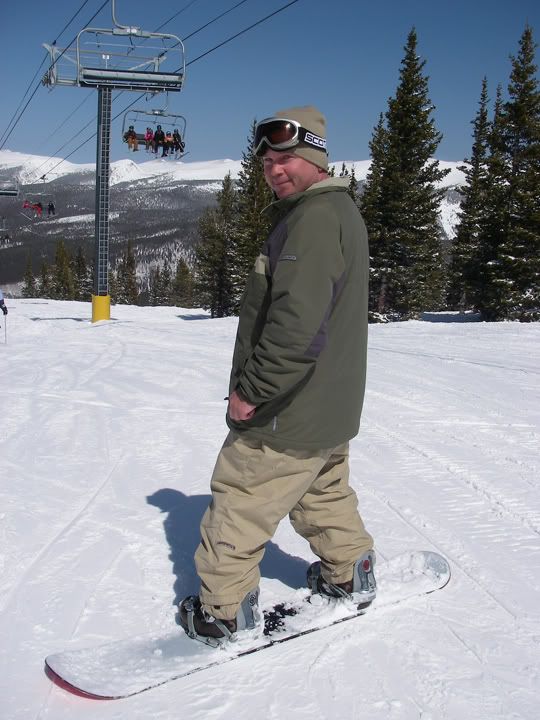 After lunch CJ and I decided to ride some green trails and head from the Mary Jane side to the Winter Park side. The chair lift ride up wasn't as bad this time. It was one of those fast ones that can carry like 5 or 6 people. Even though they are taller, I like traveling fast, so I can get there quicker and they kind of slow down so getting off the chair lift is easier too. The trails were only a few miles long but were jammed pack with people and I was already tired from snowboarding all morning. Half way down my knees were literally giving out on me and I ended up walking the rest of the slope down. This snowboarding is really a lot of work.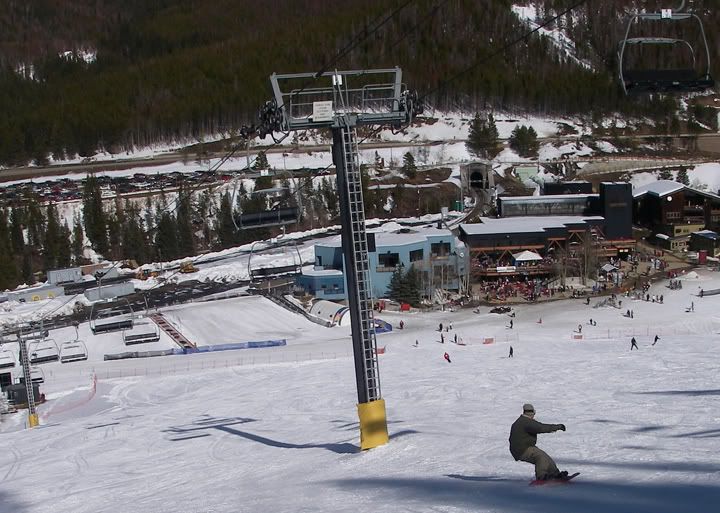 CJ makes it look so easy



April 4, 2010 – Winter Park
CJ and I spent Easter Sunday in Winter Park snowboarding. I started out on the Discovery slope, which is the bunny hill, and was practicing my turning all morning. I'm doing really well with the heel side, but not good at all with the toe side. I do really great with the falling leaf on the heel side too, but can't do the toe side at all. CJ was carving some blue runs in the morning and in the afternoon the both of us headed to do some green runs. I did a lot better today but I was still very exhausted at the end of the day and my legs were just giving out on me on my last run.
It started out snowy and windy, but turned in to a great day on the slopes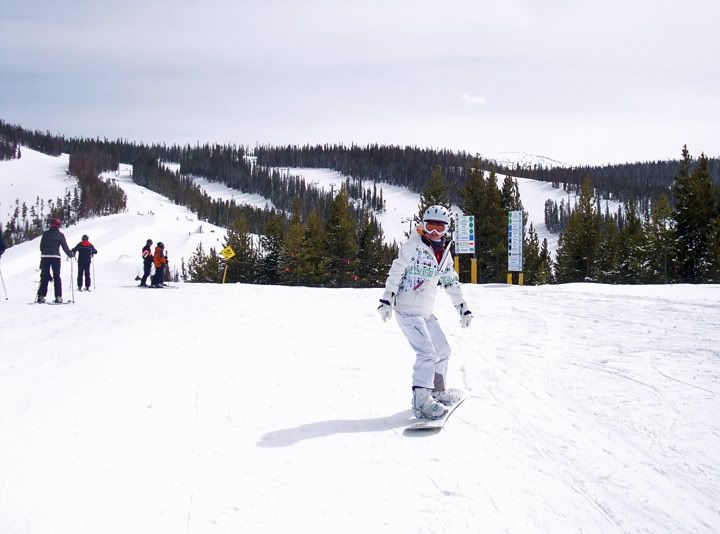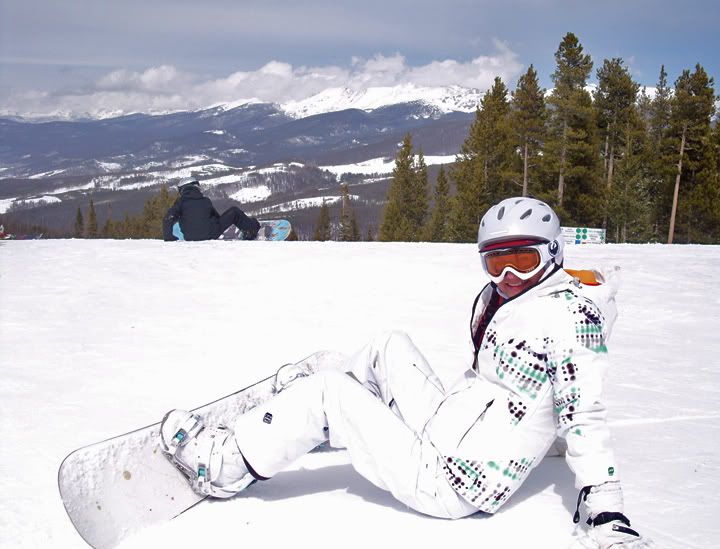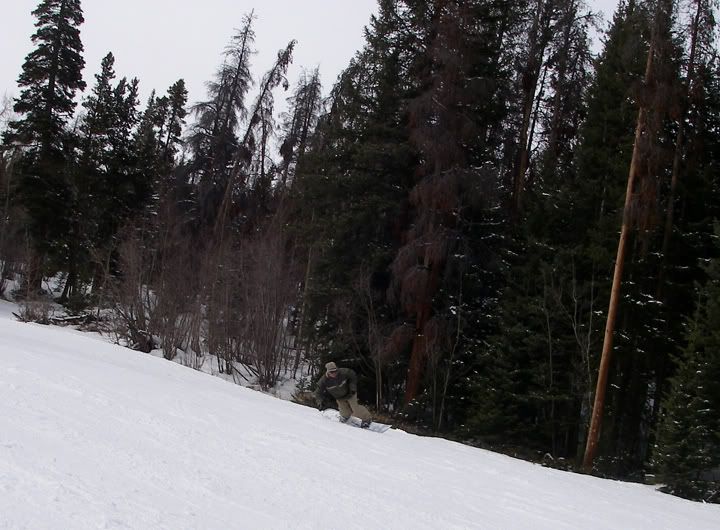 CJ carving
April 11, 2010 – Winter Park
I headed to Winter Park by myself today, CJ likes to snowboard but not every weekend and since I'm still learning, the more often I do it, the better I'm getting. More practicing to turn, toe and heel side. At times I'm now linking up to 2 turns, but that's all. Today was one of the first days where I snowboarded most of the day and I left not totally exhausted. Finally some real progress since I want to be able to snowboard all day! I also really like Winter Park, there are some nice and sort of empty green runs that are great for a newbie.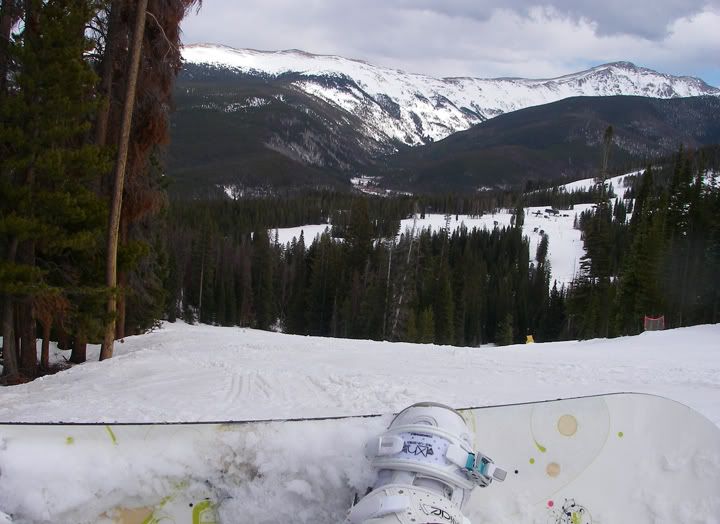 April 17 - 18, 2010 – Copper Mountain
This weekend was closing weekend for many ski resorts, so we headed to Copper Mountain for the whole weekend. Jen, her husband Jim, CJ and I (the 4 motorcycle riders) left for Copper after work on Friday, and got motel rooms in Frisco so that Saturday morning we were at the slopes and ready to go. Snow conditions weren't ideal for me Saturday morning, the snow was really packed and slippery and I was having a hard time, but by the afternoon it was all better.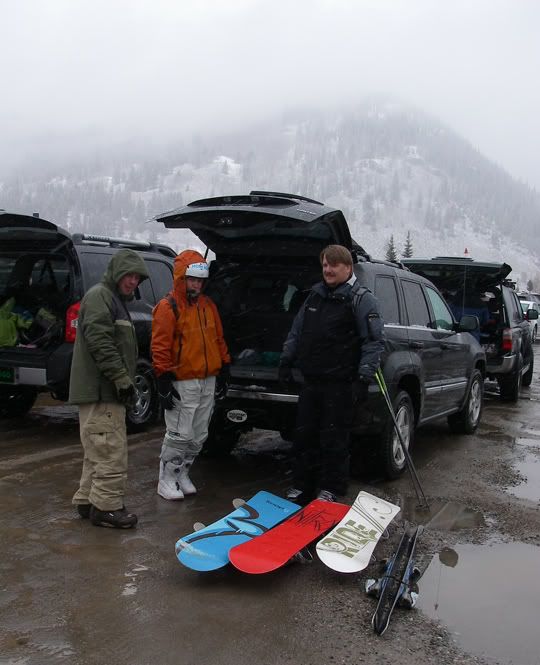 Snow falling at Copper Mountain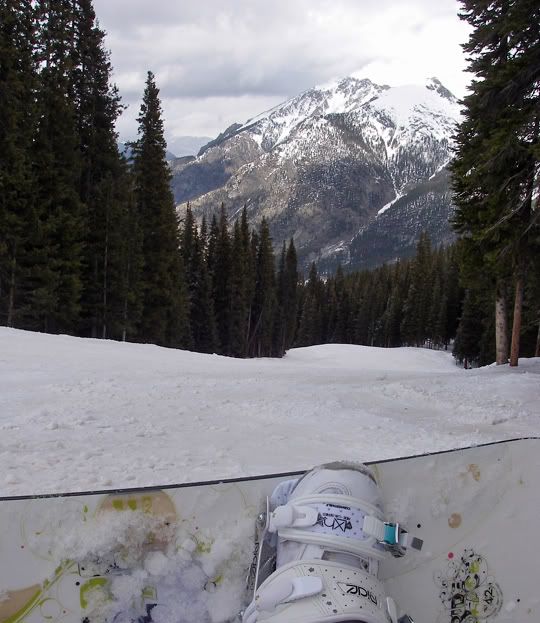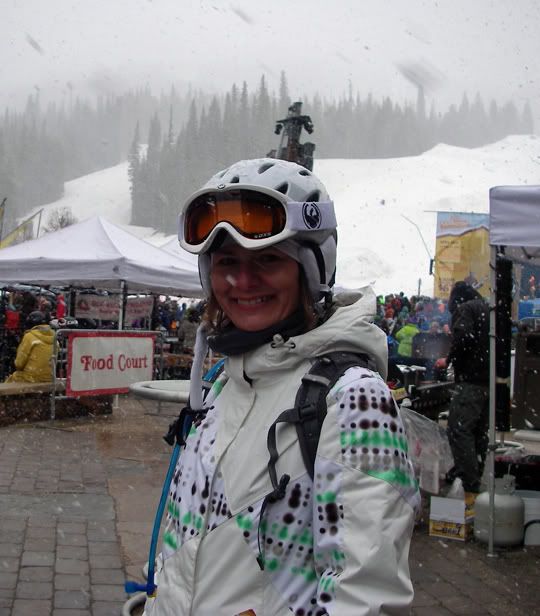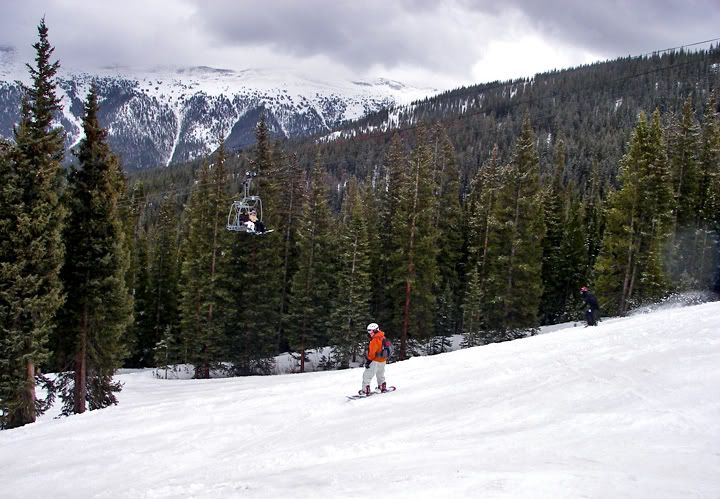 Jen
Yes, Jen and I have the same orange REI jacket

Sunday was amazing though, in the afternoon I found myself some nice green trails and I was practicing my stuff. By the end of the day I was doing great, well – better than ever - so far. I had planned on this weekend to be my last weekend snowboarding, but now that I had made some real progress I wasn't sure I could stop.
Jen took some pictures of me getting ready to head down the slope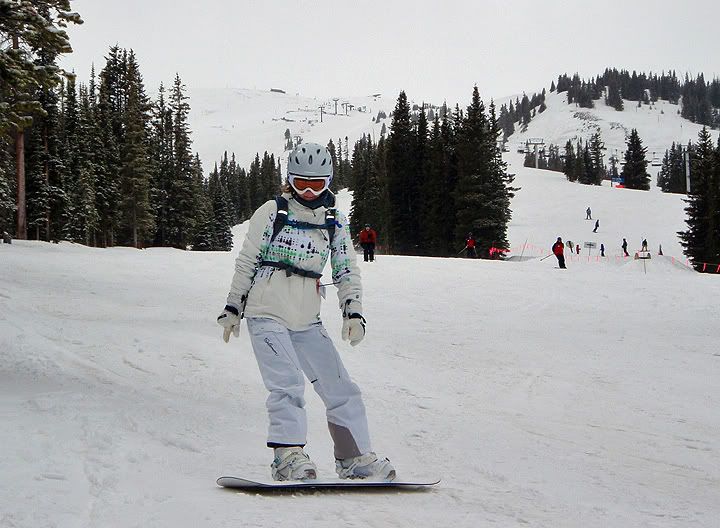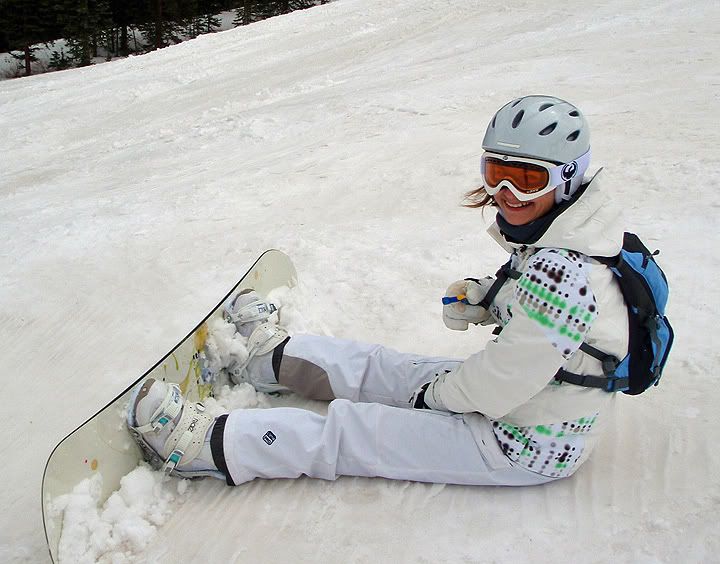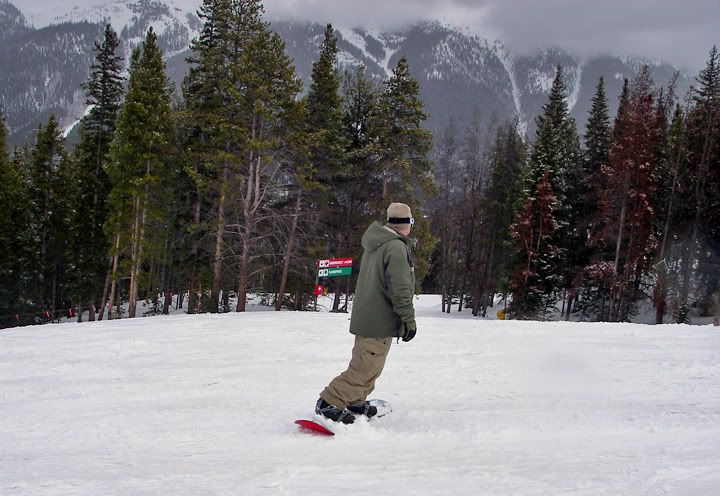 CJ
Snow clouds moving in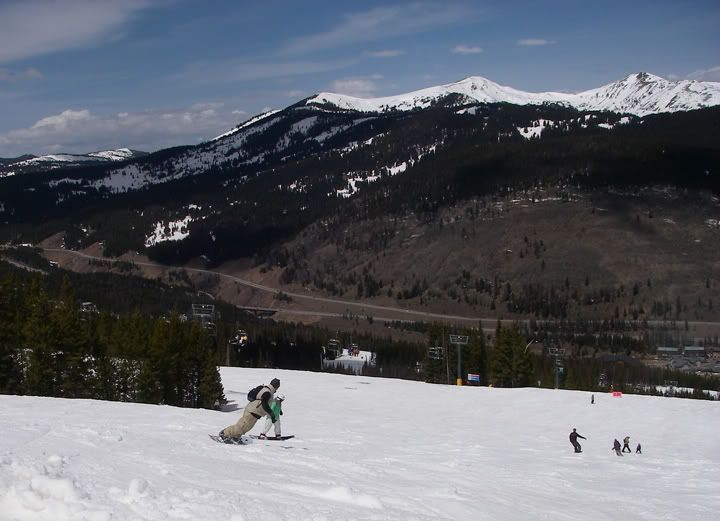 CJ and ahead of him is Jen in the green jacket