Day 1 - 520 miles through Illinois, Indiana, Kentucky and Ohio
With the sun just barely peaking over the horizon, we're heading east. The ST3 growling beneath me, Mike and the Tiger just a black spec in my rear view mirror. It's early on a Saturday morning of Labor Day Weekend and the traffic is actually moving on the Interstate just east of Chicago… it's a miracle. Especially since the road is under construction and has been for years. I think they are almost done, it's looking good now. And even though I just finished packing this morning, we only managed to leave 45 minutes behind schedule, another miracle.
Getting close to the Indiana border now, I rev up the engine and get the Duc up to 80MPH, maybe more. My brand new tires, still looking very shiny, glide over the pavement effortlessly even though the bike is weighed down with enough crap to get us through a 9 day trip that includes a few days of camping.
Yep, I've got all the important stuff you need on a motorcycle tour and some stuff you really don't need but it's good to have anyway. I have the tire plug kit and a mini air compressor incase one of us gets a flat. The gas siphon in case one of us runs out of gas. I even have a camping pillow and a compact hair drier, my little luxuries, all the stuff is stowed away nicely in the two side cases, the top case, the tail bag and the tank bag. This is by far the best packing job I've ever done.
And I have some electronics also, a cell phone, a GPS, two digital cameras and a video camcorder, a laptop.
I notice right away that the bikes weighs more than it have ever weighed before. At least 20 lbs. more then it did last year on the 10 day trip out west. It's all the electronics and their chargers, all together they weigh a ton. I just pray that I don't end up dropping the bike on this trip since it's so heavy and I don't flat foot it.
Slabbing on I-65 through Indianapolis, IN
We continue south, the interstate portion of the ride is over and we roll down our first back road of the day. We stop in Greensburg, IN to shed some layers, it's getting warm now. I've seen this place on TV actually. Greensburg, Indiana's claim to fame is a tree growing out of the roof of the courthouse in the center of town and we just happened to be passing right by it.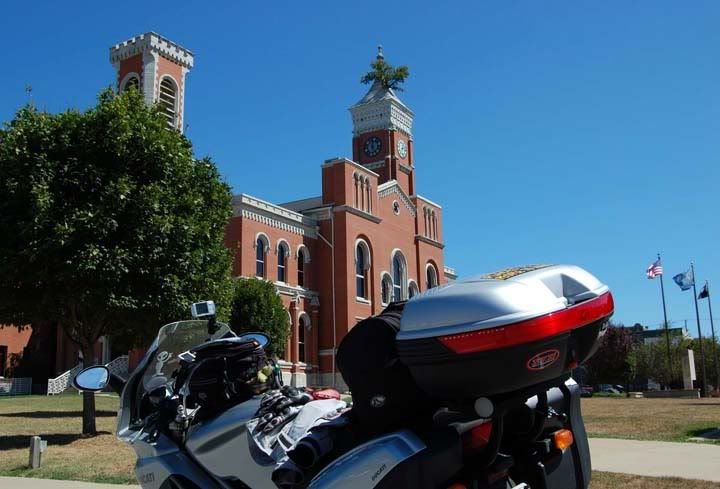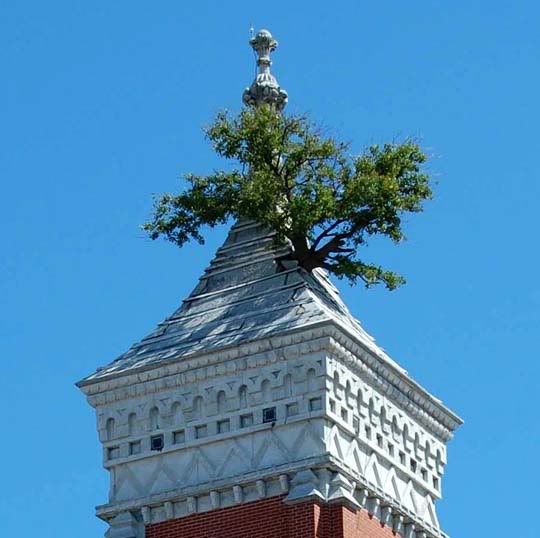 Greensburg, Indiana courthouse and the famous tree on the roof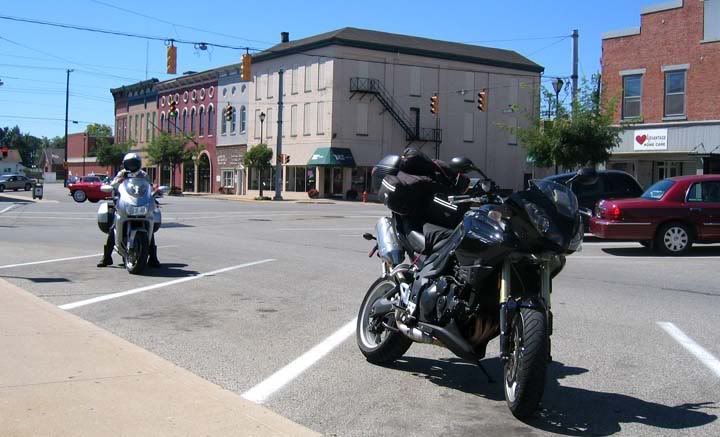 Downtown Greensburg, IN

421 between Greensburg and Versallies, IN
We head for the Ohio River but we get detoured to an unplanned road. Now arriving at the road we need, I realize we went out of the way but there are any a few places to cross the river, so we have no choice, we can either cross east or west of here, we go west. The roads are getting somewhat twisty now, some have rollercoaster qualities.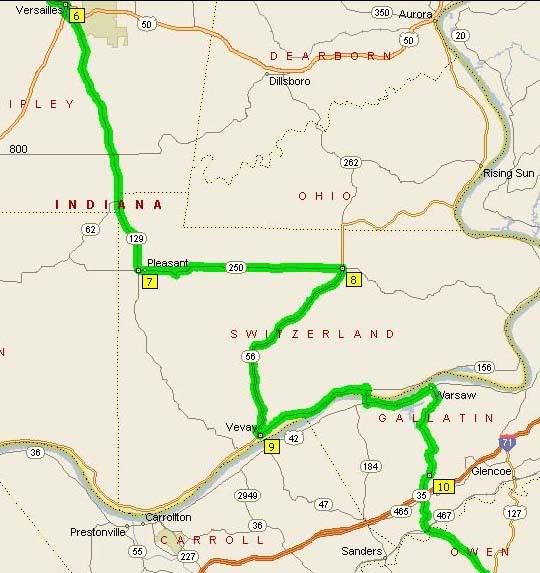 We wanted 129 but it was closed, the detour took us on 250 and 56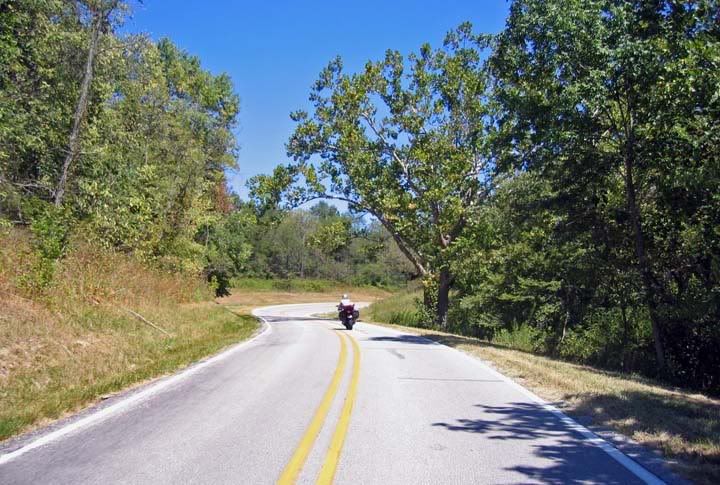 The curves and hills finally start in Southern Indiana

We cross the Ohio River in to Kentucky and we pass a restaurant on the river but I have hopes of something better in the town of Warsaw. A few miles later we get in to town and see nothing, so we turn around and ride the few miles back to the Sunset Grill.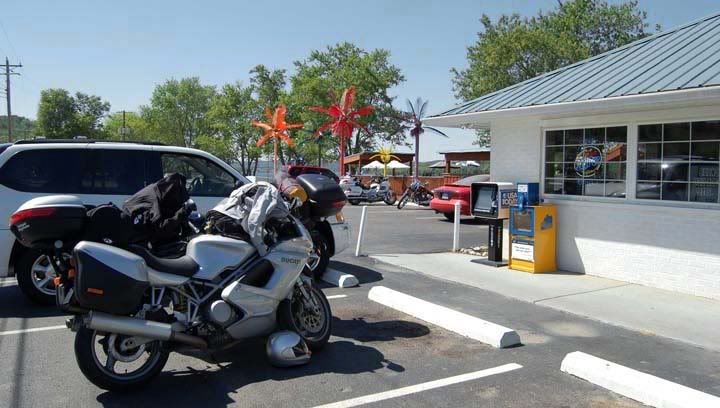 Lunch at the Sunset Grill on 42 West of Warsaw, KY
View of the Ohio River from our table at the Sunset Grill

This seems to be a popular motorcycle joint, there are many bikes parked out front. We grab a table outside with the river view. There is nothing better than a good lunch with a good view, unfortunately the service is slow, the food isn't good or cheap, but we do have a good view. Now stuffed with food and feeling sluggish, a cold Red Bull from the bar gets us on our way.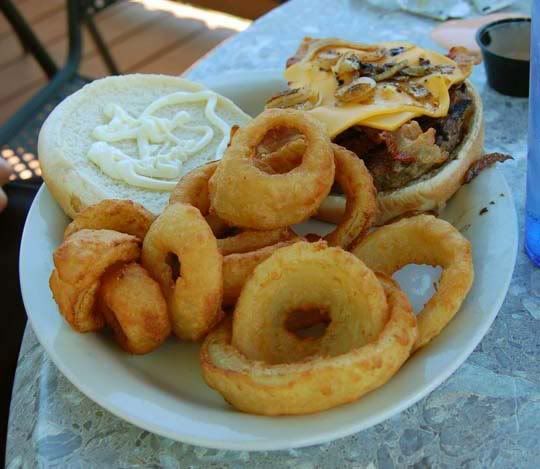 Mike's Burger
My chicken sandwitch
The roads are getting good. 35 heading south from Warsaw, has some twists, but 227 south of Owenton is as twisty as I remember it the last time I was through here. We turn on 607 heading east, also twisty with brand new pavement.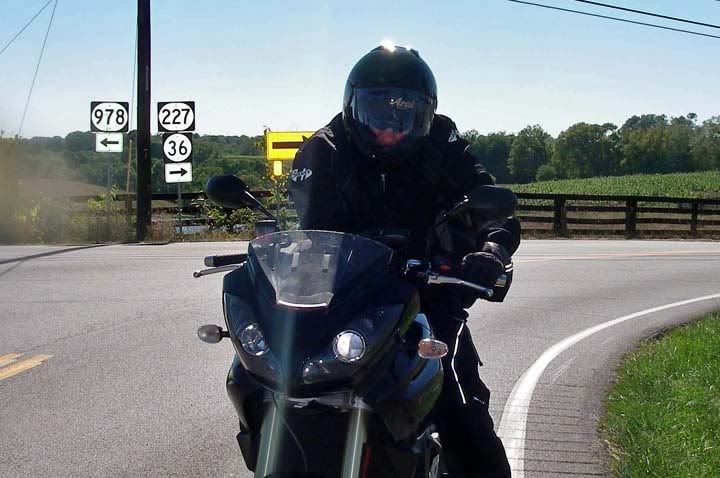 We went the wrong way on 227 and had to turn around, so we got a few extra curves in since south and north of here, 227 is a great road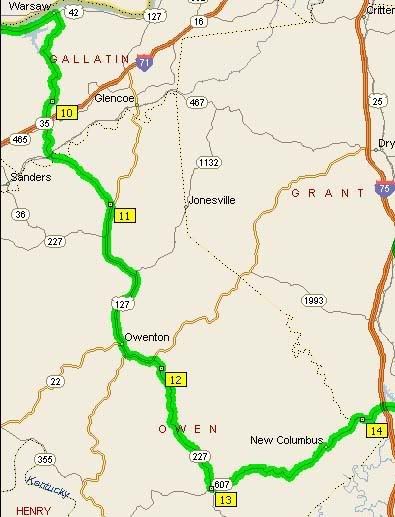 227 South of Owentown is a very fun road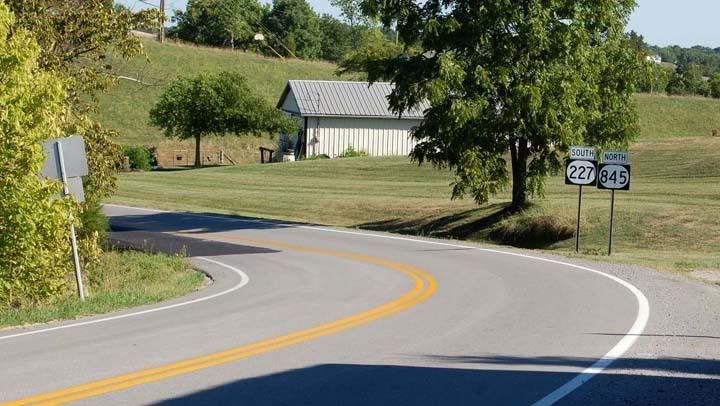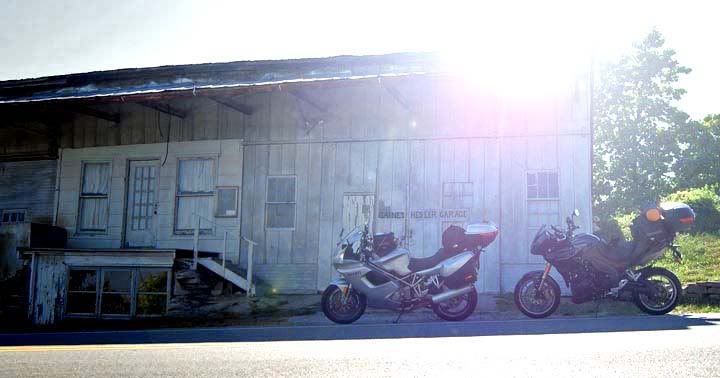 227 South of Owentown
It's getting late now and our breaks are getting shorter. We grab 330 heading east but somehow we end up heading toward the west, the road is good and we're still going toward 22 which I wanted to take, except now we need to get on 25 to get to 22, but it's worth it, 22 turns out to be the best road of the day twisting and turning through the hills. All the roads are kind of narrow and many of the turns are blind, which slows me down some but Mike really likes that kind of stuff. The next road we take is 10, which is still pretty darn good but the light is fading now.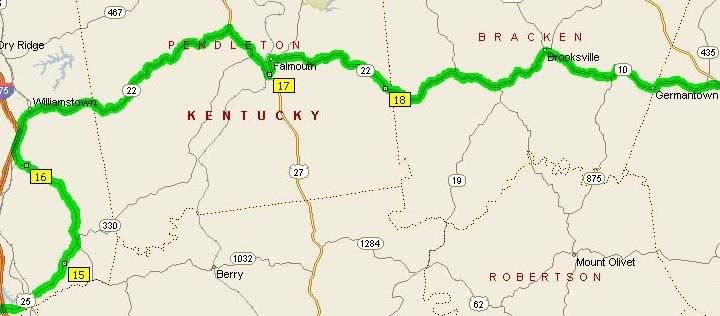 22 was the best road of the day, not a lot of straight sections here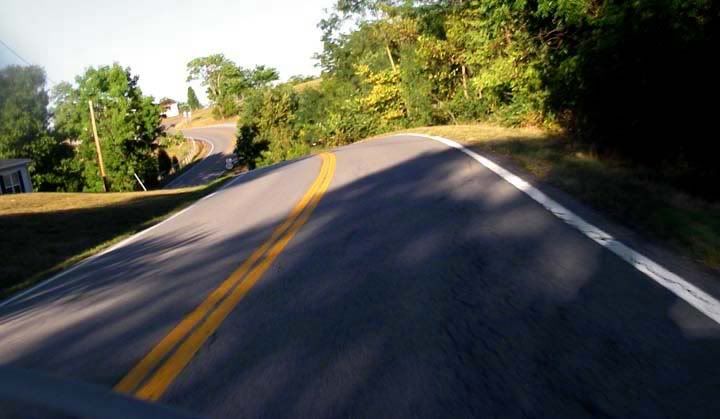 These curves on 22 were a lot of fun, better than 227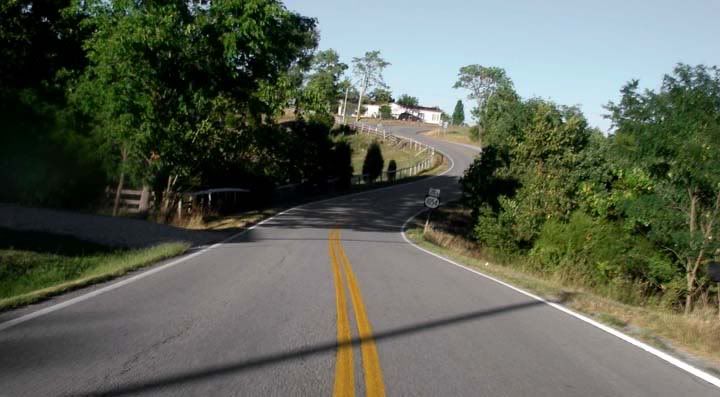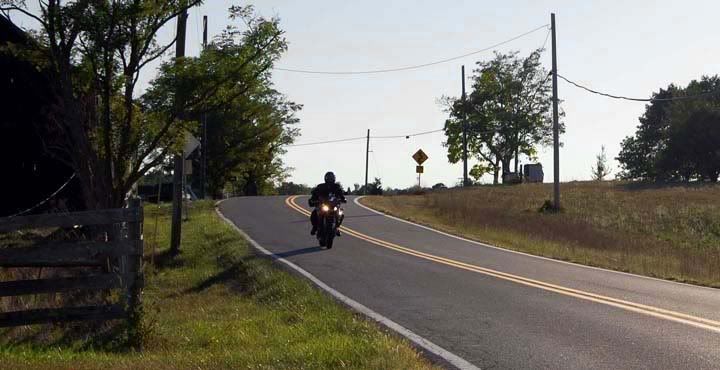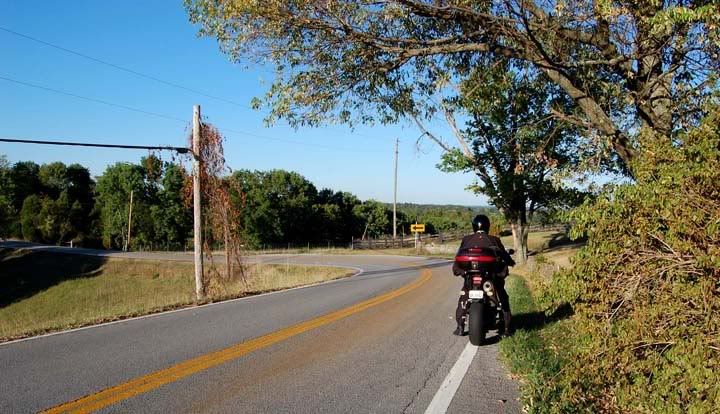 22 was the best road of the day
We cross the Ohio River again, this time we're in Ohio. The sun sets so we pull over for gas, to put on some layers and I need to change out the tinted helmet shield for my clear one. We estimate we'll be there in an hour or so. There being a motel we had made a reservation at since we knew we'd be rolling in late and didn't want to be hunting for a motel room on a holiday weekend.

Then as we pull out of the gas station we accidentally go the wrong way. I didn't catch it until many miles later because I have turned my GPS off (I can't really see it in the dark anyway) and there were no directions posted over the route sign, it just said we're traveling on route 52.
Went the wrong way on 52, it was late, so we had dinner in Ripley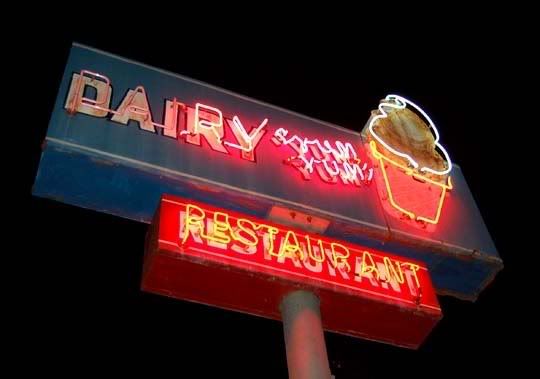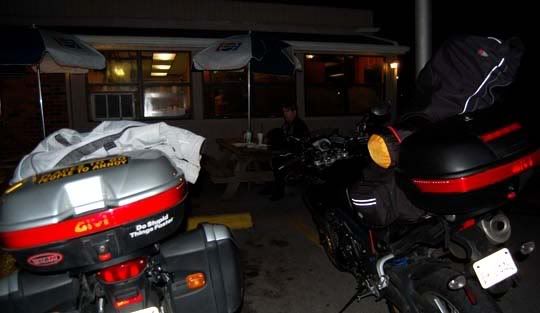 Eating outside at the Dairy Yum Yum in Ripley, OH
Corndogs and chicken strips, the ultimate road food

The night is pleasant and we're riding along the Ohio River gazing at the many reflections on its surface, it could be worst. And then I realize, we still have one more hour or so of riding and I'm hungry and many places could be closed by the time we get to the motel, plus I don't want to eat so late. We didn't want to eat too much and get sleepy, so a snack is all we needed. The road food of choice for us is always corn dogs and chicken strips. The joint closed even before we were done eating, I had to finish my chicken strips in the dark. The food was cheap and that made it even better tasting.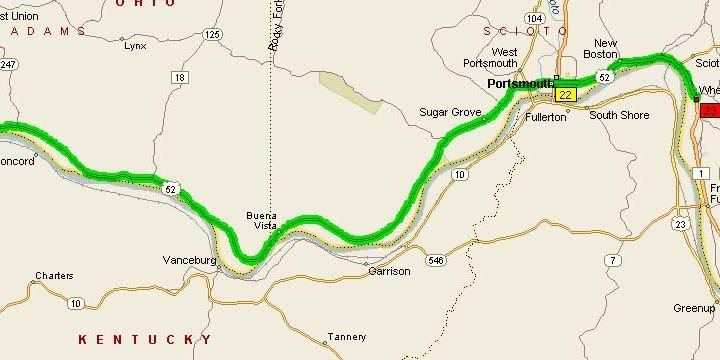 Following the Ohio River all the way to the Days Inn in Wheelersburg, OH

The last leg of the trip was not as fun. I was tired, it was kind of getting cold and there were cops looking for speeders. The deer signs had me looking more in the bushes than on the road itself. I was counting the miles we had left. Finally we rolled through Portsmouth, OH and found ourselves some heavy traffic. We caught every red right all the way from Portsmouth to the Day's Inn in Wheelersburg,. And every time the traffic stopped at the red light, some guy in the car behind us shouted something out of his car. We don't know what he was shouting since we had ear plugs in. We arrived at the motel at 10:30PM our time, it was already 11:30 in Ohio. A long day on the bikes considering we were on the road by 6:45AM.