Time to go home. We were up just before sun up. The tent was apart in mere minutes, the re-packing of the truck took a little longer. Less than an hour later we were on the road.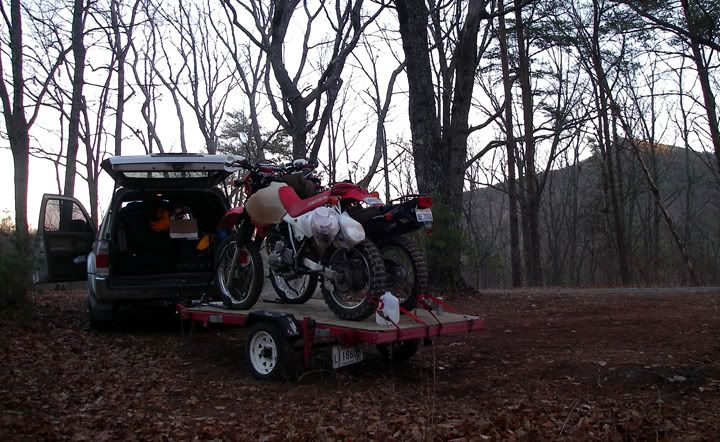 Packing up camp
281 was all ours, we only saw a couple of cars going the other way. 431 was another nice and curvy road, we took this one to the interstate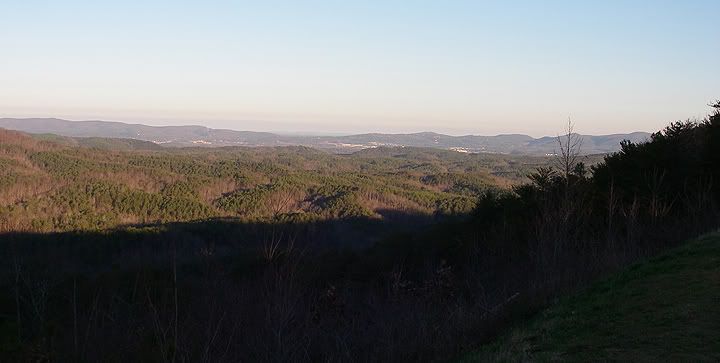 Views from 281
We wanted breakfast but figured many places would be closed new years day so we waited until we got closer to Birmingham to stop at a McDonalds to eat.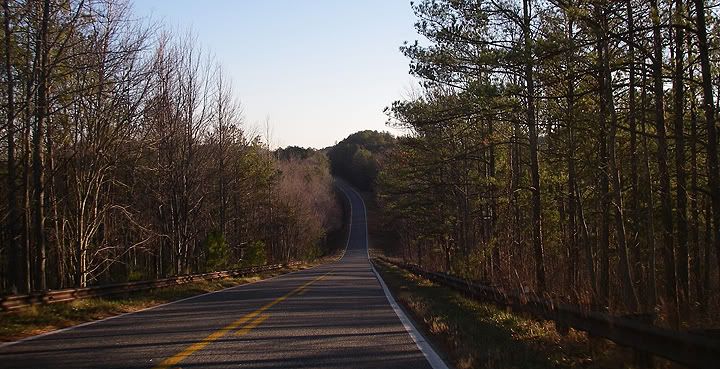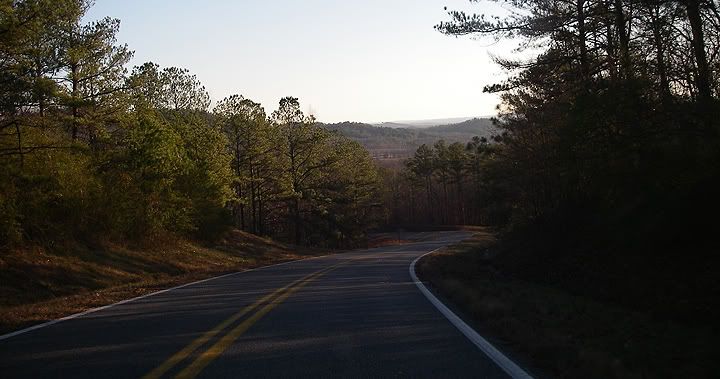 Driving the many curves of 281
431 another nice road with twisties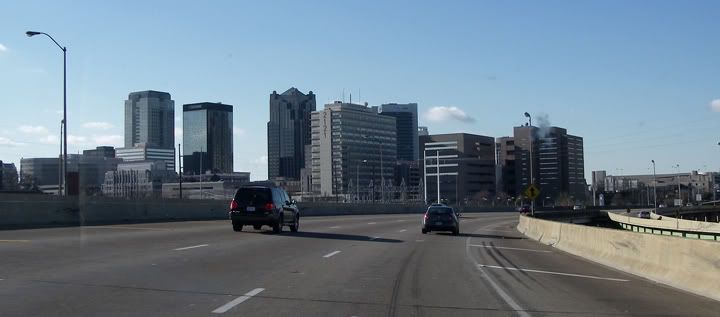 A cold and sunny day in Birmingham, AL

It was a cold and windy morning and it was supposed to stay cold and windy all day. We continued on the interstate heading north, the traffic wasn't bad and by our calculations, we were looking to be back in Chicagoland by 9PM.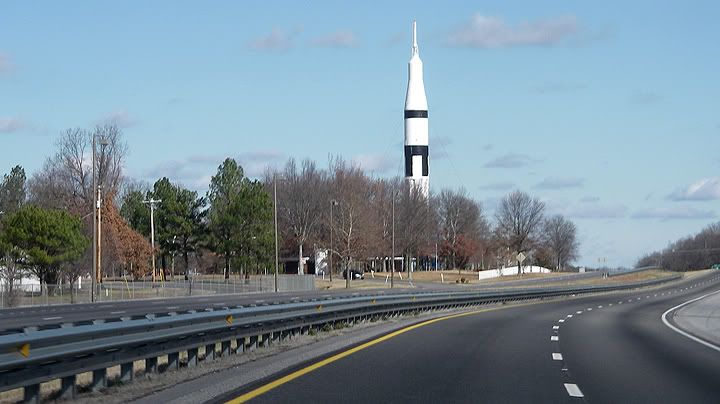 A big rocket near I-65 somewhere between Birmingham and Nashville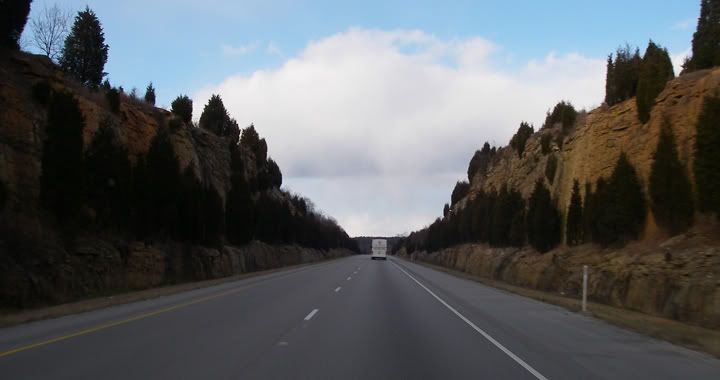 Nice scenery along I-65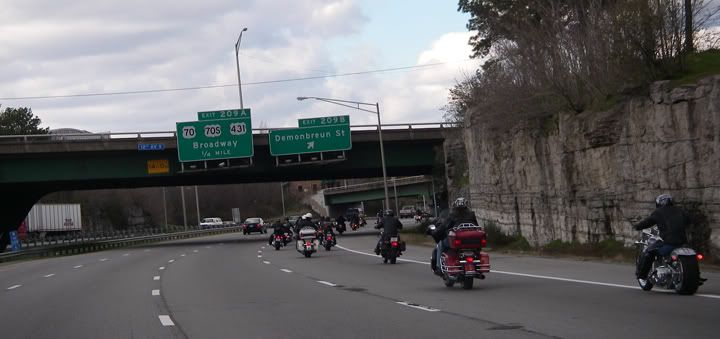 New Years Day ride in Nashville, TN
A really cool bridge
We had some snacks in the car for lunch, but by dinner time, we were looking to see what fast food places were open off the interstate, hoping for something healthy to eat like Subway. But the few exits we took, nothing as open. We finally gave up and stopped at a Taco Bell.

The winds kept picking up as we headed further north and by the time we reached Tennessee there were snow flurries floating about. We knew that Chicago was getting snow today but we were hoping that it wouldn't delay us too much. I had to be at work tomorrow morning, so we had to make it home tonight.
Snow getting worst in Southern Illinois

But the weather was not cooperating. The further north we went the worst it got. About 120 miles from Chicago it was snowing bad. It was very cold. 30-40MPH wind gusts were blowing so much snow across the road, not only was it hard to see the road but the wind was also trying to push us off of it. The driving in these conditions was not fun, towing a trailer.

After sliding on some ice and freaking out, we decided to take a break at another McDonalds. The weather channel was on inside and many people were watching TV. The place was packed.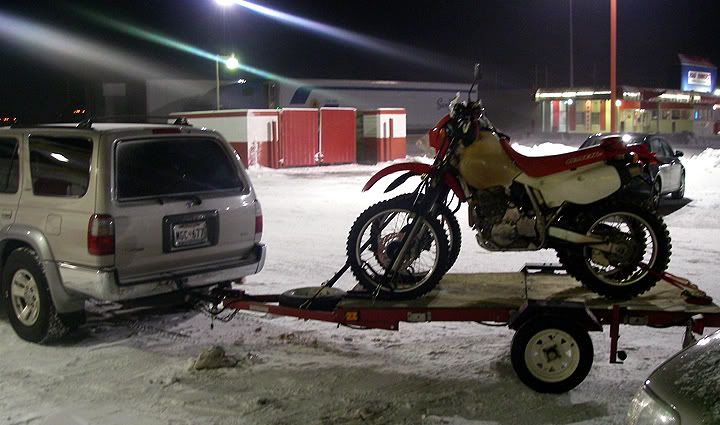 McDonalds parking lot, 100 miles from Chicago on I-57

Driving in these conditions was very dangerous. The biggest danger wasn't our driving skills or the road condition, we were as careful as we could be, driving 15-20MPH under speed limit. It was all the other vehicles. Some trucks were still going 65MPH, passing us way too close for our comfort. We counted at least 40 cars in ditches that slid off the road.

Some people that stopped in at the McDonalds that were driving from Chicago on I-57 said that once we got past Kankakee the road conditions would improve. We were not that far from Kankakee. It was time to get going again. The snow stopped falling from the sky but the winds continued to blow the snow across the road, at times you couldn't see anything. It was slow going, other vehicles continued passing us at a higher speed and we continued seeing many more cars in ditches. But we got past Kankakee and the roads did get better, the wind wasn't blowing as hard either. The driving conditions got better and better as we got closer to Chicago.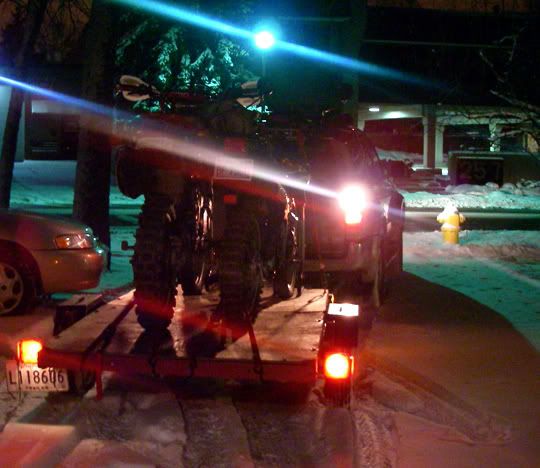 Back home

After what seemed like a long day, we arrived at the house a bit after midnight. Our trip had come to an end.