After driving 2,000 miles in the last 2+ days we were back home, arriving around 9PM. We were pooped.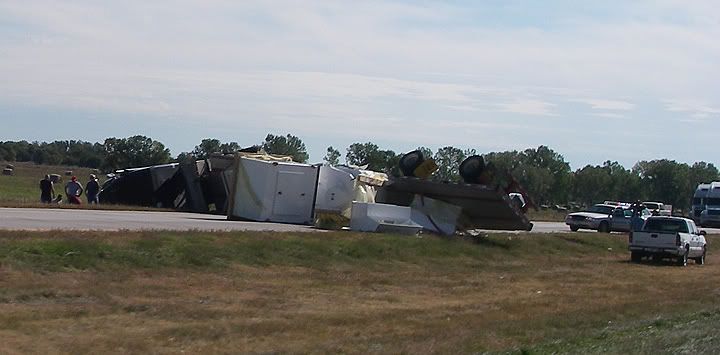 A nasty wreck on I-80
We were so glad we were driving the other direction, the traffic was backed up for miles

Some fall colors already popping up along I-80
"Phase I" was complete. Three of the bikes made it to Fort Collins, plus all the motorcycle gear, our tools, camping equipment and lots of boxes with other stuff.
"Phase II" would take place next week. In Phase II we were going to try and move the rest of our stuff using our vehicles. Since we were still in the middle of packing, we didn't really know what we were taking with us and how much room we would have in our vehicles.
The things we were not taking with us would go into storage in my mom's basement until we could get it next year. The packing process was actually a bit complicated and time consuming. Go through all the stuff, throw away or give away stuff that is no longer needed. Pack the items I wanted to take with, pack the other stuff that was going in to storage. The stuff I was taking with was boxed up and left upstairs, the stuff going in to storage was left downstairs. This was I could visually see what was going and how much of it there was. Trying to predict what I would actually need in the next 9 months was the hardest part of packing.