Mike's boss was visiting Chicago with his girlfriend this past summer and he wanted to take Mike and I to dinner. The dinner took place on the 95th floor of the John Hancock Tower, in the Signature Room. The food was good, but the main attraction was the spectacular view of the city. We had a great table next to the window. Not only could we see Lake Michigan and Lake Shore Drive but we could also see the sun set in the distance over Chicago.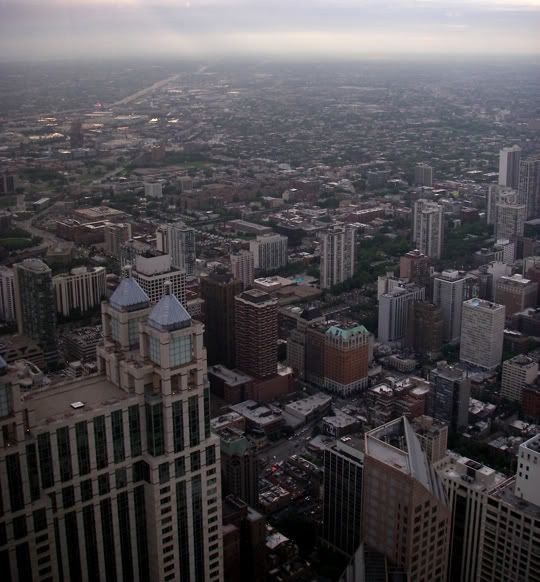 Daylight fades over Chicago
With me getting laid off from work just two weeks after this dinner took place and us departing on the 6 week motorcycle trip out West a week after that, the pictures I took at dinner ended up being forgotten until now. But since we are moving away from Chicagoland I thought these pictures would be prefect for this post.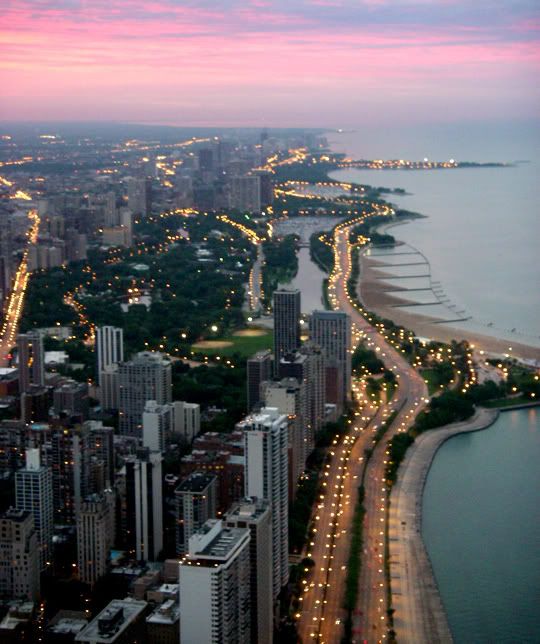 Looking toward Wisconsin
Yes, you read that right - we are moving to Fort Collins, Colorado at the end of this month!
Our dream of living near the mountains will soon become reality. I've been searching for a place to rent in Fort Collins since our return from Colorado last month, but none of the places in the ads were what we were looking for.
The sun sets over the city
Then earlier this week on Craigslist I saw an ad for a house rental. The price of the rent was good, the location was great, the size of the house was good too - most importantly it had a two car garage and two full bathrooms.
The best view is from the ladies bathroom
This place was perfect. It was located on the far south side of Fort Collins, close to Loveland, which was ideal. This way I could look for employment in Fort Collins and in Loveland.
And this house was fully furnished, so we didn't have to rent a moving truck to bring all of our belongings with us. Moving trucks are expensive and gas is expensive, also when you move all your stuff you commit yourself to the location. We were planning on living in Fort Collins for the next 9 months, the duration of this lease, and next summer when the lease is over we can move somewhere else or stay in Fort Collins for good and then move all our stuff there, once we're really sure that we're going to stay for a while.
So basically for the next 9 months we just needed our clothes, some of our stuff and our bikes. Now the most important question - how do we move 5 bikes a 1000 miles when we only have a trailer that can tow 2 bikes?
We didn't want to spend a whole lot of money on the move so we started to shop around for the cheapest means of getting the bikes over there.