I can't even tell you how many times while on a motorcycle ride or a hike we needed drinking water and we were near a river, stream or a lake. The days of buying drinking water are officially over now that we have this Katadyn water filter. There is free water all around us, it just needs to be filtered. Not only is it cheaper to filter your drinking water but it also saves all those plastic bottles that bottled water comes in.
I've known that water filers existed for a while, and its something that has been on the list to get, but usually with us we get stuff when we absolutely need it. This was one of those instances.
We were backpacking in the Nordhouse Dunes, there was no drinking water available here but this was this huge lake near by. Instead of carrying enough water for the whole two days, which would have been very heavy, we decided it was time to get a water filer. Katadyn is the most popular of the brands and has very good reviews. It weighs 11oz. and comes with a carrying case, so all the components stay together. The price is $75.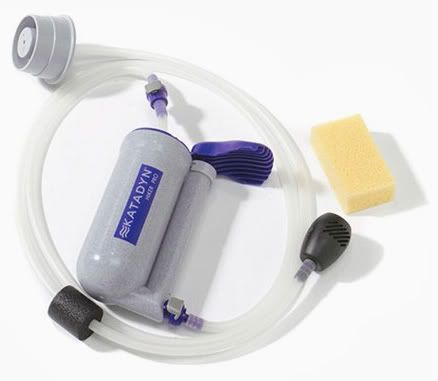 Katadyn Hiker Pro Water Filtration kit

We used it today for the first time and we absolutely love it. It's so easy. You drop one hose in the water, and you pump out clean drinking water throught the other hose. The clean water goes directly in to your water container - a bottle or in my case the Platypus. The process is quick. It was faster for the two of us to do it. Mike pumped the water and I was poured the filtered water in to our water containers. It didn't take very long either and the water was delicious.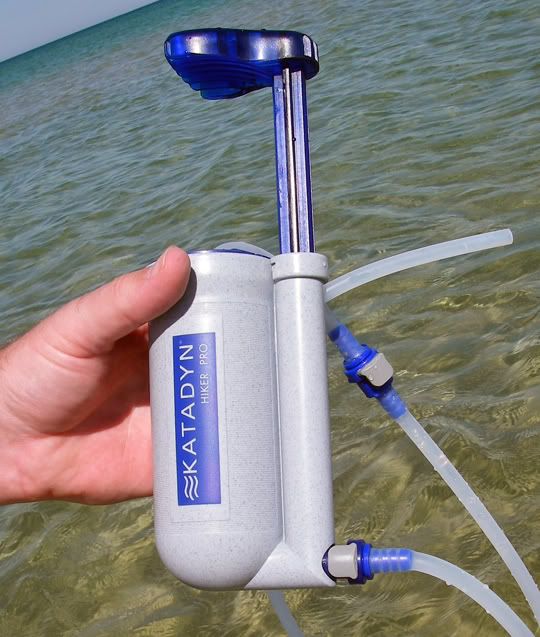 Our Katadyn in action at Lake Michigan