This weekend a bunch of people were planning on camping in the Routt National Forest at the old Rabbit Ears Pass just east of Steamboat Springs. Some of them were going there to ride trails and dirt roads, some were going to fish, some were doing both.

I wanted to take the XT225 on another overnight camping ride and this would have been the perfect place to do it but this week was just a bit crazy and I just had so much to do since I was heading out on another multi-day ride starting next weekend and I was still finalizing the route and where to camp. Taking the XT225 was just out of the question at this point. It would take too much effort to try and pack the XT for an overnight ride. I had already declined my invitation but then at 10PM last night CJ e-mailed me to let me know that he wasn't able to get his XR400 finished in time to ride out there and was going to take his SV650 instead. I wanted to ride the XT because I wanted to ride the many dirt roads in the area, but riding the ST3 out there and camping would be fun too.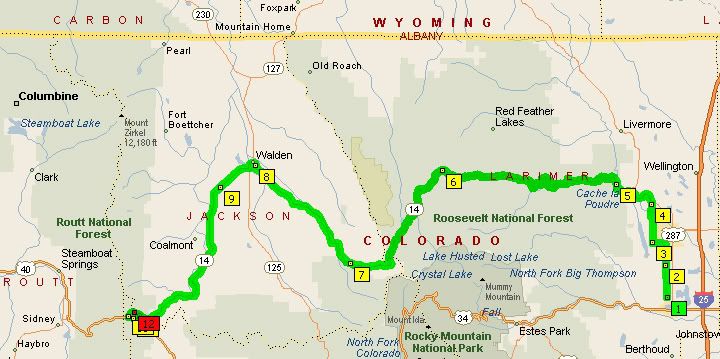 Todays 149 mile route to the old Rabbit Ears Pass located in the Routt National Forest; highways 14 and 40, and FR-315


I decided to head out there this weekend but I still couldn't leave early in the morning to ride out there with CJ. Now that I decided to ride the ST3 I was also a bit concerned that the forest road to the campsite might not be paved. I asked CJ to text me when he got there and let me know if the forest road road was paved. At noon I got a text message stating the road was paved but people were not camping at the Dumont Lake campground. Instead the group had set up camp just east of there. This is what I love about Colorado, in most of the forests you can pitch a tent anywhere and camp for free. I was really glad to know that the road was paved since I really dislike riding gravel on my heavy ST3, especially since I don't flat foot the bike.
My paper maps show the road as FR-315 or CR-315, but some on-line mapping software show it as 199, Old Rabbit Ears Pass is located on that road just east of Dumont Lake
(N 40°23'59" W 106°37'05")
I had brand new tires on the ST3 so I was excited to be able to try them out this weekend and heading up toward Steamboat Springs meant I was going to ride the curvy highway 14 AKA Poudre Canyon. I packed up the ST3 and got going around 2:30PM, a little later then I wanted to but I just had so much to do a the house. The ride there was 149 miles and
Microsoft Streets and Trips
informed me me that it would be 3 hours and 13 minutes. Even with a stop for gas in Fort Collins and a stop for bathroom near Cameron Pass I still made it out there in 2 hours and 45 minutes. I didn't stop for any pictures on the way since I wanted to get there quick.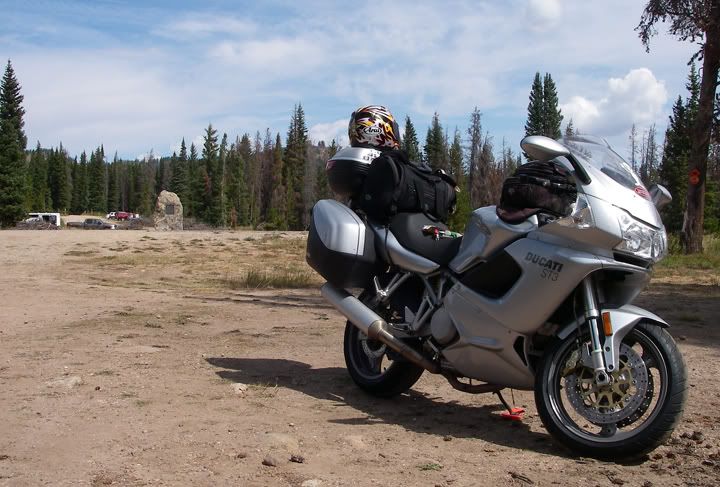 Parked for the night across the road from Old Rabbit Ears pass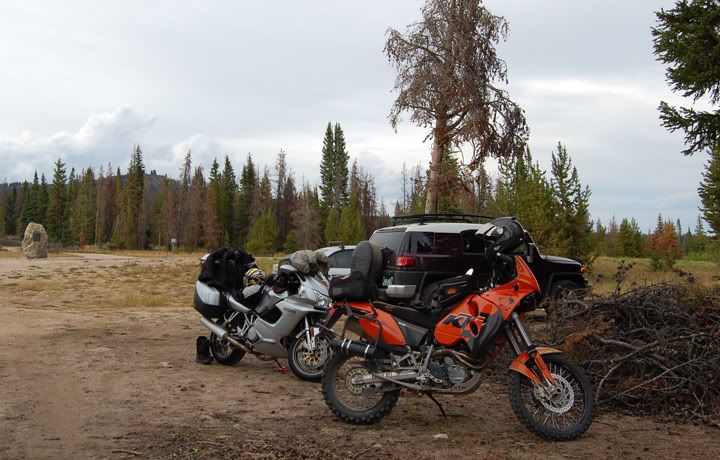 Some people rode their bikes and some brought their cars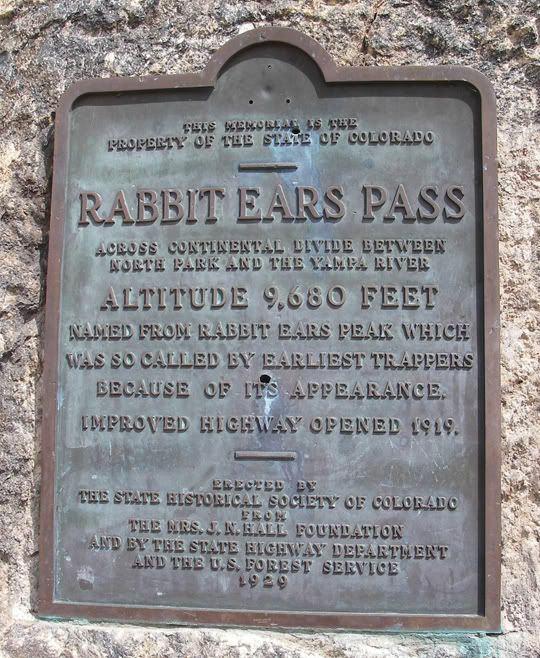 This is the Rabbit Ears Pass memorial up close, you can see in the distance in the above pictures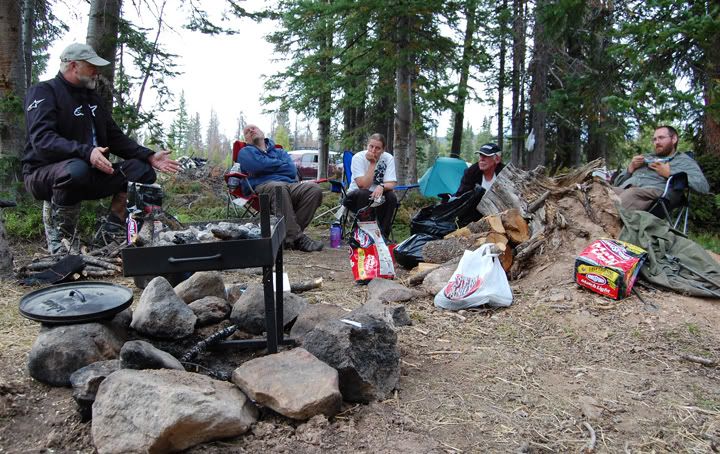 Eating dinner and chit chatting, once it got dark this is where we ended up spending the evening, sitting in front of a camp fire
Camping right off FR-315 in the Routt National Forest

The ride out there was great. The brand spanking new Pirelli Diablo Stradas dove in to each corner so effortlessly. There was hardly any traffic on highway 14 heading west this late in the afternoon and if that wasn't already a treat, part of highway 14 had brand new pavement. West of Walden I turned east on to highway 40. I rode past Muddy Pass and Rabbit Ears Pass, and found forest road 315, also CR-315 on some maps, and a few minutes later I found the group camping on the side of the road just across from the old Rabbit Ears Pass memorial at 9,680 feet in elevation. I showed up just in time for dinner and before I could even get my gear off, I was handed a beer and some chili.
Looking at the camp site from the road
This is my tent, I left my bike near the road for an easy exit tomorrow
CJ rode his bike on to the grass and parked it next to his tent


After dinner everyone went fishing at the nearby Dumont Lake. I needed to set up my tent before it got dark, but after that was done I joined everyone at the lake although I was the only one not fishing. We stayed at the lake until sunset, then walked back to our camping spot and spent the rest of the evening sitting around the camp fire. The night was chilly, but I was pretty comfy inside my 15 degree sleeping bag although I didn't sleep very well, most likely due to the high elevation.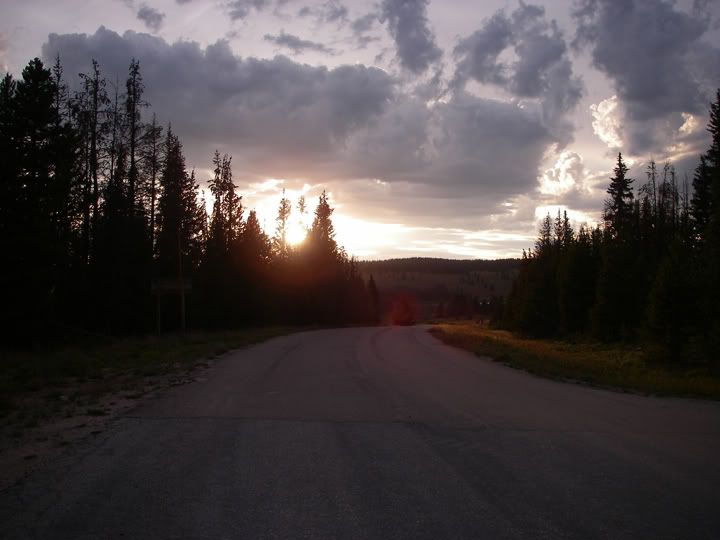 FR-315 is a narrow paved road, looking west at 315 from the Old Rabbit Ears Pass
The dirt road to Dumont Lake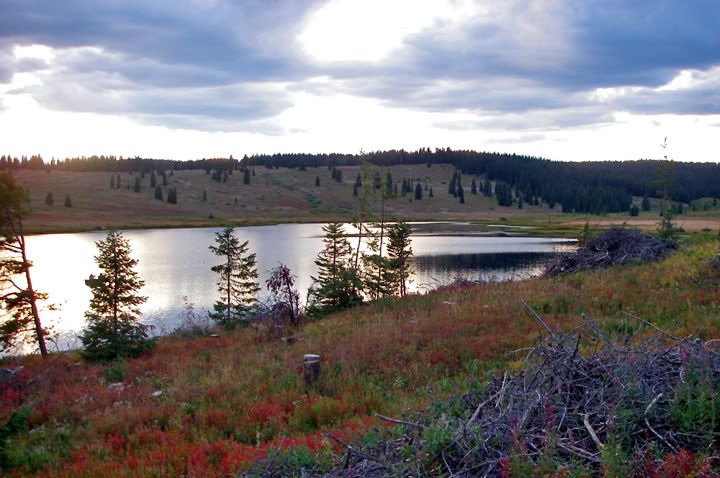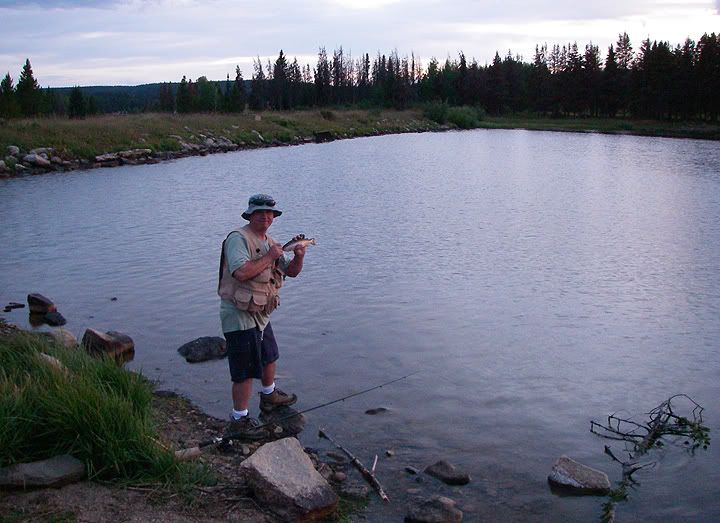 It looks like CJ caught something
A few of the others brought cars so they could bring their kayaks and canoes