When I left my bike in Dalton's garage last Sunday and needed to take his car to get back home because the caliper bolt was stripped (see previous post) and I didn't have a spare, we decided that I'd come back during the week with a new caliper bolt. We would only need a few hours to install the rear wheel on the ST3. Then I could ride the ST3 home and Dalton could have his car back.
So I made it back to Dalton's with a new bolt for the rear caliper earlier this week. I picked up the rear caliper bolt at the Ducati dealer and paid $5 for it - yikes! I was going to get some spares but not at this price. By the time I left work and made it to Dalton's we only had about three hours to get everything done before I had to head back home.
While trying to get the rear wheel back on I grabbed the GIVI top rack and it moved. Then I noticed that the GIVI top rack wasn't bolted down in two places. Two bolts were missing, one on each side. You can't see the bolts with the side cases on, so who knows how long they were missing. Couldn't have been too long though, the top case would have been too heavy to stay up on the rack without those bolts so they fell out very recently. Probably at the end or after the 4th of July trip.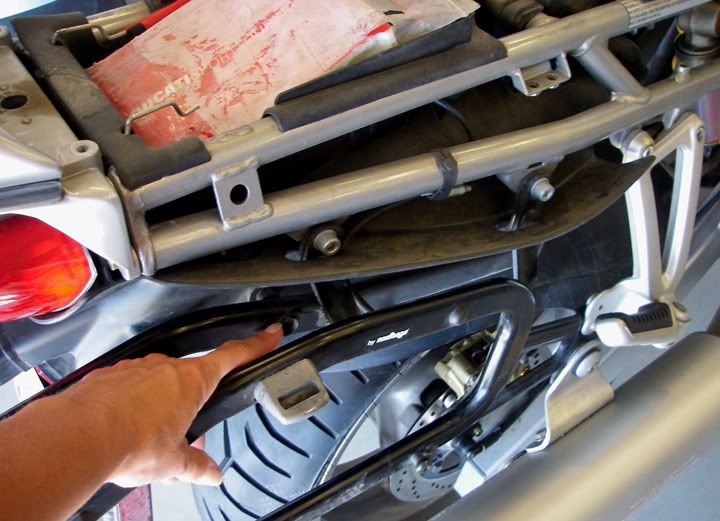 A GIVI top rack bolt is missing, the same bolt is gone from the other side
Getting the rear wheel back on and adjusting the chain took way longer then it should have. We still needed to figure out how to secure the GIVI top case rack using some zip ties and I still had to put the plastics back on the ST3, which is very time consuming and a pain. And before riding 95 miles back home I wanted to do a test ride to make sure the rear tire and everything was good to go.
We worked as fast as we could but it just wasn't going to happen and you can't rush these things. I would have to leave my bike here until the weekend after all. Dalton made some measurements for the GIVI rack bolts that were missing. I would not be going to the Ducati dealer for those and paying too much.
So this weekend I was back to finish the ST3. I had with me two 8mm x 25mm bolts that I picked up at a hardware store for $0.87 each. Dalton was going to install a new front tire on my ST3 but first I wanted to get those two bolts back in to the GIVI top case rack. After examining the situation, I couldn't believe it, but I was going to have to take the whole plastic off the tail section and unbolt the Nonfango rack that holds the side cases in order to get those two GIVI rack bolts in.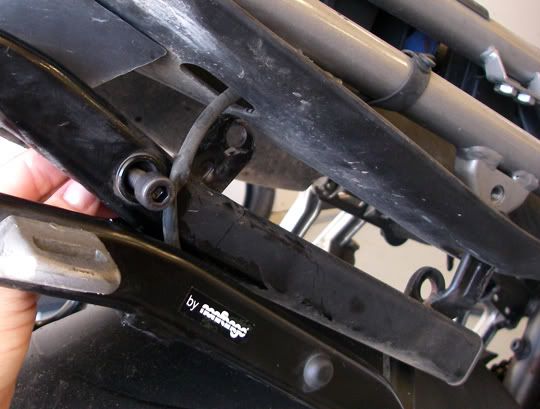 Picked up some bolts at a hardware store for the GIVI top case rack; they fit
In order to get those two GIVI top case rack bolts in I had to take apart the whole tail section of the bike

After two hours the GIVI top case rack bolts were in and I could finally concentrate on taking off the front wheel. Dalton mounted and balanced the front wheel and we got the wheel back on to the bike. I was finally done! It took two weekends but the ST3 had new tires, new coolant and two new GIVI rack bolts and was ready to come home. The new Pirelli Diablo Strada tires felt awesome. New tires always feel great but I really love the Stradas. With exactly 33,333 miles on the odometer I headed home. I'm hoping to get 10,000 miles out of these tires.

It's a very happy moment when the plastics are all back on the bike
Check out these really cool and high-tech brake caliper holders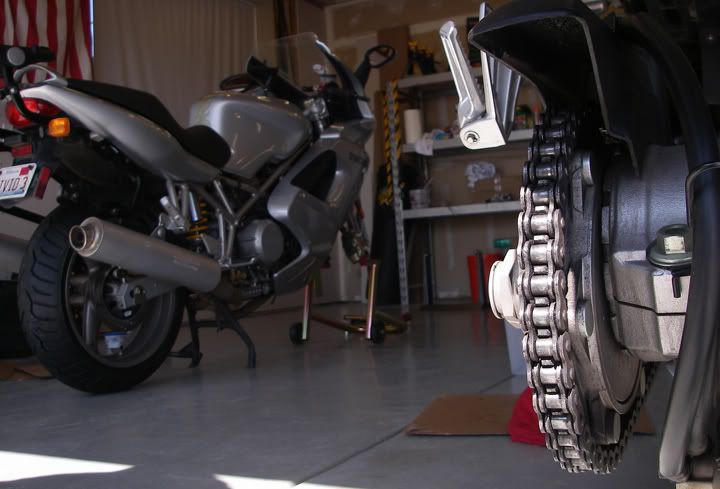 While I was messing around with the bolts and plastics on the ST3, the VFR got a new rear tire mounted
Work in progress: VFR missing the rear wheel, ST3 missing the front wheel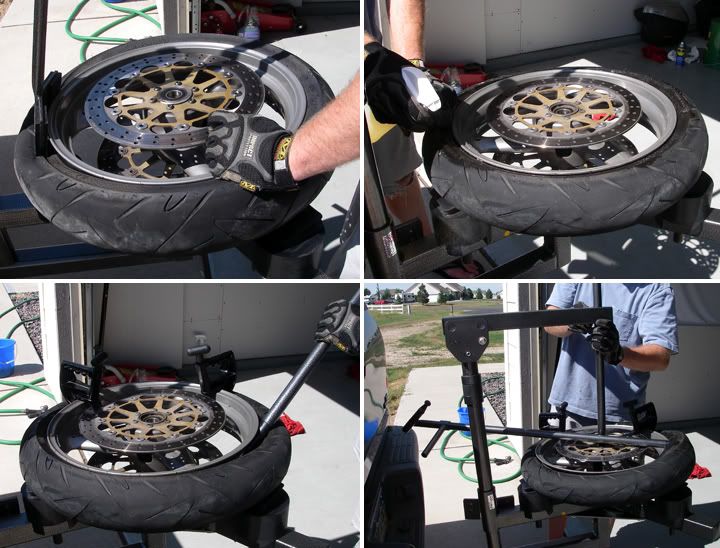 Dalton taking off my old front Continental Road Attack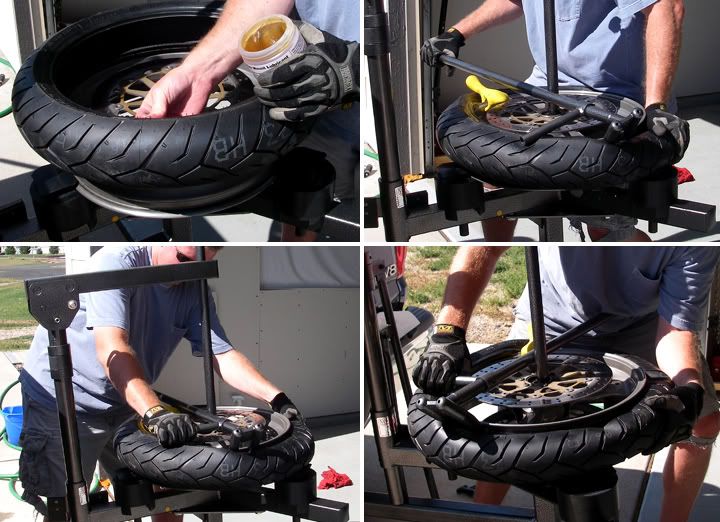 Mounting my new front Pirelli Diablo Strada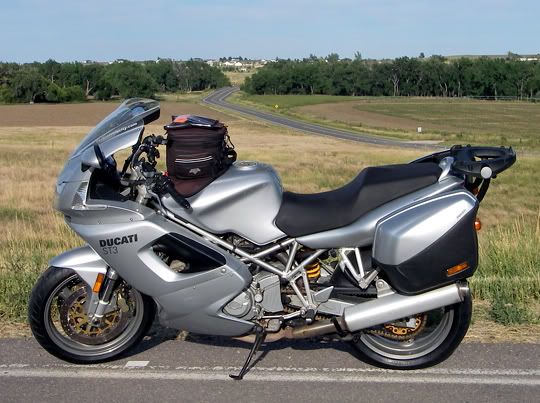 Heading back home on fresh and shiny new tires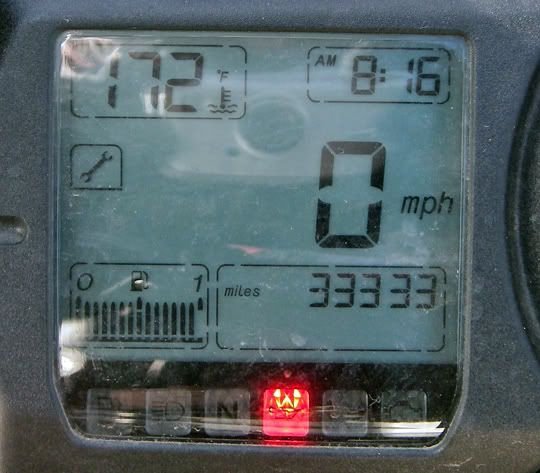 The odometer turns 33,333 miles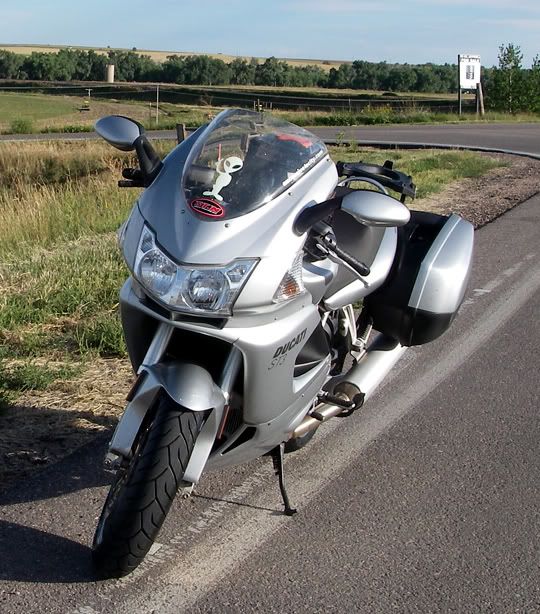 Because the Pirelli Diablo Strada tires are very pointy, the ST3 is slightly taller and leans more on the kickstand. Pointy tires turn in quicker