So this morning I decided to do another hike. I opened up my Rocky Mountain National Park TOPO map to refresh my memory on which hikes I wanted to do but haven't done yet. Last year when I did the hike to Dream and Emerald Lake, I remembered passing by the sign to Lake Haiyaha, thinking I could hit that trail on the way back but it was getting late and I decided to save it for another time.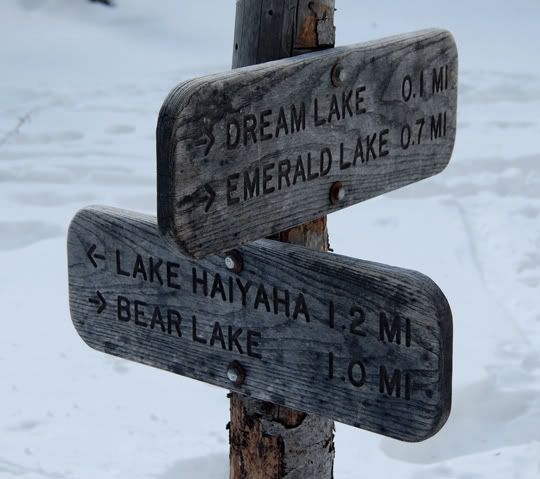 Sings on the trail, last time I went right, today I'm going left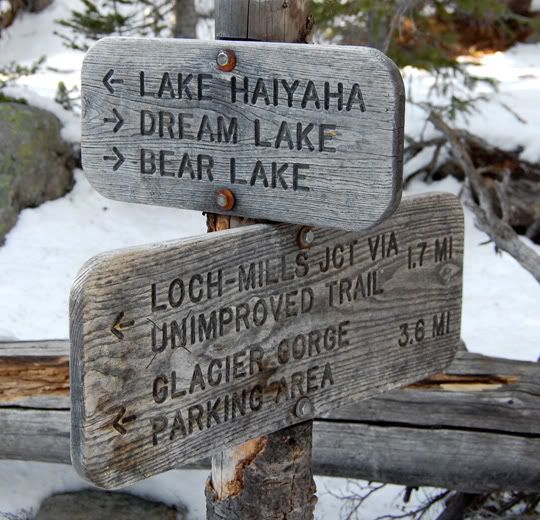 Lake Haiyaha was a good hike for today. Just a little over 4 miles long round trip and 745 feet of elevation change. I was still a bit weak from my N1H1 flu, but wanted a more challenging hike, compared to last weekend. The trail was snow covered and slippery in places and I ended up falling a few times. Some sections of this trail are steep and are very close to the edge, so I had to be extra careful. There were many people on the trail to Dream and Emerald Lakes, but once I turned off toward Lake Haiyaha and started to climb the trail, I didn't see anyone else.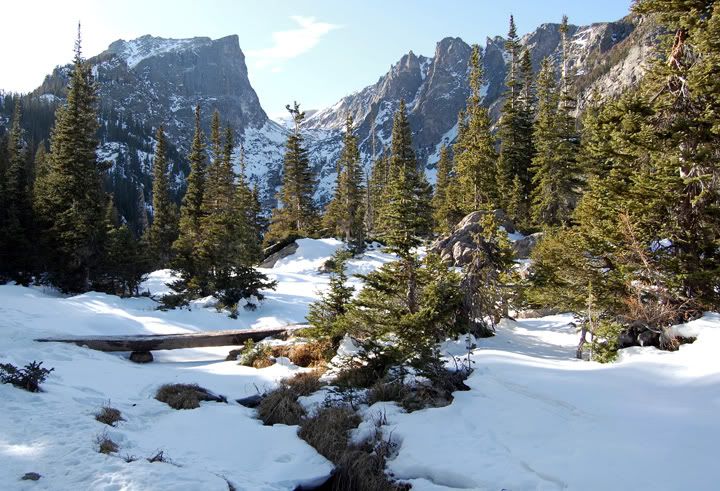 Looking towards Dream Lake
On the trail to Lake Haiyaha
A steep section of the trail to Lake Haiyaha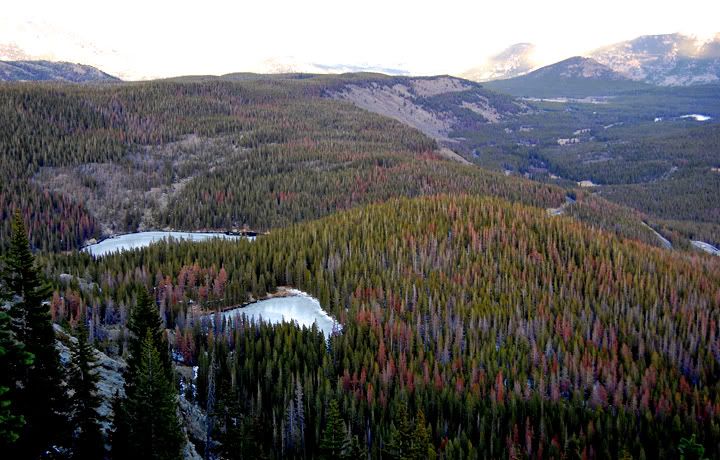 Looking down at the lakes from the trail
The trail was very easy to follow until I reached the boulders. There was no sign or cairns to follow. I started to cross the boulder field hoping the lake was in the clearing on the other side. There might have been an easier way to get there, but with the snow on the ground and no footsteps in the snow, I didn't know where the official trail was. Finally, I made it to the lake. The sun was already on the other side of the mountains so I took some pictures, enjoyed the silence for a few minutes and headed back. I fell a few more times before arriving at the car. The trail was even more slippery now. Sections of snow that had melted earlier were starting to freeze now.
Boulders on the way to Lake Haiyaha
Lake Haiyaha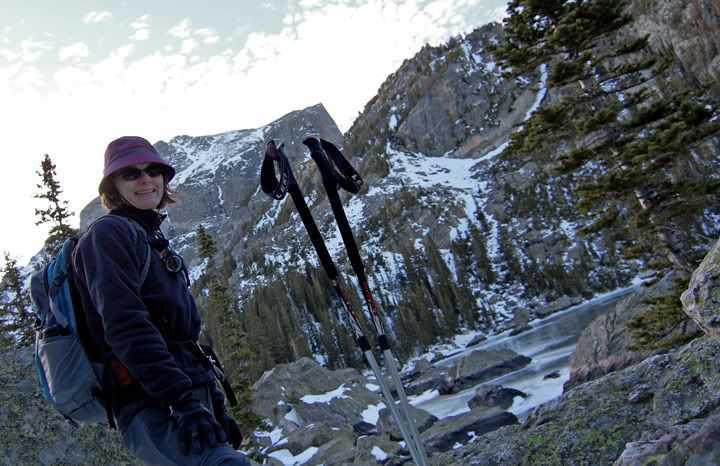 Bear Lake Trailhead Elevation: 9,475 feet
Lake Haiyaha Elevation: 10,220 feet
Bear Lake TH to Lake Haiyaha: 2.1 miles (one way)