So I'm moving again, and this time I'm moving west of the Denver area. Since I quit that job in Loveland at the end of August, I've been trying to make a living by free-Lansing, consulting and walking dogs. After sending out hundreds of resumes and only having a hand full of interviews, one of my interviews came through and I got hired. This all happened very fast. The interview was on a Friday, they called me the following Monday and I accepted the position, and started working the following day -Tuesday - December 15th. So far the job looks promising. I'm back doing marketing communications and working for a manufacturing company, this time in the telecom industry.
So after two weeks of commuting from Loveland to Lakewood 140 miles a day – which can take roughly anywhere from 3 to 4 hours in rush hour traffic, I found an apartment in Lakewood and on December 28th I signed a lease. I brought a few things with me that day that allowed me to spend my first few nights at the apartment - sleeping on the floor wasn't all that great, but not having to drive 140 miles a day was. This weekend I'm planning on moving my furniture to Lakewood.
As of right now I have two places to live since I am still paying for my place in Loveland until end of January. I will be spending the next few weekends in Loveland packing and moving my things, but Monday through Friday I will be sleeping and working in Lakewood. By the way, my new commute to work is less than one mile. I'm so glad that I don't have to drive far to get to work anymore. We've had lots of snow the last two weeks, which made commuting from Loveland to Lakewood even tougher. Last week we had a blizzard roll in and I had to spend the night in a motel in Lakewood. Most mornings I was already on the road before 5:30AM to make it to work by 8. So it was nice to be able to sleep in, the last few days and driving 5 minutes to work.
I will miss Northern Colorado, and my new friends but I'm glad I finally found work in my field and I'm so glad that my new job is not in Denver but in Lakewood, the far west side of Lakewood. It's really great to live within walking distance of Green Mountain and a skip and a hop away from Golden. This is a really nice area, I think I will like living here.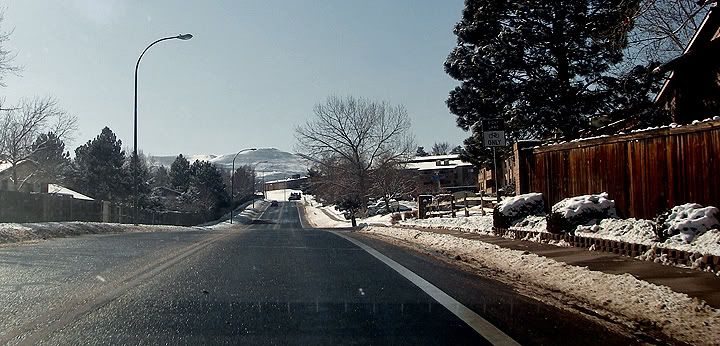 My new neighborhood, that's Green Mountain up ahead