I left the house at 8:15AM, it was 42 degrees outside, slightly breezy, but the sun was out. There was another strong storm heading this way, supposedly scheduled to arrive late afternoon, winds were supposed to pick up to 30MPH. I met up with Alex in Des Plaines, apparently the city boys, Andy and Dan were lost. They were at a McDonalds a few miles away from the meeting spot eating breakfast waiting for us to get them.
The four of us headed to I-294 and then zipped over to Kenosha, WI to the ST.N coffee meet. We arrived at around 10:30AM. The pace lead by Alex AKA fast beemer was just like his name.
The coffee place named
Common Grounds
was located on the shore of Lake Michigan. I'd like to come here in the summer time when it's warmer, the wind off the lake was cold today, making it feel less then 40 degrees. I had to put on my mittens to keep my paws warm while standing around loitering in front of the coffee house.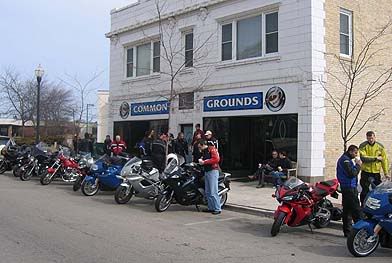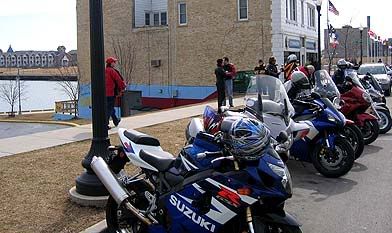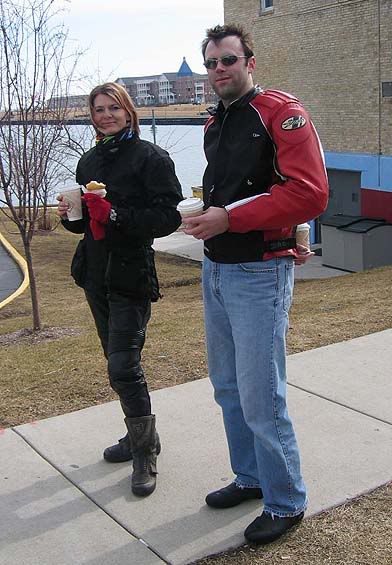 Cold enough to wear mittens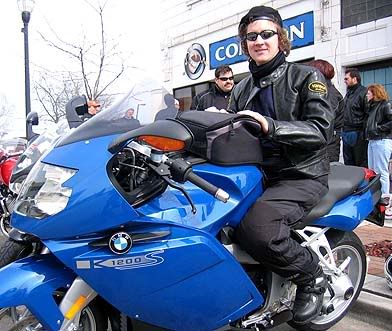 Andy's new ride

Let me try that on for size
After some coffee and a lot of chit chat, a small group of us headed to the beach to check out the light house. The waves were big, the winds were frigid.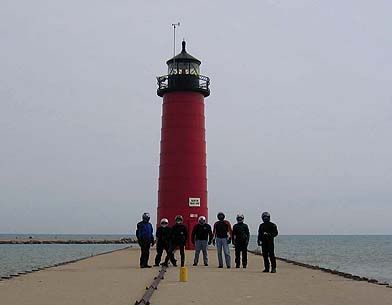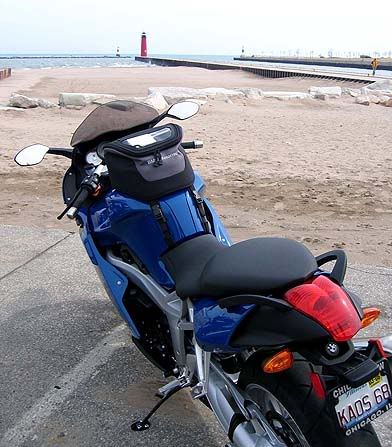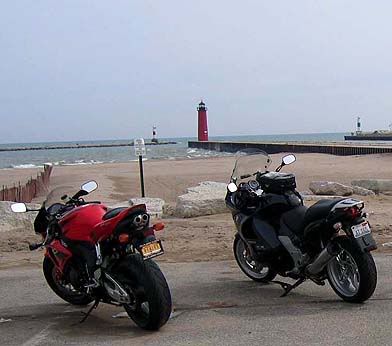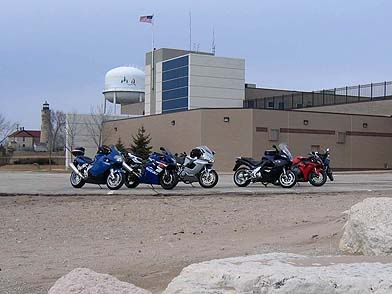 Kenosha beach and light house in the background

After some pictures we took off to Lake Geneva to grab some lunch, the sun already disappeared behind the thick colds, the temperature stayed in the mid 40's. It was supposed to be a high of 51 today but I doubt it ever got there. I had the heated grips on all morning, I was trying to wait until I was frozen stiff before I turning on my Widder electric vest.
Lake Geneva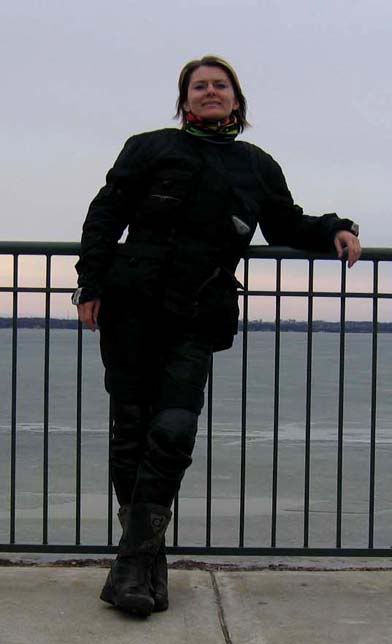 We grabbed some parking spots near the shore of Lake Geneva, there was still a thin layer of ice on the water, a reminder that Winter was still here. Lunch was at Popeye's, not related to the similarly-named fast food chain.
Popeye's of Lake Geneva
is a local institution that serves rotisserie-cooked meats, as well as burgers, steaks, and seafood.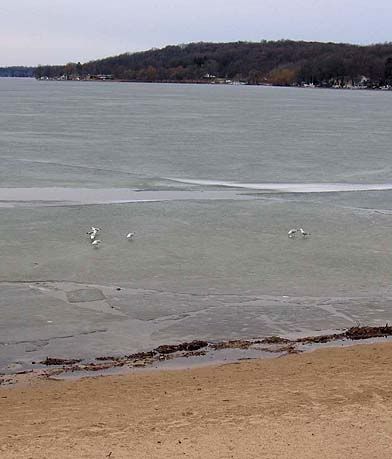 Ice on the lake
After lunch we split up. I took off around Lake Geneva, and rode though Williams Bay down to Harvard, then Marengo, finally Burlington then home. The clouds were really thick now and threatening to release their contents. Winds were picking up also, but still nothing like yesterday. My clutch hand was also hurting me, a reminder that I haven't been riding the Duc lately, haven't been squeezing the tough hydraulic clutch. After a few regular weekends of riding I'll be used to it again.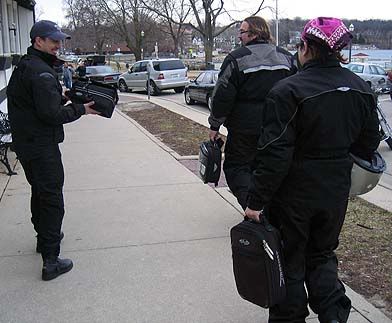 There is an easy way to spot a sport-tourer even when they are not on their bikes… look for the black textiles and tank bags

I pulled in to my driveway at 4:30PM with a gimpy left hand after almost 200 miles riding. The rain started an hour later.