I noticed that many long distance riders take mascots along on their rides. Let me introduce you to my monkey… I don't have a name for him yet.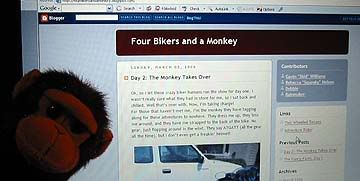 I was on the lookout for a mascot since last year but nothing caught my eye, then a month ago I saw this monkey and I knew he was the one that I wanted to share my adventures with. I like monkeys, I like the word monkey and my Chinese zodiac sign is a monkey, so it fits.
I think this weekend I'm going to take my monkey for his first ride to see how he likes it. And to my surprise, I'm not the only one touring with a monkey ..he he.
http://fourbikersandamonkey.blogspot.com/