We woke up to more rain. After watching the weather channel this morning and seeing rain again in the forecast for Southern Alabama and Florida as well, we decided to give up on the idea that we'd be riding our bikes today. It wasn't going to happen. According to the weather people, the rain wasn't going to stop until Sunday afternoon. We could ride on Monday, but since we had to start heading back to Chicago Tuesday morning, we'd have to ride somewhere north of here, so we didn't have to drive more than 800 miles back home, we'd have only one day to get home.
That being the new plan, we packed up the truck and headed to Birmingham. We were planning on checking out the Barber Motorsports Museum on Monday before heading home, but since it was raining today we figured we'd go there instead and have Sunday and Monday to do other things.
Unfortunately, we didn't come up with that plan right away, and by the time we did we needed to hustle. Had we stayed the night in Andalusia, AL north of the campsite, we would have saved ourselves probably two hours of driving. From Crestview, FL we had to take a bunch of back roads to get to the interstate, and that slowed us down a bit. Once we got on I-65 it was smooth sailing. The museum was closing at 5PM today and we estimated getting there at 2PM. Three hours is what the museum recommends to see everything. We were cutting it close.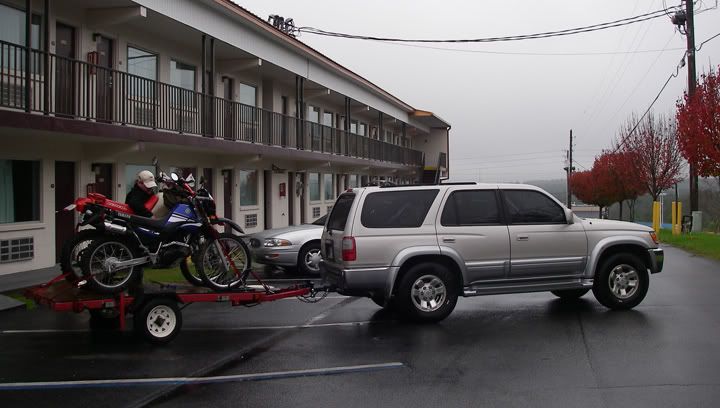 Leaving the Econolodge in Crestview, FL
Murphy and his law was at it again though. Already running late and all the sudden the traffic comes to a halt on the interstate. We had about 20 more miles to go. Apparently there was a big enough accident, that all the traffic heading in to Birmingham needed to exit the interstate, drive to the next entrance to the intestate before getting on. That little detour cost us an hour. We arrived at the Barber Motorsports Museum at 3PM. Now we had only two hours to see everything.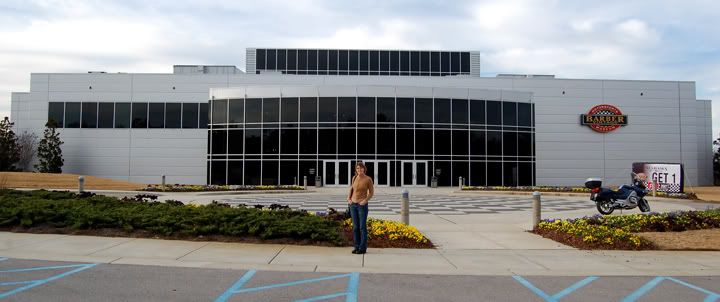 Barber Motorsports Museum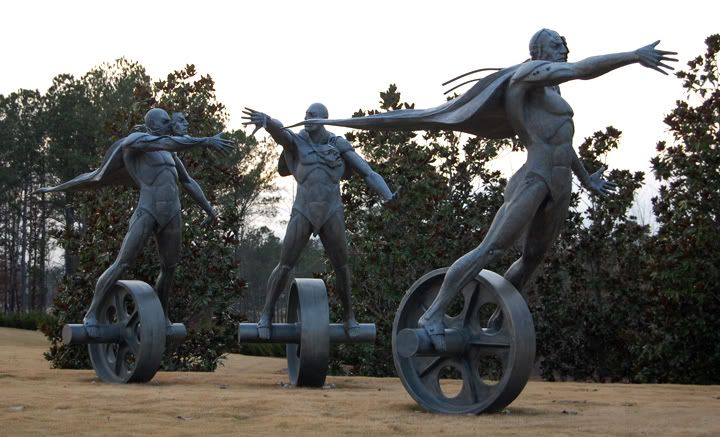 Statues outside of the museum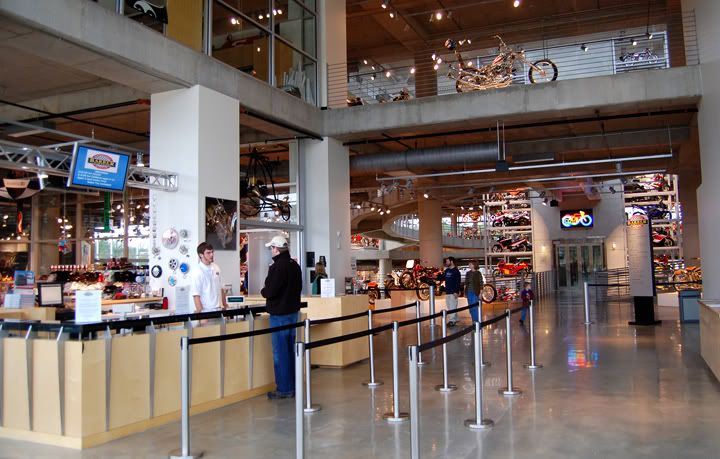 Mike paying our admission , $10 per person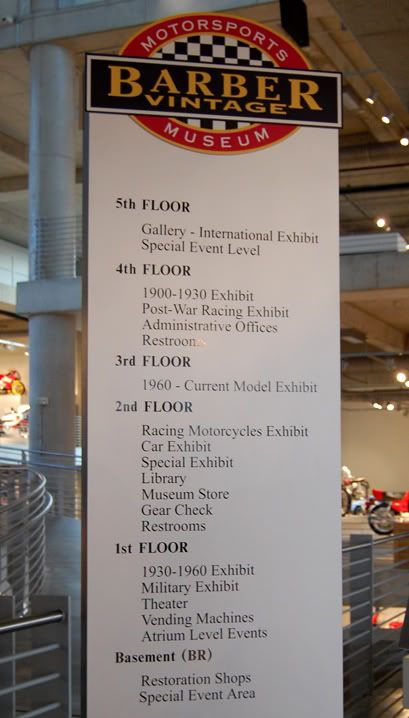 5 floors and 2 hours to see it all
The Barber race track, picture taken from the 5th floor of the museum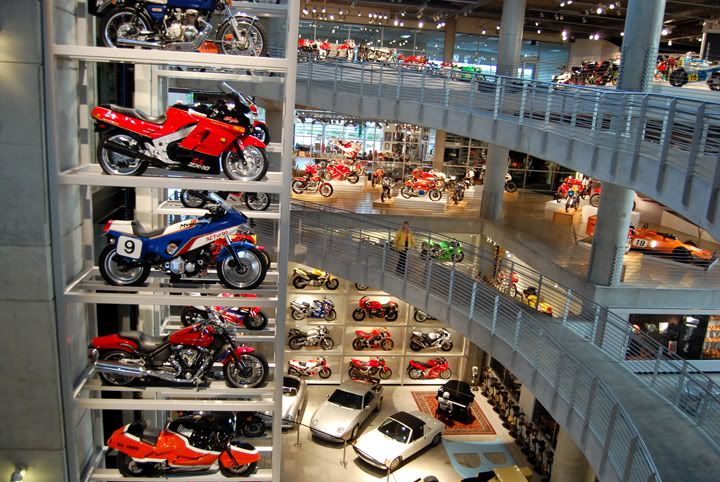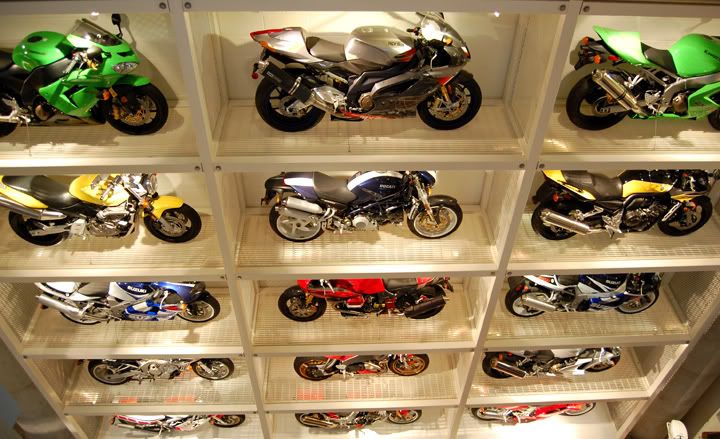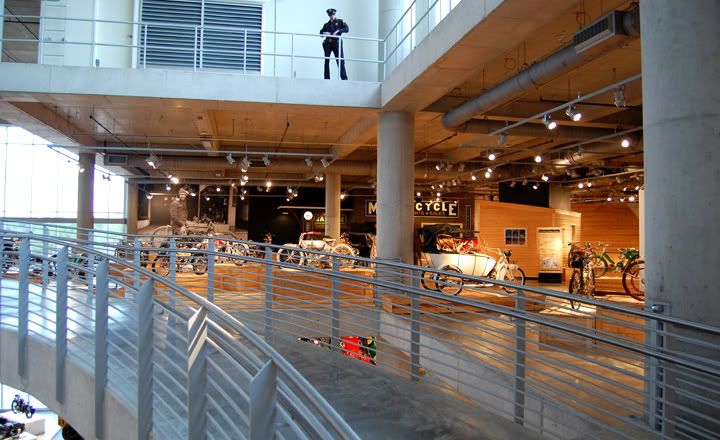 That's a mannequin dressed up as a security guard up there watching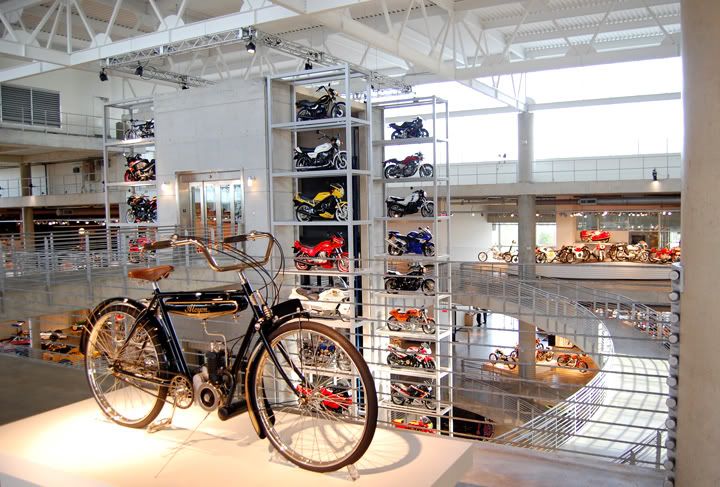 This place is truly amazing and a must see for any motorcycle enthusiast. Not only are there over a 1,000 different motorcycles on display here, the building's design and the displays themselves are magnificent. I've heard great things about this museum and I've seen some pictures that people have taken but standing here, looking down on the multiple floors full of motorcycles, it almost takes your breath away.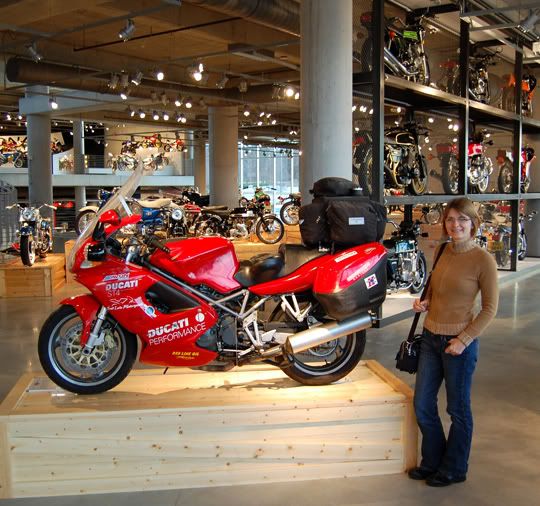 Gary Eagan's ST4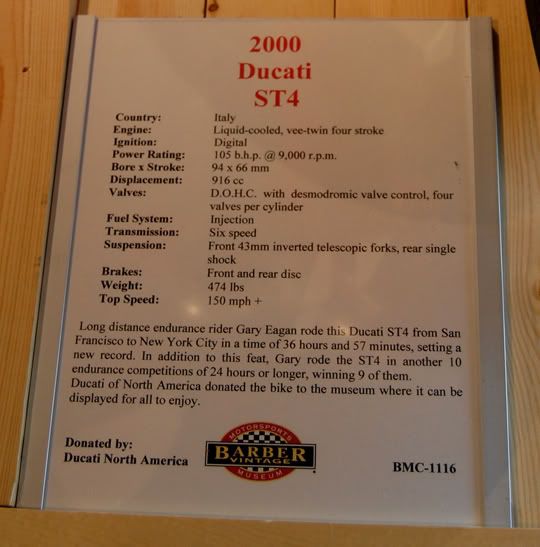 Each display has a nice informative sign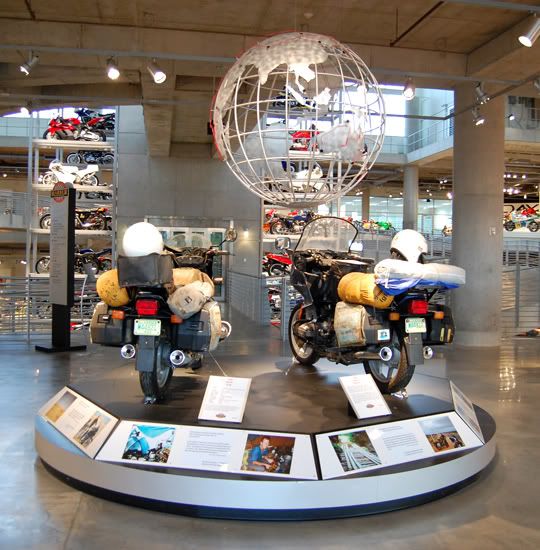 Some long distance bikes that had been around the world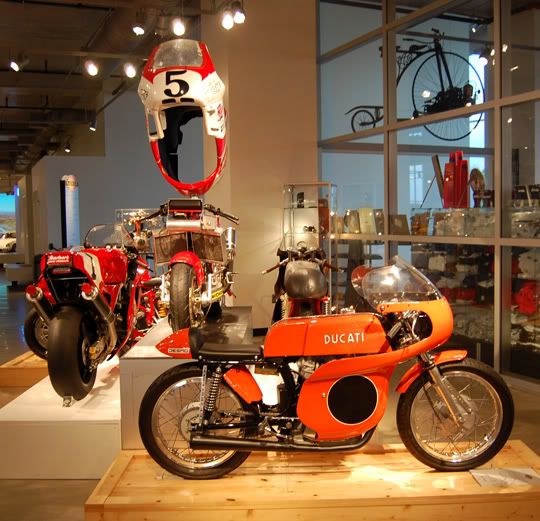 A lot of Ducatis here, old and new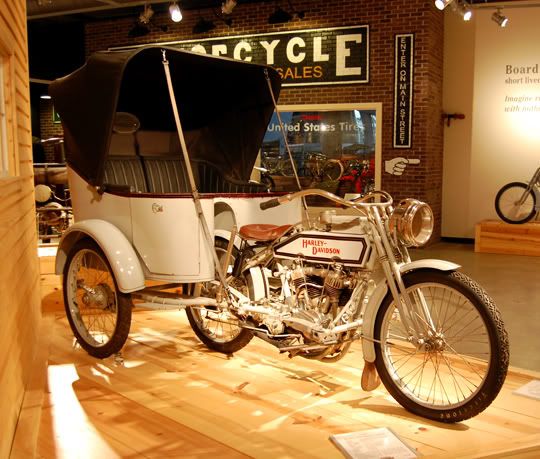 Mike used to have one of these before it got stolen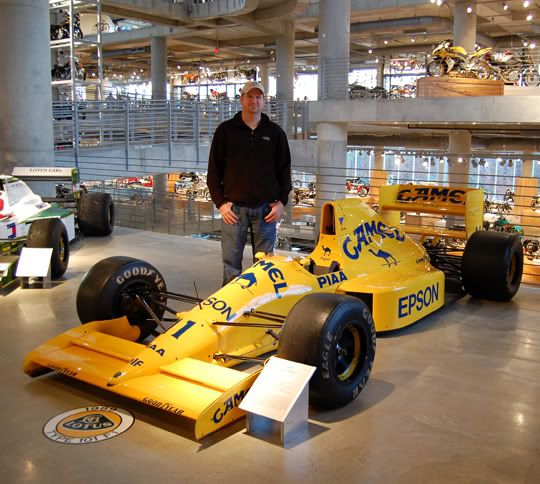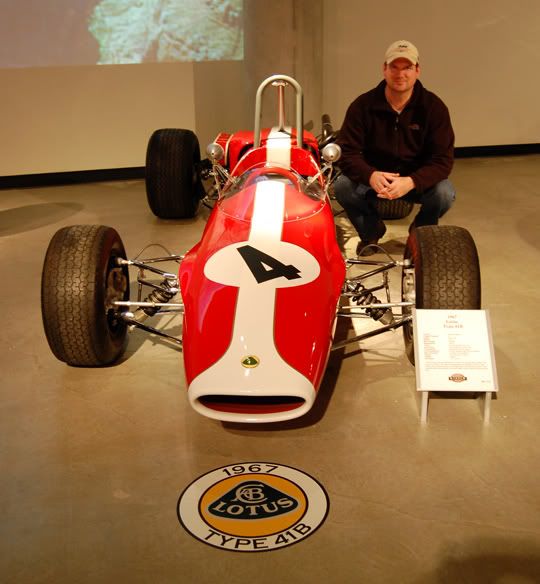 There were also a lot of interesting cars here
It turned out that two hours was just enough to see everything at the Barber Motorsports Museum. We even had enough time to check out the gift shop. I was kind of disappointed though. They had only one ladies t-shirt, it came in two colors, gray or pink, every shirt was size large or larger. The men's t-shirts, although they had many styles, were kind of disappointing also. The gift store had also a lot of cheap non-motorcycle stuff that was just out of place there.
See more bikes from Barber
here
.
We didn't have much of a lunch, so we were starved by now. We found a Mexican place not too far away in Leeds to eat dinner at. El Cazador was priced just right too, dinner for $6. Of course you get what you pay for. The food was OK - kind of plain, nothing special. The service was really good though.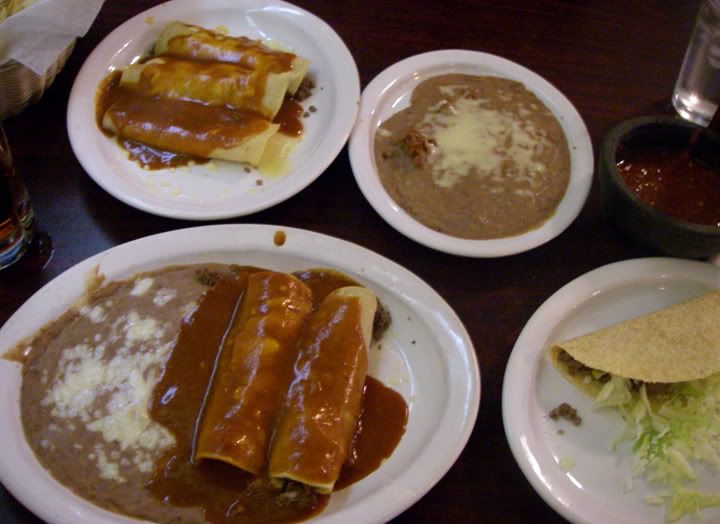 Enchiladas and a taco at El Cazador in Leeds, AL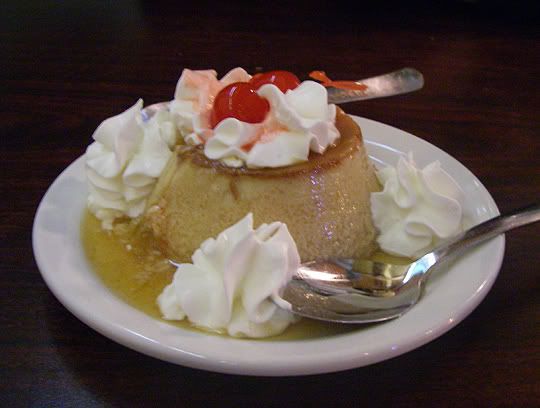 I've never had flan with whip cream before
There was a Day's Inn next door to the restaurant. It looked like it was under construction, but we went to see how much. We wanted to camp tonight, but our camping stuff was still wet. The Day's Inn was $65 a night and we were already here so we decided to stay.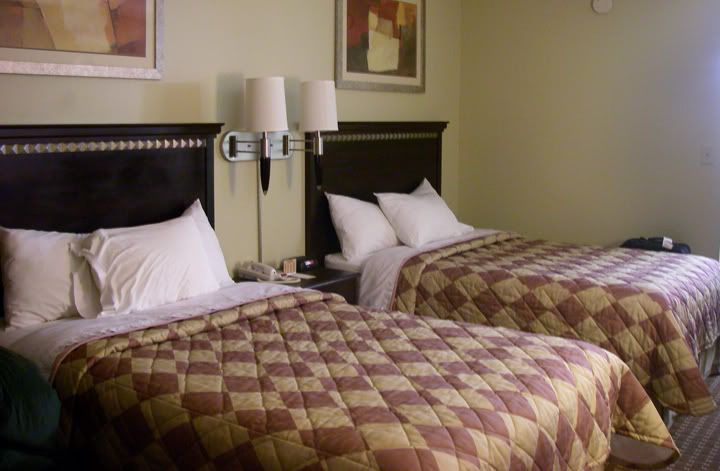 This may just be the nicest Days Inn room I've ever been in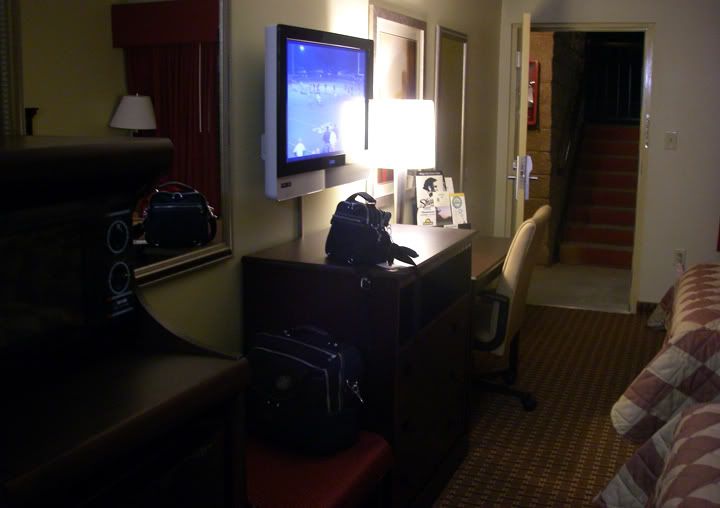 Flat screen TV, microwave and refrigerator, everything brand new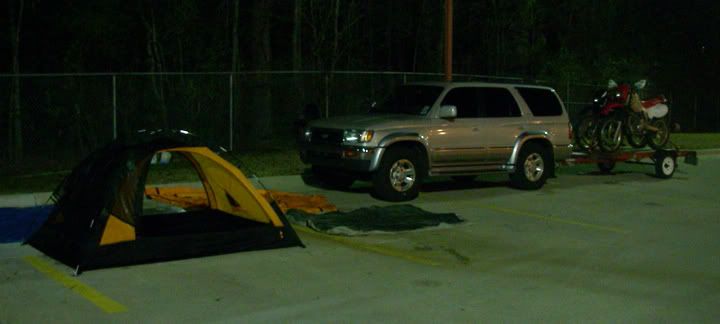 Drying out our camping gear in the parking lot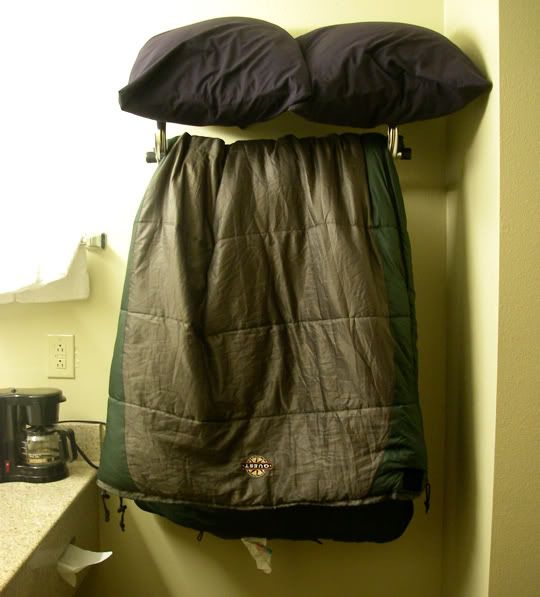 Drying out our sleping bags and pillows in the room
Our stuff was getting dry, this being the second day of laying everything out in a room with the heater on. After four hours the tent was dry, we brought everything inside at about 11PM since it was supposed to rain overnight again.