After 42,360 trouble free miles, my Honda CBR 954RR maybe having it's first problem. I say maybe because we won't know until we open the servo motor. I'm hoping there is some grime in there, or it's a faulty sensor, or something silly. I just hope none of the expensive components need replacing.
The bike is running fine but on my ride today the red light lit up and stayed lit along with the "FI" icon. I was a bit nervous riding the bike 150 miles back home with the red light staring at me the whole way. Not knowing what problem the bike was experiencing and if it would even make it home.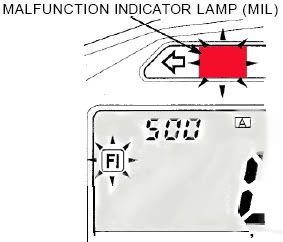 After arriving home I started to dig around in the service manual and there is it was.
Below text copied/pasted from the service manual:
PGM-FI (PROGRAMMED FUEL INJECTION) SYSTEM SELF-DIAGNOSTIC PROCEDURES

Place the motorcycle on its side stand.

Start the engine and let it idle.
If the malfunction indicator lamp (MIL) does not light
or blink, the system has no memory of problem data.
If the malfunction indicator blinks, note how many blinks.
The malfunction indicator lamp (MlL) will start blinking only with the side stand down and with the engine off (engine stop switch in RUN) or engine revs are below 5,000 rpm In any other conditions, the Mil will illuminate and stay on.
So we went in the garage and started the bike. The red light didn't automatically turn on when the engine was started. I was watching it all day and it wasn't turning on until the engine was warm and running at about 179 degrees.
We let the bike run in the driveway and waited. The engine temp was already way past 185 degrees and no red light yet. Since it was on while I was riding, maybe the bike had to be ridden for the light to come on?
I already took my contacts out so Mike took the 954RR for a spin, within minutes he was back with the red light on and the "FI" icon displayed on the dash.
We put the bike on the side stand and turned the engine off, the red light started blinking. We counted 35 blinks.
Then we went back inside the house to read what 35 blinks meant.
It was the Faulty EGCV and air intake valve servo motor.
So my ST3 is not running right and still has to go to a dealer to get looked at and now my 954RR has a problem. On the bright side, winter is coming and the riding season is coming to an end. And I still have a dual-sport bikes that runs.