After a very cold and sleepless night I got up figuring if I moved around I'd warm up some. The temperature this morning was in the low 30's and the sun wasn't out yet but it was on the way, it wasn't dark anymore.
I was still not feeling well. My head was still hurting, I still had nausea and now I could feel the spider bite on my check and half of my face was swollen. I walked down to the river and back to the campsite but I cold not warm up. The question was still unanswered. Was I feeling like crap because of possible altitude sickness, or the spider bite or both?
The spider bite red and swollen on my right cheek
Mike got up and made some hot cocoa and some hot cereal. The sun started to peak over the top of the mountain now so I went to sit in the direct sun to try and warm up, the sun felt warm but I still could not warm up. I felt like I had a fever, I had constant chills.
The thought of having to hike 4.5 miles back to the car while feeling like this was not sitting well with me, but what choice did I have. We decided to hike back via the Little Yellowstone Trail, which met up with the Colorado River Trail further down. The distance was probably about the same and at east for a little bit we would have some new scenery.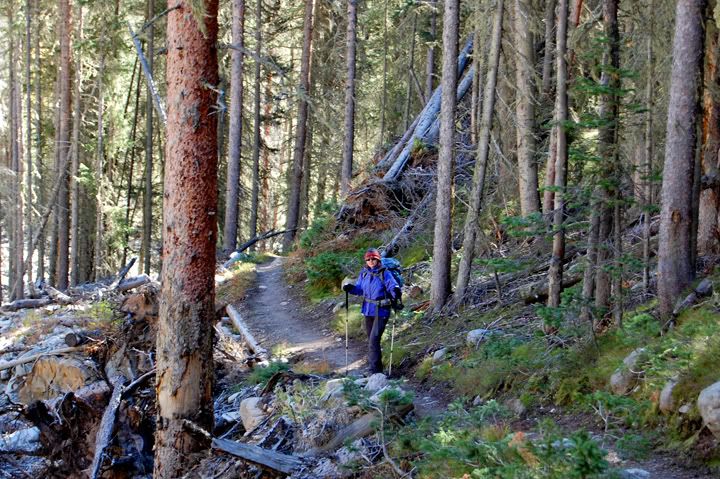 Starting out on the Little Yellowstone Trail
We had our Katadyn hiker Pro water purification system with, so when we needed water we just stopped at a river or a creek to get more. With all the warm layers we were carrying there really wasn't much room for large quantities of water.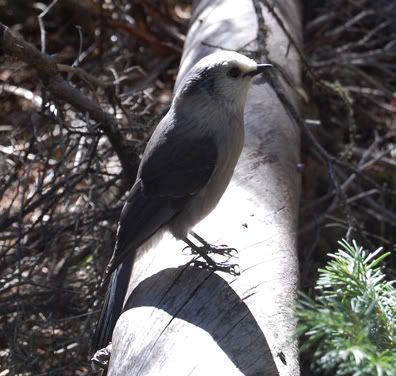 This guy wanted my granola bar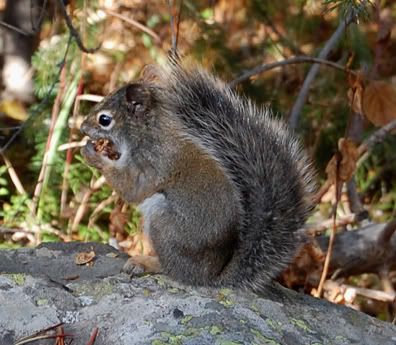 The pack was so much lighter when we headed out this morning, since I was wearing all my clothes. It took two hours for me to warm up and feel comfortable. Three hours before I was warm enough to remove some layers. Today was not as warm as yesterday, maybe high 50's, also the winds were stronger today.
In the afternoon on the Colorado River Trail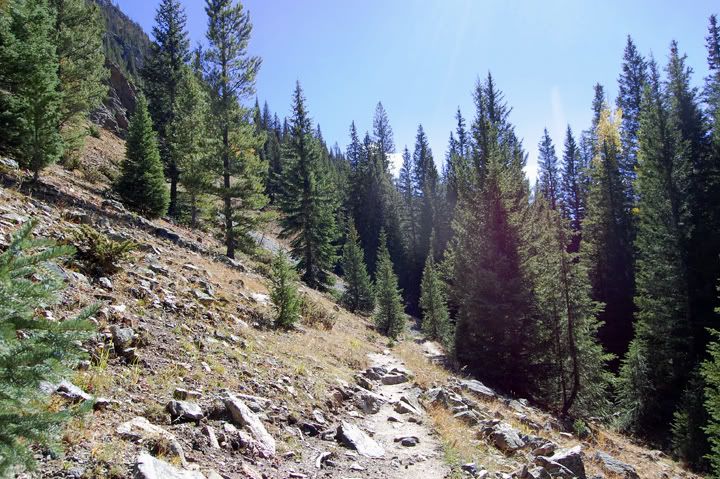 Rocky section of the Colorado River Trail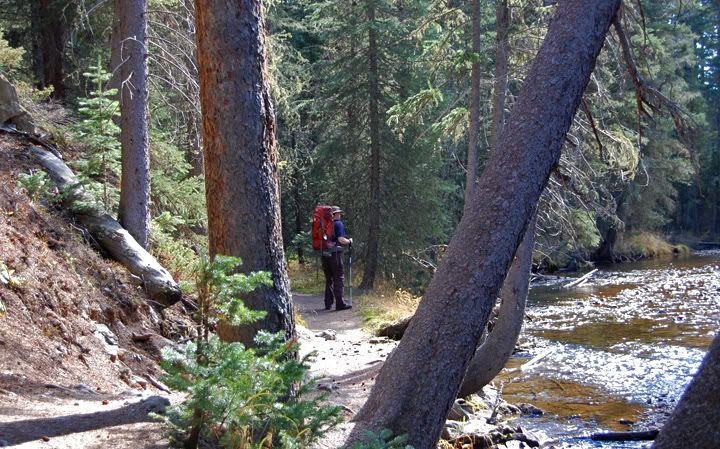 Colorado River
The hike back to the car seemed take forever, at least we were heading down in elevation. After two brief breaks and one granola bar and many hours of hiking, we made it to the car in the early afternoon. I was so happy to be done hiking, I just wanted to lie down in my bed. I slept all the way to the house and when we got home I ate something and went to bed.
Colorado River Trailhead to Stage Road and back: our hike was approx. 9 miles round trip
The Colorado River Trail was great. I had a good time on our first backpacking backcountry camping trip (minus the headache and spider bite) to the Rocky Mountain National Park. We did about 9 miles in two days, which seemed just right. The trail wasn't too long or strenuous, but it was long enough to feel like we've actually hiked somewhere far away from everything.