Now that it's winter and I'm not able to ride regularly, my clutch hand hurts after a few hours of riding (like it did yesterday and still today). This is not a problem during the riding season, since I ride often enough to keep the muscles in my hand that work the clutch strong. I have small and weak hands, I'm sure this is not a problem for many motorcycle riders. And the hydraulic clutch on the Ducati is also much tougher to pull in than the one on the 954RR, so now more then ever I have to keep those muscles working all year long.
When I do get that rare opportunity to ride my bike during Winter, I don't want my hand to get sore before I'm ready to go home. Years ago I bought this hand grip contraption, just using it every other day makes a big difference. The only problem I have is remembering to do it.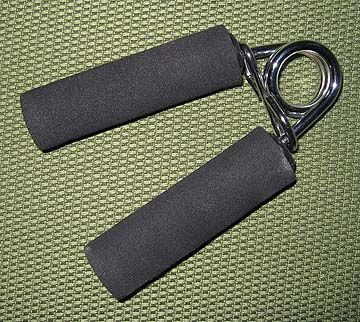 This is the one I have, it's a cheap model with foam padding.
These Harbinger models look fancy compared to mine and also cost 3 times more.