You know those days where you tell yourself that you have so many things to do, that you shouldn't ride. Today was one of those days. But it was also a perfect weather day. Perfect weather to me = low to mid 60's, sunny, no wind.
And today I received my Dainese Imatra jacket, so I wanted to give it a test run. It's a size 36, which I though would be a bit small, my Teknic is size 38 and is actually smaller than this jacket, but I wanted this Dainese jacket to be big enough to fit a bunch of layers underneath, and that it is.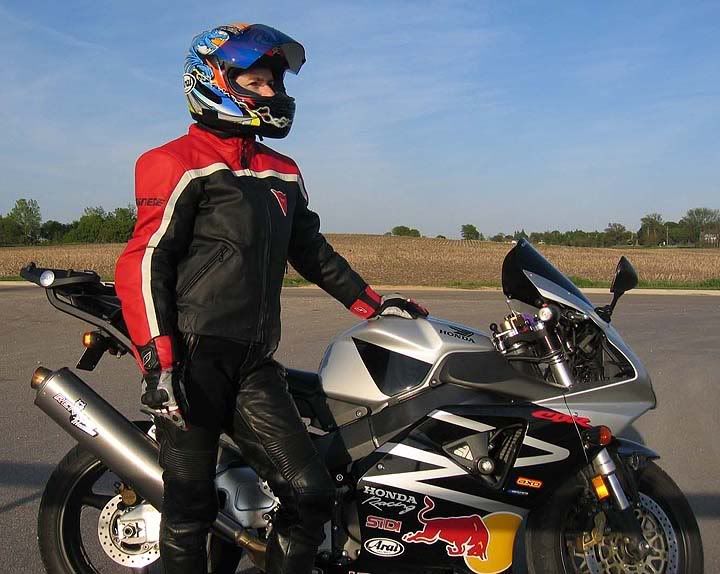 I love the bright red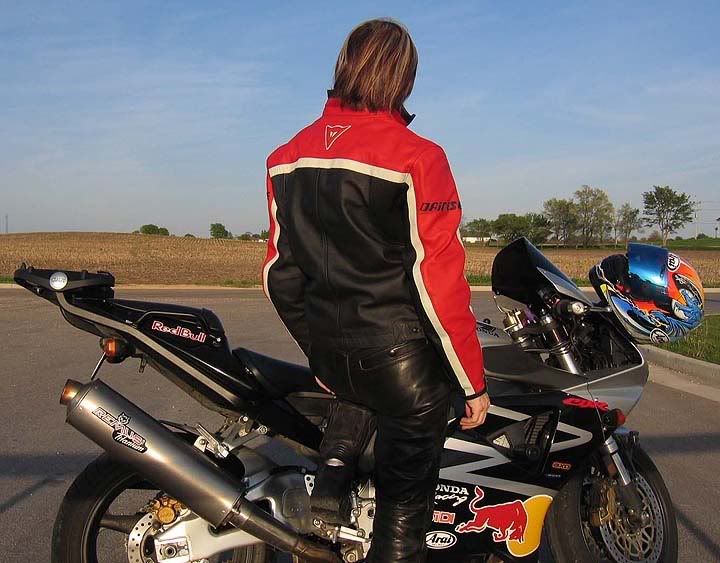 The back of the jacket is even nicer than the front and the matte leather in neat

Over all I like the jacket and it fits very comfortably, the high collar keeps cold air away from the neck and chin, although the leather is not shiny, so in the pictures it almost looks like a textile jacket when compared to my extra shiny Vanson pants. I got a great deal on this Dainese jacket, I bought it off an STNer that got it for his GF, but it turned out it was way too big on her, it's a new jacket with tags for a fraction of the cost.
A few curves in Kingston
I told myself it was going to be a short ride, a really short ride. I left the house at 3PM and headed west but I couldn't get in to the groove. I slept in this morning and ended up sleeping too long, so I felt out of it. Even after my morning coffee, even after a can of Red Bull, I was still sort of dragging.
I stopped for gas at 5PM and decided to grab another caffeinated drink, a little can of Starbuck's espresso. Finally my energy levels reached the "minimum" for operating a mototcycle.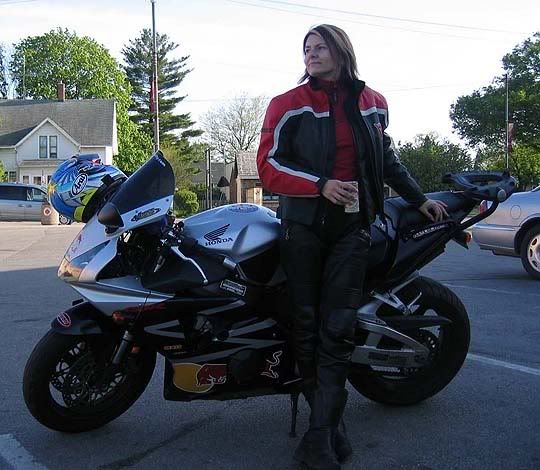 A girl, her motorbike and a Starbuck's pick-me-up
Then instead of heading East, I found myself heading West, away from home. After a while it occurred to me that now I was so far West that I'd have to ride back in the dark possibly and I didn't bring a clear shield for my helmet since I didn't bring my tank bag since it was supposed to be a very short ride.
I got home after 8PM, the street lights give off enough light that I can see pretty well in the dark, but only if I'm riding in the suburbs, especially with my iridium shield, which is much lighter than my dark tinted one.