Andy and Aileen met up with me at my house, 7ish AM. As always I leave one thing for the morning and that one things always delays me. This morning it was the changing of the clear shield to the dark shield on my Arai Signet helmet. Last weekend was my first experience changing shields on the Signet, since the Signet is not as tall as the Quantum or the RX7, the side pods are smaller, the opening for the helmet shield is smaller and in my opinion it's harder to get the shield inserted and locked in to position. Jay helped me out with that all last weekend, the one side goes in fine, I just can't get the other side in, same this morning, I'm just so used to the RX-7, which is way easier to swap shields, which is also broken right now. Finally I got the shield inserted.
We hit the road late and there was no traffic, although as always, when you're late, you end up stopping for way more red lights then when you are not running late. The temperatures were not very cold, a surprise, since weather channel said it was 39 degrees when I woke at 6AM, it was more like the upper 40's or more. I never even turned on my Widder west or the heated grips.
The three of us arrived at breakfast 15 minutes late, Jay showed up even later. So there were seven of us eating and talking. Bernie came for breakfast but wasn't riding with us, so when we took off, it was Andy, Aileen and Diane's friend Alec.
Bikes at breakfast
Rick, Diane and Jay followed behind. I led the three of us to Janesville, WI where we stopped for gas. I though we would re-group, buy Jay arrived solo at the gas station, telling us to go, that Rick and Diane would meet us up there, they already had a run in with the popo.
I lead using my trusty route which had been tested and approved, but in Edgerton we ran in to construction, after that we had to follow some really slow cruisers, and then Jay directed me to head in to New Glarus where a nasty gravel road awaited us, since 69 was under construction. We followed 39 to 78 following those same slow cruisers, stopping for a break in Blue Earth.
That's the cool thing about Slimey Crud Run weekend, there are so many bikes out, you keep runing in to groups of them on every road, it's awesome. And most of them are not cruisers. But we followed more slow cruisers until I pulled off on 60 talking Aileen and Alec with me, Jay and Andy took some other way up to Leland. They got there before us, 60 maybe out of the way a bit but it's a great road, too bad we had to follow some more slow cruisers though the twisties, we turned on "C" and that was all clear all the way to Leland, and it's also a great road.
The temperatures were in the low 70's and I regretted having so many layers on, I had long spandex under my leather pants and it was warm, actually warm enough for my perforated pants. Needless to say, we didn't hang out long in Leland, we took a walk though and checked out the bikes and left. We did see two other ST.Ners there, Stromgal and Zixxer, which we chatted with a bit.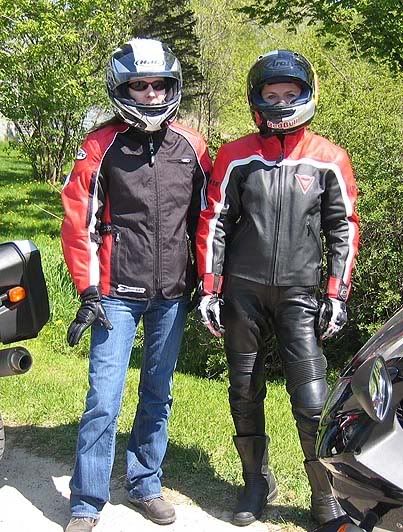 Aileen and me, ladies in red and black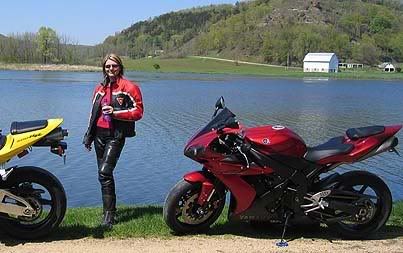 Pretty views

Diane and Rick would not have made it up here this quick and we suspected that they probably wouldn't even attempt to do the whole route up to Leland, and there was no phone service up here, so we couldn't even call and see where they were.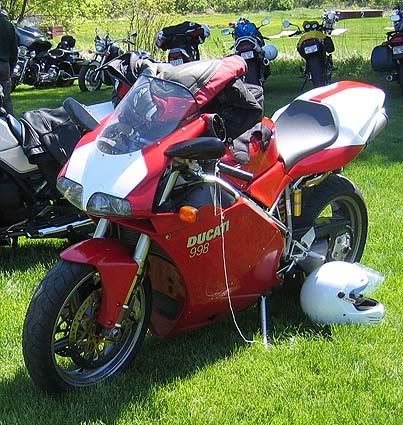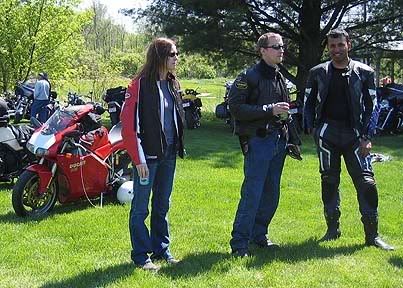 Aileen, Andy and Jay
Andy's beemer
We went back though Sauk City for lunch at Culver's. Lunch was great, I got my usual turkey stacker sandwich and a vanilla milk shake to cool off. This Culver's restaurant is the first Culver's ever built.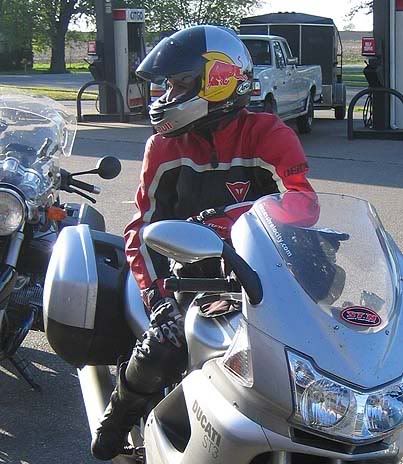 Last stop of the day
But before I forget, let me mention that I went though those nice hi-speed sweepers North of Sauk City on 12, finally there was no one in front of me to slow me down, then I look in my mirror to see where the group is and I see a brown squad car on my tail. I was speeding, slightly then, but not as much as before, nothing happened. The squad car pulled up next to me and the police officer, a woman, the only occupant in the car, just gave me a long stare and sped up ahead. With hundreds of bikes speeding around in the area, they sure have a lot of opportunity's to give up tickets, but somehow they don't, maybe because if people got discouraged to go the nearby towns wouldn't make all the money.
After lunch Jay took off to explore new roads and new civilizations, and I continued to lead the group, we only made one gas/break stop before we split up, I continued home arriving at 8:30PM. Today was another prefect riding day, it would have been better had I not been so overdressed. Good times and good company.
Pretty sunset over Fox River in St. Charles