We were looking forward to camping for the rest of the trip, but since I have never "toured" on the XT225 before, I didn't know how much weight I'd be comfortable carrying on this tiny bike. After taking some time and loading up the two bikes with all the camping gear and stuff needed for the next few days I unfortunately realized that with so much weight on the back of my bike, the XT was all the sudden very top heavy and not very stable, especially for dirt ridding. If I had some saddlebags, and was able to distribute the weight down low, I think it would have been fine, but all the weight on the back seat and on the rack behind the bike was too much. Funny how I can carry 5 times that amount on my ST3 just because it's a bigger and heavier bike, twice as heavy than my XT.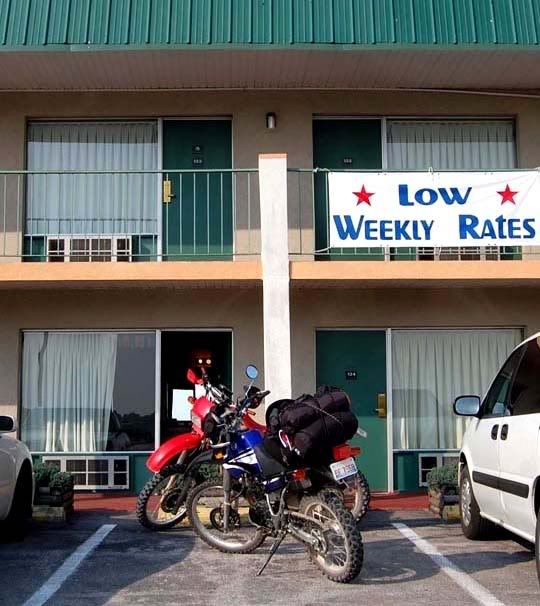 Doesn't seem like so much stuff, but my bike was very top heavy
with all this stuff on the back
We abandoned the camping idea, left all the camping gear in the truck and decided we'd just find motels to stay at. We went off to have breakfast while we contemplated what today's route should be. We kind of wanted to end up for the night around the Tennessee border.
We headed south from Mount Vernon, a little later we found a road we wanted to ride, but it dead ended at a lake, so we kept riding east on 80 finally finding some nice dirt/gravel roads that ran through the forest. This was great so far, the road was good quality, a gravel/dirt mix and we were even traveling in the right direction too. Then unexpectedly we arrived at a gate that had the rest of the road closed off.
Nice dirt road through the forest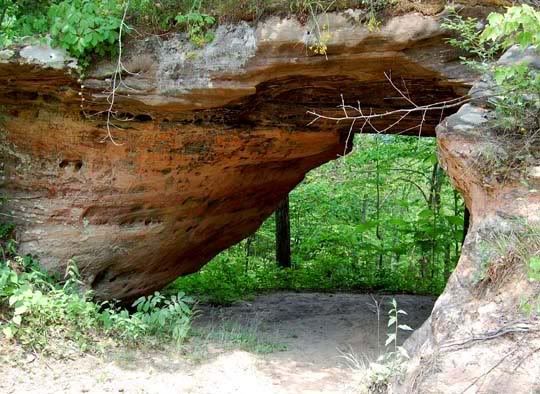 We found some arches on this road
Mike having fun with the arches
There was another smaller dirt road that went off to the right that we couldn't find on our GPS's so we decided to try it anyway and see where it went since we've come and long way and didn't want to turn around. This was a nice twisty narrow dirt forest road, but then after about 8 minutes it ended and we had to turn around and go where we came from.
My bike still felt strange the whole time, so finally I stopped and moved the luggage bag closer to me and let some air out of the tires and finally it felt good again. I should have done that a couple of hours ago.
It was already the afternoon, so in order to get to where we wanted to go, we'd have to stick to paved roads to make up some time. Today was another hot and humid day, and at some point the clouds moved in and we got rained on but only for about 10 minutes, we didn't even bother to pull over. In Barbourville, KY we stopped at a Subway for a late lunch. The Subway was surprisingly nice, almost fancy, with a crystal chandelier, must have been something else before. This whole town was actually very nice. I was still hoping to make it to Cumberland Gap today, but the only way we could do that is to switch from the little paved roads to a larger paved road that would get us there directly. We jumped on 25E and headed to Middlesboro, KY, where we wanted to find a motel room for the night. There was still plenty of daylight left so we decided to explore the area.
You can see the Cumberland Gap Tunnel behind Mike, it's 4,600 feet long and has 4 lanes
Welcome to Tennessee
Then we went up to the
Cumberland Gap National Historic Park
. Formed by wind and water, Cumberland Gap is break in the Appalachian Mountain chain. Starting at the visitor center, the 4 mile long Skyland Road takes you up the mountain to the Pinnacle Overlook (elevation 2,440 feet) for an amazing view of Kentucky, Virginia, and Tennessee. The road is very twisty, narrow and steep at times. So far this was the steepest/tightest paved road that I've ever rode on the XT.
My XT taking a nap mid-turn
In first gear the bike was screaming like crazy, in second gear it wasn't pulling hard enough on the steep road but at least it wasn't as loud. I stayed in second most of the time but then I came upon a really steep and tight right hander, just as I started to approach the turn staying really close to the inside of the turn since the cars coming down the mountain were crossing the double yellow, I realized I needed more power, I downshifted in to first gear and instead of moving forward, the bike slowed way down, pretty much stopped, then it wobbled, I tried to put my foot down, but the road was so banked that I wasn't able to reach the ground and fell right over in the corner.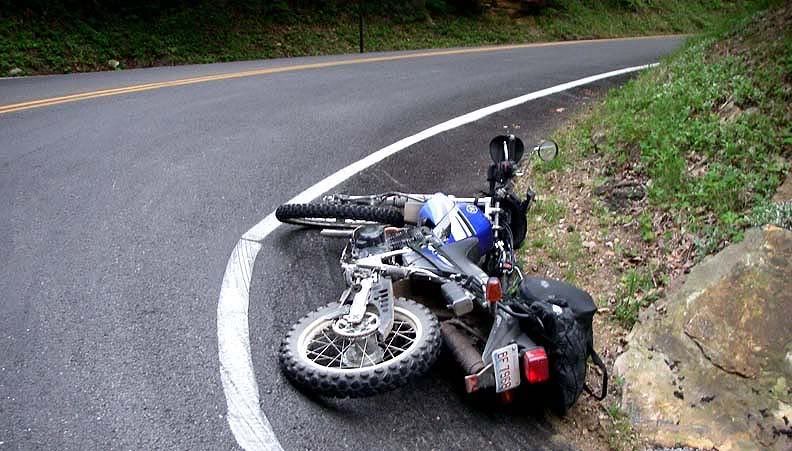 Low air pressure in knobbie tires + very twisty road + underpowered bike = an embarrassing moment
Gas started to pour out of the gas tank, I tried to pick the bike up but at that angle, I couldn't do it. A few minutes later two cars came by and two guys helped me pick the bike up. It didn't want to start at first but finally it roared back to life and I was on my way to the Pinnacle overlook. The only scratch on the bike was on the right brush guard. Mike was wondering why it took me so long to get up there.
Skyland Road going up to the Pinnacle Overlook
Many tight turns, Mapquest map above, they call this road Pinnacle Road, and it's misspelled "Pinacle" it's really Skyland Road
Pinnacle Overlook
View from the Pinnacle Overlook
Heading back down the mountain
Back in Kentucky on the other side of Cumberland Gap Tunnel
The view from the top was great. We rode back to down to Middlesboro, the first motel we saw Parkview Motel, turned out to be a dump, we then found The Downtown Inn & Suites on Cumberland Ave which was much nicer and only $60 a night. There was no restaurants within walking distance and by the time we showered it was too late to eat anyway.