The plan for this trip was that there was no plan. Even though a 4-day ride was on the schedule for a couple of months, we just didn't have enough time to figure out any good dirt roads to ride in Kentucky prior to this trip. We chose Kentucky because of the large area that the
Daniel Boone National Forest
occupies and where there is forest, there are forest roads.
The Daniel Boone National Forest runs from the northern to the southern part of the state and is generally rugged and characterized by steep slopes, sandstone arches, and canyon-like hollows and valleys. It encompasses over 699,575 acres of land managed by the USDA Forest Service.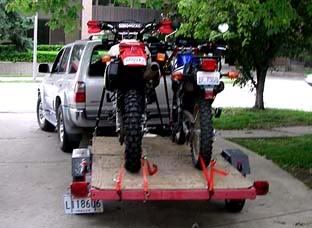 Early Friday evening with the bikes loaded on the trailer, we headed for Kentucky. The traffic was moving slow and the construction on I-294/80/65 wasn't helping us to get there any faster. A couple hours later in Indiana we stopped to grab some dinner. A couple more hours later we pulled over, Mike inflated the air mattress in the back of the 4runner and we decided to get some shut eye, we were both too tired to drive after a full day at work.