Today we were heading to Wisconsin for our first HSTA event, the TWiSTAR (The Wisconsin Sport Touring Association Rendezvous). Mike met me at my work at 1:00PM and we headed from there. The suburban traffic wasn't that bad, meaning we were moving just under speed limit. Then we got stuck in St. Charles. We must have sat there for half an hour just to go one mile. There are only a few roads that cross the Fox River, so all those roads get backed up with traffic.
In Chicagoland there are two seasons Winter and construction season
I usually ride up to Wisconsin on the weekend, I knew there would be more traffic on a Friday afternoon here in Illinois, but there was also a lot of traffic on all the roads in Wisconsin as well. After a while we got tired of stopping and sitting at all the red lights, even the stop signs had 20 or so cars waiting in line. When we got further north we jumped on the interstate so we could at least have some continuous progress northward. Traffic was at least moving on the toll way but with all the construction, we were not moving very fast. At least it was nice and warm today in the mid 70's although a bit windy. The clouds that looked threatening at the Wisconsin border had finally disappeared by the time we arrived in Spring Green around 6PM.
Finishing our 5 hour ride on the back roads of Wisconsin
Registration for the event was from 4:30 to 7PM, so we did that first. Then we checked in to our room at the Round Barn Lodge and got out of our gear. They were grilling some food downstairs but by the time we got outside again the hamburger buns had run out. More were on the way but Mike and I were pretty hungry so we went across the street to the drive in restaurant called Rumble Seat. The food was surprisingly good. I would have expected hamburgers to be good here, but Mike ordered a big salad and I ordered a chicken salad pita. Since we were in Wisconsin, of course we had to get some cheese curds.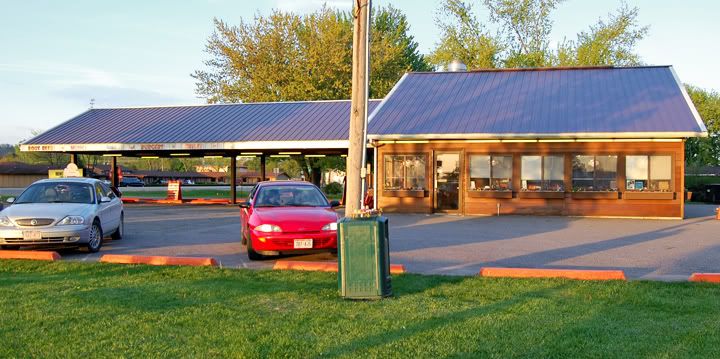 Rumble Seats restaurant in Spring Green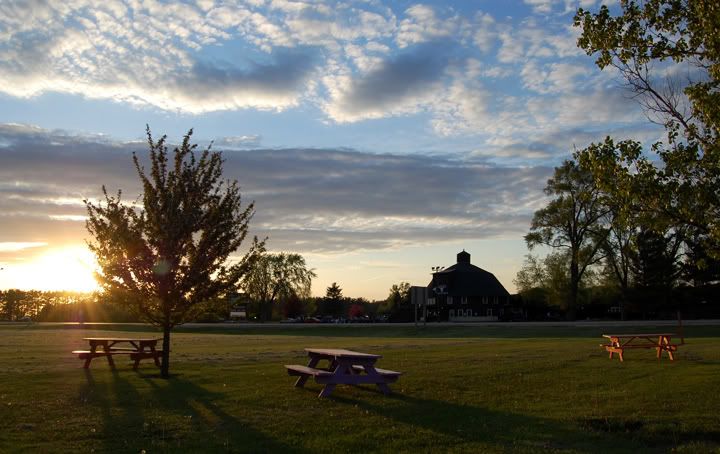 Waiting for our dinner and enjoying the outdoors
It was such a beautiful day, we wanted to sit outside at the picnic table and watch the sunset. We set there for a few minutes enjoying the clean crisp air but unfortunately the mosquitoes were also out and they were hungry as well, we had to go inside to eat.
Salad, cheese curds and chicken salad on pita
New Glarus Fat Squirrel Beer - Yum

After dinner we did like many others were doing. We walked a bit further down the street to the gas station to grab some of Wisconsin's finest micro brew, New Glarus beer. They were out of the spotted cow, so we bought some fat squirrel. It was very tasty, especially while hanging around the parking lot looking at so many bikes.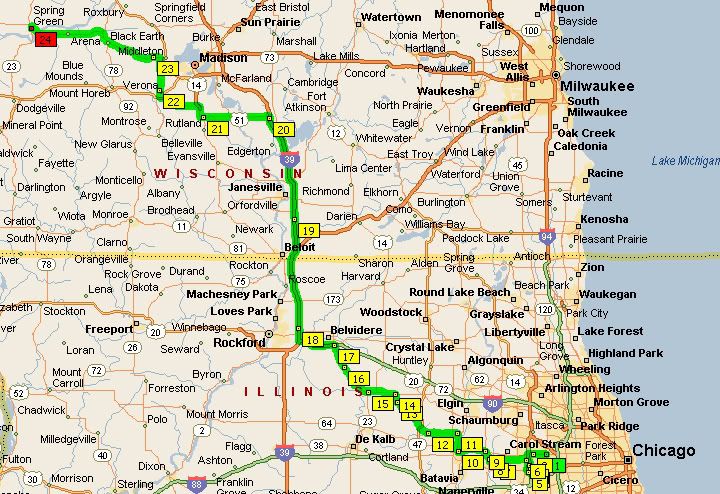 Our 207 mile route to Spring Green, this was supposed to be a fast route, not very twisty or fun