Last night I packed in to my soft saddle bags, just in case my hard luggage wouldn't arrive in time. My friend Peter gave me a lift on his XX to pick up my ST3 at the dealer. The brake in service was done and the leaking back tire mystery was solved: it was a leaky valve stem, which was replaced.
I was really happy to find out that the hard bags just came in today. We were about to leave when I realized that the service "wrench" icon was still lit up on the bike's dash. The mechanic said it was going to be about 15 minutes to re-program the computer, it was more like 30. Delays, delays.
We rode back to my house and I proceeded to transfer the stuff from my soft saddle bags to the hard luggage, that took forever. The hard bags on the ST3 have a lot of little nooks and have to be filled up with little stuff, so it takes a while to fit every empty space with something that fits that size exactly. We were finally on the road and hit the rush hour traffic from hell going out of Chicagoland. Stop and go for over an hour. It was muggy and my bike felt as if I was like sitting on top of a toaster oven, this thing runs pretty hot. Once we got out to the boonies, the roads opened up and I started to enjoy the ride a bit more. We were making pretty good time and would be able to get in to Indiana before it got totally dark at this rate.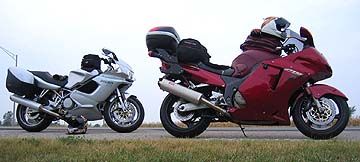 Then southeast of Kankakee, IL I noticed the engine light starting to come on sporadically and flicker. But it wasn't a solid light. Was there a short somewhere? I ignored it. About half an hour later my bike seemed like it wanted to stall while shifting. Now I was starting to get concerned, but I still kept going. As I pulled up to the stop sign at the intersection of RT 52 and RT 24 near Sheldon, IL, just a few miles form the Indiana border, the bike just died. I started it up and rode it across the intersection and pulled over on the side of the road. Something was definitely wrong with the bike. It would start and run, but without out revving it, it would die.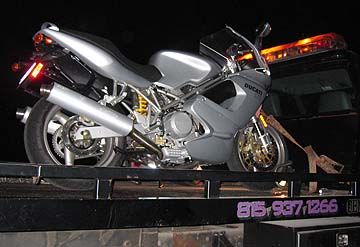 I called up my dealer but they could not figure out what the problem might be, and since the bike had road side assistance, they suggested I called them and get the bike towed. Since the bike was under warranty and it was brand spanking new, I didn't want to ride it and make it worst. We were about a 100 miles away from Chicago and I was told by road side assistance that Ducati only covers the first $200 of the towing. They were going to get back to me and let me know my options. Peter and I just sat on the corner and waited for the call. It was nice to see so many people pulling over and offering to help us. Even the Sheldon police offered to help. The lady that lived in the house on the corner brought us some water and sat with us on the grass and told us stories of her life. I received the call from road side assistance and they wanted to tow me to the nearest Ducati dealer in Merrillville, IN, which was 70 miles away. Since my house was only 88 miles away, I decided to tow the bike home so I could bring it to my dealer. I didn't want to be stranded in Indiana in case they couldn't get the bike running right away. They located a tow truck to tow me back home and Peter and I continued waiting and talking to the lady from the house on the corner. Three hours after the break down, the tow truck arrived, it was a flat bed truck driven by a fat Italian guy whose first words were "Doesn't anybody ride naked bikes anymore?" Apparently he didn't have a canyon dancer and was concerned about possible damage to the fairings from his heavy duty straps.
Peter rode my bike up the flat bed platform and secured the bike as best as he could, then he followed the tow truck to my house to unload the bike for me, what a nice guy. It was painful to see my brand new bike on top of the platform all strapped down like that. And it was such a beautiful night for a ride too. By the time I got home it was after midnight. I was a bit pissed by then and I think I was starting to refer to my bike as "the lemon". Hours later and $269 poorer, I was at the starting point again, but now with a broken bike.
Peter decided to ride home and try to leave early the next morning for NEXXT but now having only one day to get there, he was going to take the direct route there – the dreaded interstate. I still wanted to go but I was not looking forward to slabbing it 700 miles straight on the 954RR to Pennsylvania. But I agreed to meet him in Indiana at 6AM at the I-80 oasis.