The tire seemed to be holding air, and rode way better. The group was doing a group ride but I wanted to ride solo and get to know my bike some more, plus I could only ride about 200 miles today anyway, if I was to bring it back home with less then 800 miles for the break in service. After the group left I took off on my own ride. The group was going to have lunch in Mauston, WI so I slowly made my way up there to meet up with them. Took 58 North, with nice sweepers and scenery, to G North, with nice big hills, nice sweepers and some tighter curves. Not too much traffic. I got to Mauston, but it was still too early, so I rode around some more, some straight roads, curvy roads and ever rode a bit on the interstate. Now with air in the tires, the bike cornered very nicely and so effortless. I was beginning to like it, although I was still getting used to the torque of the v-twin.
I made it back to Mauston and rode though town now looking for a bunch of ST bikes. But how would I find these guys, there wasn't just one main road though town, they could be anywhere. I took 58, 82, 12 and Q though town and came up empty handed. Maybe they weren't here. I didn't have anyone's phone number. It was a bit warm now, so I decided to cool off with a McDonald's vanilla milk shake and have some chicken nuggets.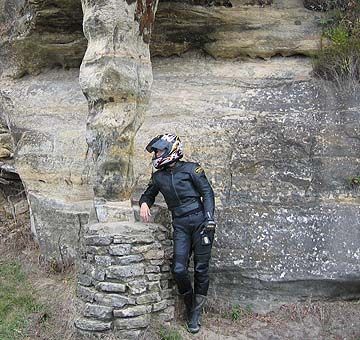 As I stood in line waiting for my food, wearing my ST.N shirt, someone came up to me and pointed at the ST.N logo. It was a guy from Ohio, who drove up this way to buy a V-strom from someone, he was towing his bike back home, taking a lunch break at this very McDonald's. We ended up sitting together and talking bikes and trips. As I finished my food, I noticed a bunch of ST bikes pulling out of a parking lot across the street. Darn, they were having lunch across the street, no way! But the bikes must have been parked on the other side of the restaurant, where I couldn't see them from the road.
It was time to go back, I took 58 South and got to Richland Center before anyone else. An hour later the group was back. Now the group was smaller, some went home already. For dinner we walked over to the O'Finleys Pub & Grill on 14. The food was decent; I really liked the cheese curds. Tonight was much cooler then last night, we went to hang out in one of the meeting rooms until it was time to go to bed.