So I figured out the most direct route up there – all interstates of course. I got to bed at 7PM last night and my alarm went off at 2AM this morning. I had already mostly repacked from the 954 to the ST3 and by 3:23AM I was rolling down the road. It was muggy and warm in Chicago, I got on I-249 heading toward I-80 East. Surprisingly there were many cars at this hour. Having to pay tolls every few miles sucks and then the construction on I-294 and I-80 made it even worst. Once I got in to Indiana and Ohio you only needed to stop once to take the toll way ticket and stop once at the end to pay. Not like Chicago where there is a toll booth every 15-20 miles asking for eighty cents.
I rode though all of Indiana in the dark hoping I wouldn't run in to any deer. As I approached Toledo, Ohio the sun finally came up. I experienced the coldest temperatures after sunrise, I didn't want to stop so I just hid behind the wind screen, it works pretty well, only my hands were cold. There were deer out near the interstate in Ohio, watching me go by. Those flashing lights are pretty cool, they flash when animals are detected near the road. Past Cleveland I grabbed I-90 East, which was heavily patrolled. Traffic wasn't too bad, temperatures now climbing in to middle 70's and sunny. My stops were very brief as I wanted to get out there as soon as possible.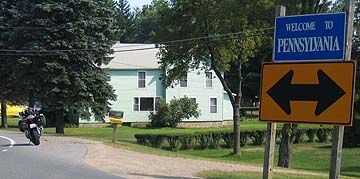 Near Erie, Pennsylvania I jumped on I-86 East but by the time I stopped for gas in Allegany, NY I had to get off the interstate for the day. I wasn't all that sore or tired, just bored after 550 consecutive miles of interstate. I grabbed a sandwich at the gas station and took my first long break of the day. It was only 12:30PM central time, I was making very good time. I looked at the map and decided to take back roads all the way to Tawanda, PA, which was about 150 miles away now. It would cost me and hour or two but it would be more fun and I wanted to arrive in the afternoon anyway, since many people would be out doing rides still.
From Allegany, NY I took 417 which absolutely sucked. There were so many little towns so close together, that the speed limit was mostly 35MPH the whole way. I finally turned on 44 South, which was a nice winding road. In Coudersport, PA I continued on 6 East, which was a nice road with many sweepers and pretty scenery, there were a few towns so that slowed me down, but not too bad. I arrived in Tawanda at 4:30PM central time, 13 hours after leaving Chicago. The ST3 is definitely a more comfortable bike, especially while slabbing. Sure, I could have done this trip on the 954RR, but how would the ride back be tomorrow? Hmmm.
Saturday night the NEXXT meet had an organized dinner, then we hung out in the back of the Tawanda Motel around a bon fine. I went to sleep around 11PM, tomorrow morning I needed to ride back to Chicago. Everyone knows it's the second day of riding that's the hardest. I was excided to see how the bike felt on day two after another 700 miles.