Today started out cold, only mid 30's. I got rolling after 9AM heading towards Dixon to meet with Rick, Jay, Bernie and Chris. My Widder west was on, heated grips were also on. The wind was blowing me around the road, but the sun was shining and there wasn't a cloud in the sky. Traffic was slow through some of the smaller towns as they were celebrating Halloween. I arrived about 10-15 minutes behind the group.
After a Red Bull and a granola bar, we took off for Peoria. Today's ride was all about having lunch at this spot that Bernie knew. We took 26 South, to 29 to 150. We arrived at Schooners, home of the King Tenderloin, located at 730 E War Memorial Dr, Peoria Heights, IL. It was about 2PM, the temperature now in the 60's, still very sunny and a bit breezy at times, but not as bad as this morning.
We wanted to sit outside in the sun, but they were not serving outside so we had to go inside and order our food as take out and then take it outside to eat, fair enough as long as we got to enjoy the weather. Rick and Bernie were brave enough to order the King Tenderloin sandwiches, and they were HUGE! I got a hickory smoked chicken sandwich and onion rings, the rings were awesome.
Rick devouring a king tenderloin sandwich (look how small the bun is)
After lunch it got even warmer, we took 24 East and then we were going to make our way back to 26 North. After a couple of u-turns the group kind of got split up. I ended up in Eureka, IL and was too lazy to check the map there, I needed to go west so I took 117 West. This was a very straight road, so I turned the throttle and got myself to Washburn, the next town, quick. Finally got the map out, I was not very far, took 89 North to 17 West. As I slid the signal indicator button to the right, getting ready to turn right on 26 North, I saw the group at a gas station to my left, I pulled in. Rick was having trouble with his ST3, had the seat off and they were crowded around the bike, looking at something. The bike seemed to be running fine as I walked up. Apparently it was running fine, he just couldn't turn it off. Rick didn't have his owner's manual with him so he borrowed mine, but after a few minutes they decided to take off and keep riding as long as the bike was still running.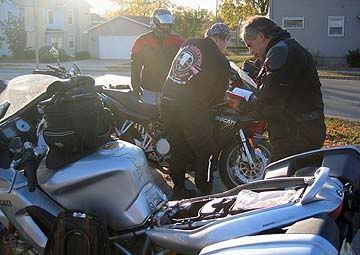 Rick reading my ST3 manual
We passed a couple of squad cars on 26, the first one flipped his lights on, as a lump started to form in my throat, but he kept going and no one got pulled over, the Duc decelerates very quickly, 75 to 55 in a blink of an eye. We turned on 71 East but just before the road got twisty, we had to turn on 178 North, 71 was closed off to traffic. We made our way to 6 and continued to Ottawa. We stopped to change out our tinted helmet shields for the clear ones, Bernie didn't have one so he took off for home, there was only about half an hour of sun light left and he wanted to make the most of it.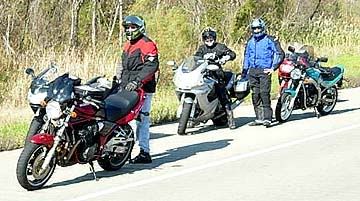 We took a short break and continued on 71 behind him. From there we took 47 North. We caught up to Bernie. Now it was totally dark. Two deer were standing by the roadside as I was reminded why I don't like riding at night, especially in the fall. I turned off on 64 heading towards the west suburbs. The temperatures were holding in the mid 50's. I had the heated grips on, didn't even need to fire up the Widder vest. What a great day for a ride! I hope there are more days like this in November.