The girls of STN decided to do femmoto this year, a woman's only demo track day, which was held at the Las Vegas Motor Speedway. I've been following the event for a few years now so I jumped at the chance to go, even though it was going to be a very expensive weekend since I had to fly there.
Friday, September 30, 2005

I woke up way early to finish packing and then ended up wasting 45 minutes looking for my swimsuit. I guess I don't use it often enough. I was almost packed when I walked out the door to put in half a day at work. Then back home to finish packing and off to O'Hare Airport to catch my 2:45PM flight to Las Vegas. My TED flight left on time, there was no head wind so we would be there a few minutes early and I got the whole row to myself. I've been to Vegas twice before but I have never landed at LAS. Landing in Vegas is cool, you see water, canyons and the casinos.
I had arranged a ride to the Last Vegas Motor Speedway from some of the CF ladies that were also going to be at the airport around the same time. One of the girl's flights got in almost an hour late so we were late getting out to the track for the registration. It was almost 7PM when we got to the track. Registration was held from 5-9PM, but by the time I made it to the Kawasaki line, which was the longest line, I didn't stand a chance riding the bikes that I wanted to ride (ZX10, Z1000 and Z750S). I had my fingers crossed but when my turn came up, there was nothing good left. The same thing with Aprilia and Moto Guzzi, so I made it to the Buell line and signed up to test drive 5 Buells for the 5 sessions tomorrow. Note for next time, take Friday off and get there early.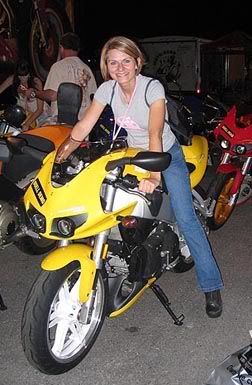 By the time we left the track, it was too late to go to the hotel before heading out to dinner, so I got another ride with another group. We went to the buffet at Harrah's. After I ate I started yawning, it was already 1AM Chicago time. By the time I got to the Sahara, found my motel room and got ready for bed, it was already 2AM Chicago time.
Saturday, October 1, 2005
There were a total of 7 STN girls at the Sahara. Three of us in the room I was staying in and four in the room next door. One of my roommates ended up driving to Vegas from California, so everyone in my room went to the track with her. The other four girl's had a rental car. We got to the track before 8AM and pitted with the CF girls. I was ecstatic to find out Red Bull was a sponsor, free Red Bulls all day long. I was in heaven. The morning temperatures were in the mid 60's but the day started to warm up quickly and by the early afternoon it was in the low 90's. I was drinking a lot of fluids and felt really good all day, never too hot. This dry heat is awesome. There were three groups, Novice 1, Novice 2 and intermediate. There were two tracks, so technically, we were broken up in to 6 groups. There were 150 women participating in femmoto this year, so far the largest number of participants. We did 2 sessions and then lunch was served. The $80 included the femmoto membership and a t-shirt, STT membership, woman's demo track day (including a pick of 5 different bikes to ride), lunch and a dinner banquet. What a deal!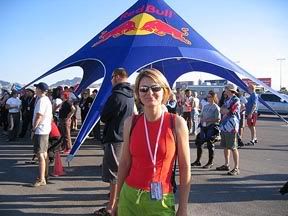 Lunch was good, I had a chicken wrap, some potato chips and a big ass cookie. Then we did 3 more sessions. By session four I was feeling good, I knew the track pretty well, although I was starting to get tired. By session five I was pretty tired and the wind started to pick up a bit too, also this was the hottest part of the day. The sessions were not long enough for me to actually get used to the bikes I was riding, so I took it pretty slow all day. When I rode the same model two sessions in a row, I noticed immediate improvement. This event is really not a track day, it's a demo on the track. I think two or more ladies crashed and they made an announcement to remind us that those are not our bikes and we were not racing. In all, the day was amazing, I had so much fun. All the women there were so cool, I couldn't even believe it. All day long you would strike up conversations with women that you didn't know, and all day everyone was so nice and everyone wanted to know where everyone was from and what bikes they rode at home. Just a very friendly, laid back environment. Not to mention, it was awesome seeing all these women on the track and guys holding umbrellas for a change.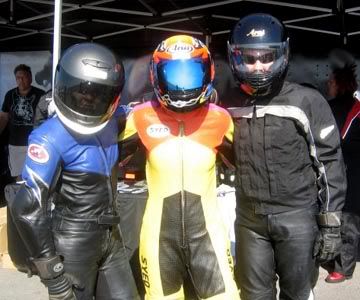 When it was over we packed up. Apparently while I was in the bathroom, some chick stripped down naked and rode her SV around the parking lot, then ended up dumping the bike. I miss all the weird stuff. The girls have pictures though.
When we got back to the Sahara, it was time to get ready for the banquet, which started at 7PM in the same casino. We got there a few minutes early to snag us a table. Dinner consisted of appetizer type finger food, but everything was good, although the line to the buffet was very long and plates were very small.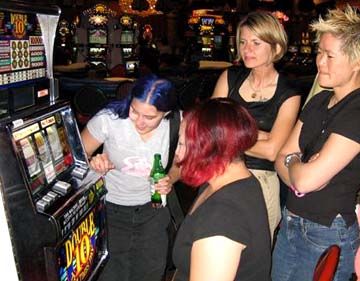 After dinner Fairchild Sports (Hein Gericke) put on a fashion show for us girls, new woman's gear that was about to hit the market. We also got to touch and try on samples. And they gave away a MZ scooter. I didn't win it and even if I did, how the heck would I bring it back to Chicago.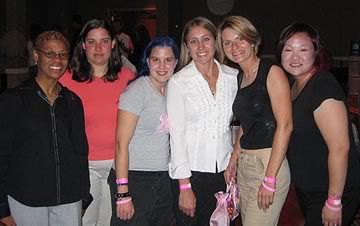 Most of the girls were pretty tired by the time the banquet ended, only a few of us went looking for some more fun, and we didn't have to go far. At the Sahara, we found the NESCAR Bar. Some people from femmoto were hanging out there including Jessica Zalusky the AMA Superbike racer, Super Sarah, a guy from Aprilia, a few of the journalists and a photographer. So we stayed to have some drinks and ended up dancing the night away, it was karaoke night too. It was a pretty late night.
Sunday, October 2, 2005
After a few hours of sleep we went down to the pool and lounged around with daiquiris. I actually didn't know how long we were out there and I put on the sun screen a bit too late, I don't think I've had a chance yet this year to wear my bikini, a few parts got a bit red, maybe burned would be a better description. After enough pool time, we decided to eat lunch at the Quark's Bar & Restaurant at the Star Trek Experience, which was within walking distance at the Hilton.
http://startrekexp.com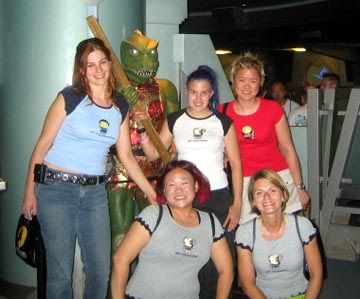 Lunch was good, the place really interesting. I like Star Trek. Afterwards we did some shopping at the gif shop, then we took the monorail to Paris. We walked around and when we could walk no more we came back to the Sahara. I had an 11:30PM flight, so I packed early and then we went downstairs to the Mexican restaurant for dinner. After dinner I said my good byes and grabbed a shuttle to the airport and shortly I was on my way home. The red eye flight back was more packed than the Friday afternoon flight in, but there was a no show and I ended up changing seats and sat next to the window again. I prefer window seats, I like to check out the views. Taking off from Las Vegas was spectacular with all the casinos lit up so bright.
I was very tired but I had a hard time sleeping, I'm sure I got a nap in there somewhere. We landed at 5AM and by 5:45AM I was home. I was going to take a shower and go to work but I was so very tired now, so I took a 3 hours nap. After that I was functioning very well. I made it though a whole work day with no problems.
What a great weekend. The weather was awesome, hanging out with motorcycle chicks was way awesome, doing bike demos at the Las Vegas Motor Speedway was super awesome and Las Vegas is pretty awesome too. I hope to make next year's event.
Flying with motorcycle gear
This was the first time I have ever flied with my motorcycle gear. Since I was so paranoid that the airlines would loose my luggage, I decided to take on board everything that I needed for the demo track day. Which meant that I shoved everything in to my small carry-on suitcase, the Syed one-piece, back protector and gloves, plus some small miscellaneous clothing items. I checked a bag that held all my clothes and toiletries. I also took two pairs of motorcycle boots with me, my touring boots, which give me some height and my race boots. I packed the race boots in the bag that I was going to check and I wore my touring boots. My helmet bag was my purse and I filled up my helmet with all the crap that I would usually carry in a purse, wallet, keys, and stuff.
They didn't loose my luggage, but better safe than sorry.