October 8 - 9, 2005
With the Midwest touring season coming to an end (notice I said "touring" season, not "riding" season) I really wanted to spend the whole weekend on the bike before it got too cold to go anywhere far. The weekend's weather forecast was cold for the Chicagoland area. Highs only in the middle 50's. The original idea was for a group of us to head South to Missouri for the weekend. But Andy was getting ready to put the bike away and sell it in the Spring, so he didn't want to get a new back tire. His back tire was nearing the end of its life, so MO was a bit far and the temps didn't seem to be much warmer in MO then in WI, well, maybe like just a bit warmer. After a few e-mails back and forth, it turned out no one else could get away this weekend, so it was my friend Andy and I riding, and we decided to head up to WI instead.
Andy met me at the house shortly after 8AM, it was in the mid to upper 40's in the burbs. Since the weekend's weather was on the cool side I decided to take the 954RR since I could use the electric vest on that bike and the heated grips. (I just ordered the heated grips for the ST3 on Friday, a bit too late). It turned out that the 954RR didn't start. The battery was strong, but it wouldn't turn over. Maybe the Honda is mad at me, I've been neglecting it since Labor Day Weekend, since the day I brought home the Ducati. The last time I rode the 954 was end of August, although I did start it on September 9th and ran it in the driveway for a few minutes. The bike had only about 20-30 miles of gas in the tank plus the reserve. It wasn't totally on empty, but I should have filled it up before parking it in the corner and totally forgetting about it. I re-packed from the 954 to the ST3 and we were off toward Wisconsin around 9AM. It was cloudy and cold. We arrived in Mount Horeb, WI chilled to the bone and hungry. We grabbed lunch at the bar and grill on 78 South, just four doors to the right of the Mustard Museum. The chili was good, the grilled cheese and tomato sandwich on sourdough should have stayed on the grilled a bit more.
After lunch it seemed a bit warmer. I still had the lectric Widder vest cranked on but at least my hands weren't frozen anymore. The temperature was now in the low 50's. We left Mount Horeb and a few minutes later I saw what looked like rain drops on my visor, but it never rained, it just looked like it would. A few hours later the clouds were beginning to thin out in places and finally in the mid to late afternoon the sun finally came out. We just rode around all day with no particular plan or route. I had a few towns in mind for lodging tonight. As the day came to an end we turned toward Richland Center and the Super 8. It was starting to get cold again and the sun had already set. To our surprise there were no rooms available at the Super 8. We rode to the Ramada and it was also booked up, the other smaller places were all filled.
We got on the bikes and took 14 Northwest toward Viroqua. There were no other motels on the way. Thirty cold miles later I noticed the small motels were in Viroqua displaying the big "NO" or "no vacancy" signs. We pulled up at the Super 8 to find out what we had already suspected, there were no rooms here either. The lady working the desk told us there were no rooms available anywhere, not even in La Crosse, or Sparta or Tomah. Not anywhere between Dubuque, IA and Black River Falls, WI. We were so screwed! It was 8PM now. It was Dark outside with deer running around everywhere, I'm sure. The temperatures now mid to low 40's. Where would we go? Back to Chicago? While at the Super 8 we got the phone book out and called every motel listed, sure enough no rooms. We joked about just spending the night in the lobby, there was a nice big couch there. Seriously, we were starting to panic. Thinking of getting back on the bike and riding anywhere in the middle of the night was out of the question.
After about 30 minutes, after making the last phone call and getting no where, the lady mentioned that there was an empty room upstairs that they didn't rent out, it was mostly used as storage, but has a murphy bed, TV and a bathroom. We must have looked desperate because she called the hotel manager who not only rides a motorcycle, but is also a female and also a MSF instructor. She told the tale of two tired and frozen riders from Chicago and the manager told her that she can rent out the room to us. It was a true miracle! Finally riding a motorcycle paid off. I mean, how lucky were we? The room was great. We cranked up the heat up and ordered some pizza for dinner.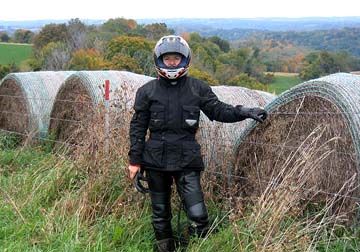 Sunday morning started out just like Saturday, cold and cloudy. We did some road exploring, and trying to stay warm. Found some spectacular roads, some very scenic with fall colors that just looked amazing in places. Then we realized we could still make it to the STN coffee meet in Galena by 2PM. We slowly started making our way south. We were running just a bit late already, but got delayed when we came upon an accident that was in the middle of cleaned up. There was a fire truck hosing down the road so we had to wait.

Soon we were on our way but went looking on the wrong side of RT 20 for the place we were meeting at. Then Andy lead me up the hill of doom. We climbed Hill Street and I hate steep roads and so far this was the steepest one that I had ever been on, I mean a street with stop signs and traffic and houses. Then half way we get to a "T" in the middle of this street and Andy went right, I was not positioned to make that tight right turn up, so I made a left. I wouldn't mind steep roads as much if I could flat foot my bike. But knowing that I can't maneuver well on steep roads just makes avoid them all together. I waited at the top and Andy found me, then went to find out where we needed to be. I think he actually enjoyed riding those steep old streets. We arrived at the place at 3PM for coffee and dessert and hung out for about an hour and a half. It was sunny and warmer now, possibly as warm as the high 50's. The trip home was also warmer. I actually unplugged my electric vest. The traffic was heavy at times as we followed long caravan of cars with no chance of passing. Then all the sudden, the sun kissed the horizon and the temperatures dropped instantly like 15 degrees.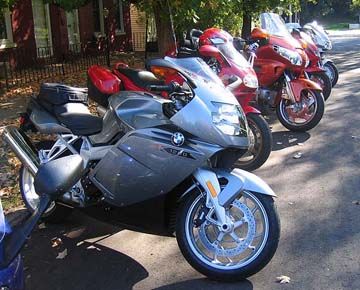 I still had my tinted visor on, but we agreed not to stop for dinner until it was completely dark so not to waste any sunlight. We were still in the middle of the corn fields, and only thirty or so minutes away from civilization. We arrived in suburbia and grabbed some dinner at Chilie's restaurant. Warmth and first real food of the day. Another bowl of chili for me and a turkey sandwich, some hot tea to wash it down. Then it was another 20 miles home for me, now my lectric Widder vest for plugged in and my thinsulated gloves on, I was warm. I arrived home at around 9PM. We still managed to do about 800 miles on this cold weekend.