The meeting spot was at the house of one of the riders in Algonquin. It was a chilly ride up there and the thermometer only read 38 degrees at 8AM. Brrr. I wish the ST3 had those heated grips installed already. Everything else was warm, except for my hands.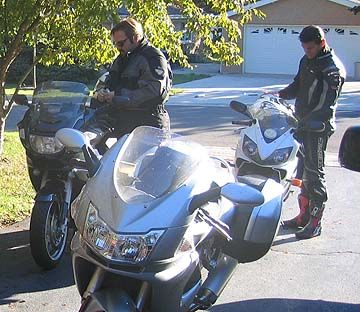 We had some coffee, scrambled eggs and pastries and we were off. The day was warming up nicely. The Gypsy took the lead for the day, as we meandered though the northern part of Illinois and in to Wisconsin. We stopped on "H" at the Kettle Moraine coffee shop & deli for a beverage break.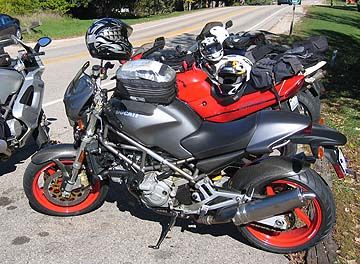 Italia was representing today, the line up consisted of 3 Ducatis, 1 Honda, 1 BMW and 1 Suzuki. Some trees were in the peak of color as we continued up though the Kettle Moraine. I've never been on some of the roads before, they were nice. The high temperature for the day was in the mid 60's and there wasn't even one cloud in the sky. At 2PM we stopped for food in Slinger, WI at the bar and grill. The food was OK, we all sat at the bar and ordered burgers. I had the Mexican burger with avocado, cheese and salsa. It was a lot of beef and for $6 it should have come with fries, but it came with potato chips. The burger actually goy me sick, I don't eat a lot of beef and I think this was too much beef in one sitting. As I'm writing this today, I'm holding my belly. I wish those tums would start working already.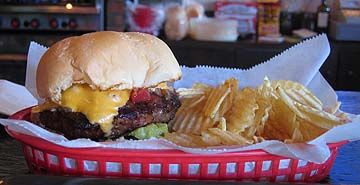 After lunch we started to make our way back and finally made it to 12. So who's idea was this: The highway portion of 12 ends and like 50 cars have to merge in to one lane and stop at a stop sign and turn left to continue on 12. There was a lot of traffic on 12, at RT 31, the group separated. 3 of them continued on 12 and three of us continued on 31. I made a pit stop to pick up a battery charger form a friend. I hope to get the 954 running this week.
I got home around 8PM, it was still nice out, what a great day for a ride. I hope there is many more of these before the snow hits.