Built-in storage for 12V cigarette lighter plug

10 ft. power cord, 18'' hose with valve adapter

Overall dimensions: 5-1/2''L x 2-7/8''W x 4-7/8''H

Weight: 1.4 lbs.

$9.99 at http://www.harborfreight.com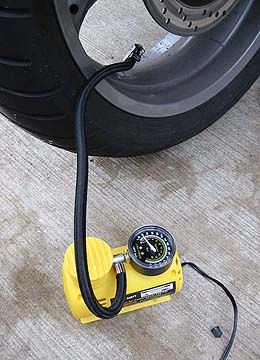 So I got to try out my new portable mini air compressor. All four tires on both bikes needed air. This thing isn't the fastest, but it did the job it was supposed to do. It's tiny and very light. I plugged it in to my car's cigarette lighter. It's pretty loud and shakes a lot so you have to hold it down with one hand. In order to read the gage I had to hold it down too, other wise it shakes too much and you can't read it. The gage was pretty accurate.
The only thing that fell apart right away was the on/off switch. It just sort of separated, but that should be an easy fix.