Last year we did a short ride in the morning, this year we had breakfast and relaxed and then rode over to Denny's for the "Meet and Eat". There were a lot of people showing up again, even more than last year. Our group ordered a 15 lbs burger, but we didn't eat a lot of it. It was good and tasted like meatloaf.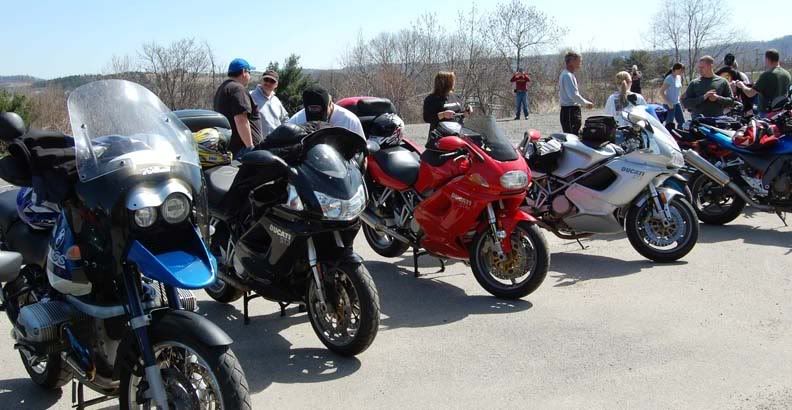 Here are our three Ducs, there were many Ducati ST's there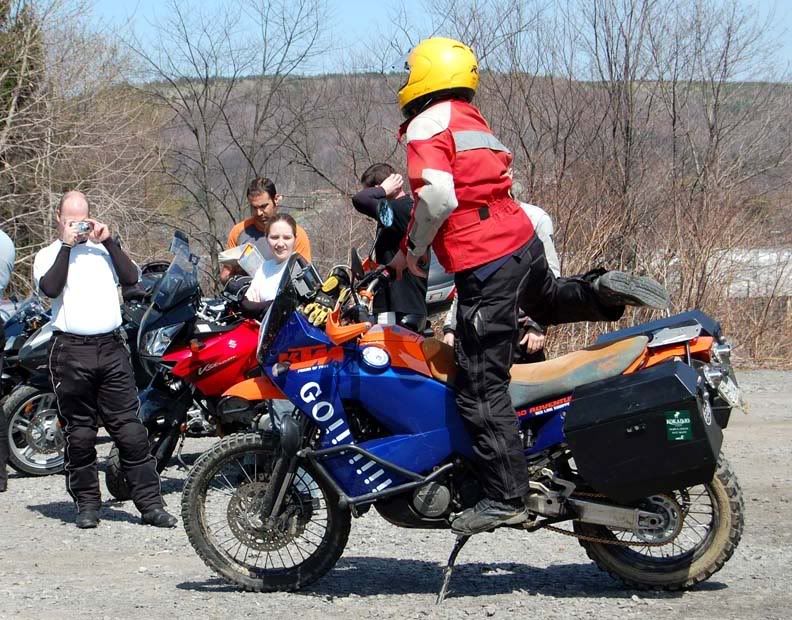 Rockstar dismount

15 lbs. cheeseburger at Denny's Beer Barrel Pub
My lunch - start
My lunch - finish
Sandy, Rick and I were out of there by 1:30PM and on the road heading back to Chicagoland. I again needed to take some Aleve to get me home. Not only was I already getting sore from today's ride, but I was still sore from riding all day yesterday. Today was definitely much harder to ride.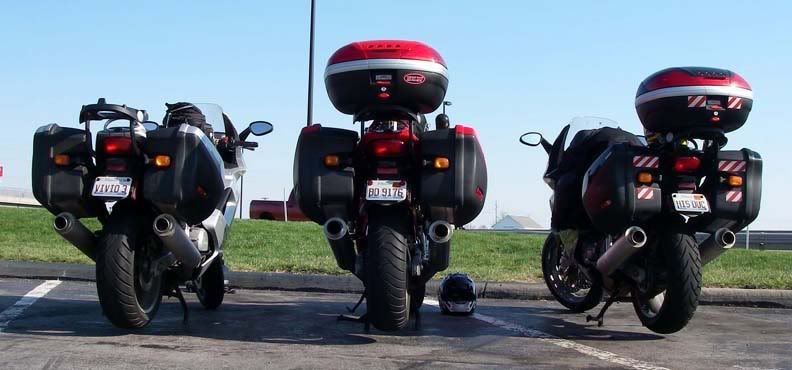 Another stop for bathroom, gas and lube for the chains
Sandy and Rick went to the Northern suburbs and I headed toward the Western suburbs and within minutes I found myself not on the interstate but creeping and crawling in 1st gear and then the traffic stopped all together. It was 10PM on Sunday, why was there so much traffic? I was already very tired and very sore and now having to pull in that hard hydraulic clutch was just too much, and if that wasn't bad enough, it started to rain. I crept to the next available exit and pulled over at a gas station. This was not a good neighborhood for a girl and her Ducati to be hanging out at, but I had no choice, my clutch hand was killing me. I made a phone call to figure out if there was an accident or something, I didn't want to take side roads, too many lights but if those were moving, I rather do that than just creep and crawl on the interstate. There was no evidence anywhere of any major delay on the highway that I was traveling and by the time I hung up the phone and geared back up, the interstate was moving again at speed limit. How annoying. The rain stopped and I pulled in to my driveway just after 11:30PM. The last 20 miles were definitely the hardest, I was physically and mentally tired from riding, but it was still a good trip. But an expensive trip, just the tolls going there and coming back had cost me $30.