Ready to tear down camp and go riding
We packed up the tent and geared up and before 11AM we were on the road. We continued on Karbers Ridge Road toward the east and turned south on Hwy 1. Highway 1 is hilly but not particularly twisty. From there we turned west on 146. Both these roads are designated as Ohio River National Scenic Byways. 146 is also the Trails of Tears Auto Route. 146 follows the original trail the Cherokee Indians took through Illinois when they were forced to leave their land and march west toward they new territory in Oklahoma. They crossed the Ohio River in Golconda, IL in Winter of 1838.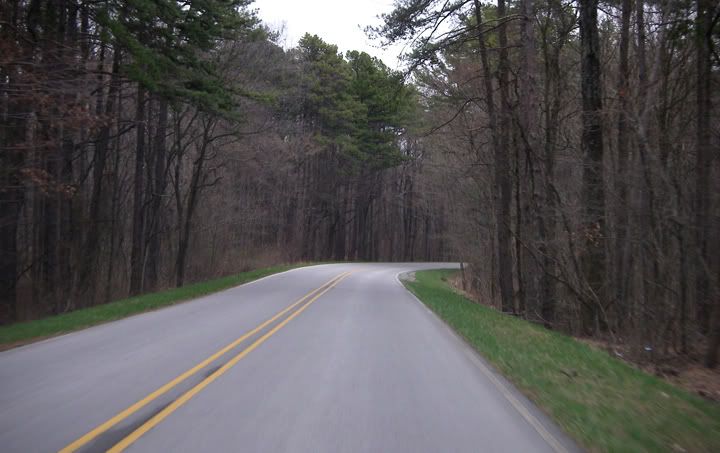 Karbers Ridge Road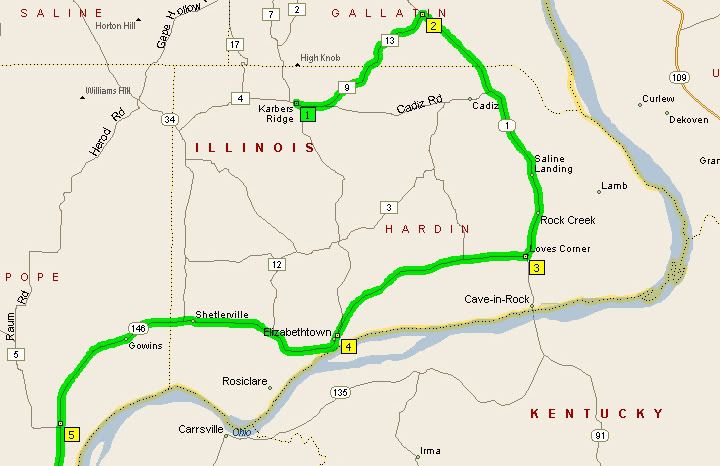 Karbers Ridge Road to 1 to 146
When we arrived in Golconda we continued on another road called 1 or Bay City Road, I think this is county 1 where the previous road is state 1. This county 1 was my favorite road of the trip. This road had plenty of curves on it but nothing really tight, and not much traffic at all. The Ohio River was still flooded so usually you would only see water form a couple of places on this road, but with all the fields being flooded, there was water all around us.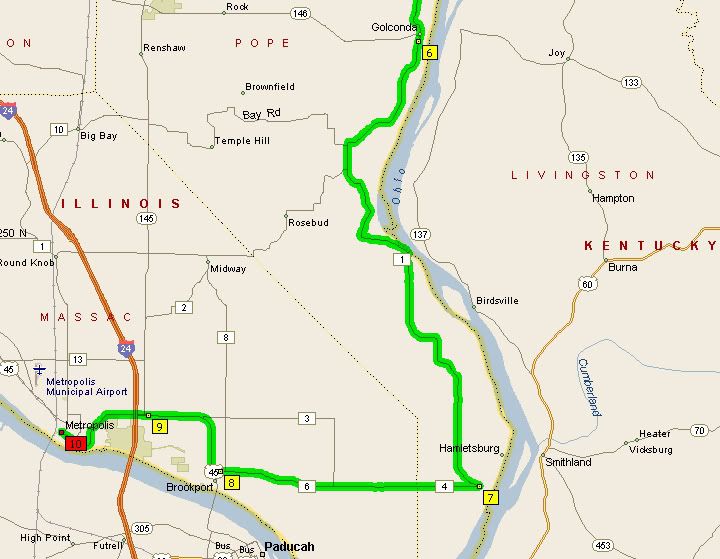 1 to 4 which turns to 6 to 45
I also had my scariest moment of this trip on this road. I came around one of the curves and saw a huge bird flying low above the road heading away from the road. Just as I straitened the bike from being leaned over I noticed another one of those birds coming toward me from the left. Then I noticed the dead turtle in the middle of the road and the first bird making a u-turn and starting to head towards me also. As I approached the dead turtle laying in the middle of the road I slowed down and waited for the collision of birds, human and motorcycle. All I could do was duck and hope that the two birds would miss me. With wing spans of approximately 4 feet, if I hit one of them, it wouldn't be pretty. At the last minute the birds noticed me and avoided the collision. Mike was behind me and said they missed me by mere 5 feet. They were magnificent birds, light brown in color. When rounding a corner you typically don't think that there will be something huge flying just above the roadway.
We contined west on 4 which turns in to 6, which is also called Unionville Road. Then took 45 in to Metropolis arriving around 12:30PM. I wanted to check out the giant superman statue located on 5th Avenue and State Street. A few blocks away on 3rd Avenue and Ferry Street was a kryptonite rock. The superman statue located in downtown Metropolis was pretty neat to see. The kryptonite rock was disappointing. It was a rock that was spray-painted green. I could have done better than that. They should have at least used some glitter green paint, although kryptonite would have looked even better if it was made out of green translucent plastic or glass.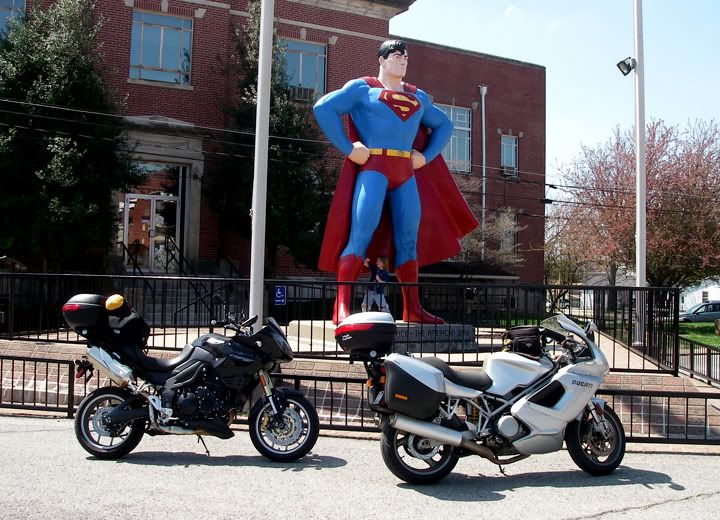 Superman statue in downtown Metropolis, Illinois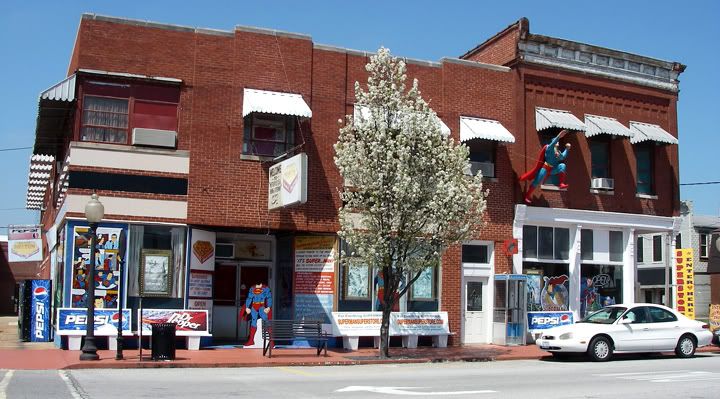 There are many other smaller supermen in Metropolis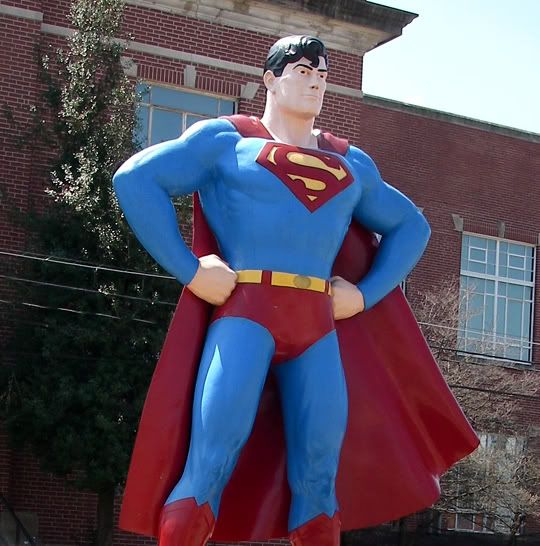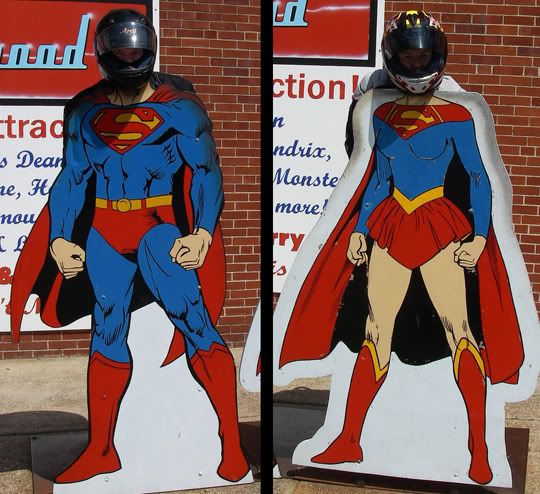 We stopped at a Subway to grab some quick lunch. We used up some of our riding time hiking this morning so after lunch we needed to jump on the interstate and head home since it was almost 2PM already.
A green kryptonite rock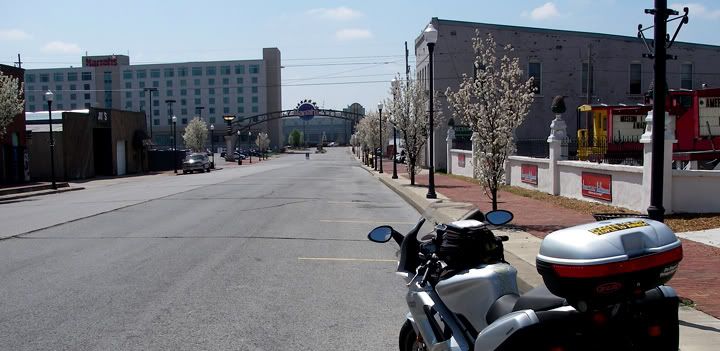 On Ferry Street in Metropolis, facing Harrah's Casino

Interstate riding is pretty boring and since this was the first long ride of the season I was getting pretty sore and needed to take an Aleve. We look I-24 to I-57, but at some point I wanted to get on I-55 since I-57 is kind of far form the house and we would have to get on the toll way to get home.
Near Champaign I had designed an "interstate break" in to our route and also a way to link up to I-55. We took I-74 west and took the exit for 47 North. 47 is not an exciting road by any means although it did have a few huge fun sweepers on it. There was no traffic and unlike the interstate, at least on 47 there were views of farms, bars and houses and a few towns we had to pass through. It was a welcome break from slab.
At the corner of 47 and 116 they had built a brand new gas station. By then we needed gas, we needed food and shortly I needed to change my tinted helmet shield for the clear one. The sun was going to set around 7 PM. The day today was absolutely terriffic for riding. The temperature was in the mid 60's which is my favorite riding temperate. Now it was in the 50's and I had the heated grips on and the Gerbing liner on as well.
Dinner at the Marathon station on 47 and 116 in Saunemin, IL
We grabbed some dinner at the gas station, one corn dog each and we split some potato wedges and an Arizona green tea. The corn dogs were delicious, potato wedges dry and possibly burnt.
After dinner we continued on 47 arriving at I-55 a few miles later and arriving home around 9PM.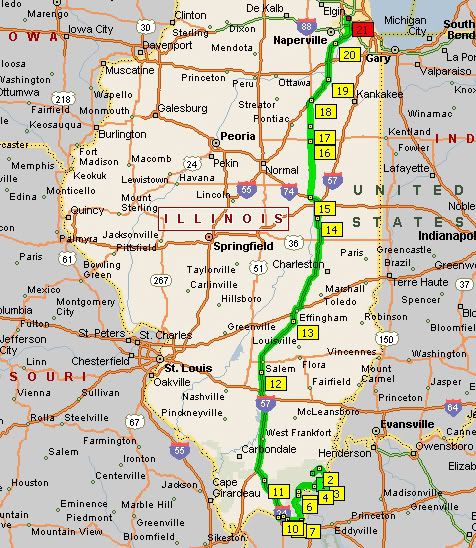 We did 476 miles today

This so far was our most economical trip in terms of food and lodging. The entire two days we spent only $5 on lodging and $30 on food for the both of us. But unfortunately because gas is so expensive now, and we rode 875 miles each, we ended up spending about $85 each on gas. Ouch!