We did 522 miles today. We started our trip on the slab, 308 miles of it. I picked some roads at random to get us from I-80 to the good and twisty roads in the Southeast corner of Ohio. They actually turned out great. My only criteria in picking these roads was that I didn't want to ride through too many towns and cities. And we didn't for the most part.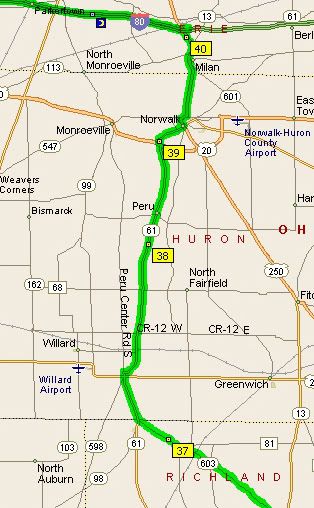 From I-80 we took 250 to 61 to 603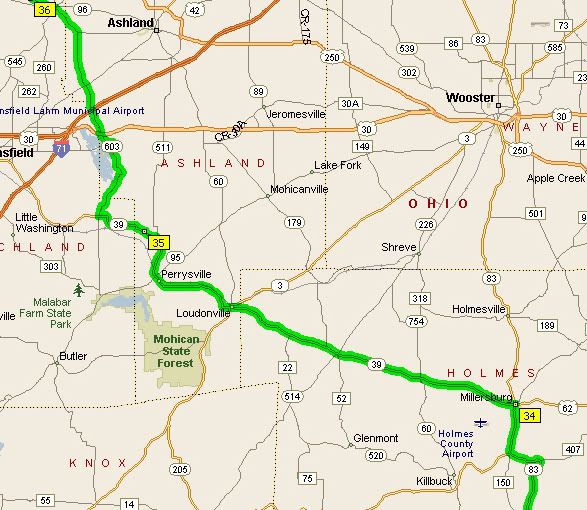 Continuing on 603 to 39 to 62 to 83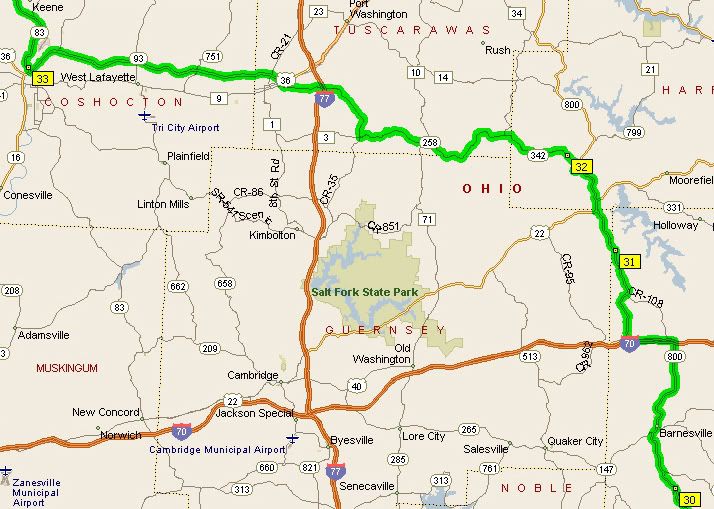 Continuing on 83 to 36 to 258 to 342 to 800 (258, 342 and 800 great roads with many curves)
Continuing on 800 to 78 to 536 to CR4 (Beautiful Ridge Rd.) to 7 crossing the Ohio River to 2 and arriving in West Virginia
We were supposed to ride all of 536, which is a very twisty road. But it had been a very long day for us already and the sun was getting low on the horizon. Once we were on 536 the road continued for a little bit, then all the sudden 536 made a 120 degree right turn up a steep hill.
Earlier we debated if we should even continue on the very twisty roads, or just look for a straighter road to get us to the town and the motel. My concern was that twisty roads take longer to ride and I didn't want us to be stuck riding a very twisty road after dark. Taking 536 might take too long. We checked our GPSs and stayed straight on CR4. This road went toward the River, but this road was also twisty and narrow, so it still took a while to get through it. There were really great views from this road, but I didn't want to waste any more time by pulling over.
Once we arrived at the corner of CR4 and 7, we took a short break. From 7 we rode over the river to 2 where we found a motel.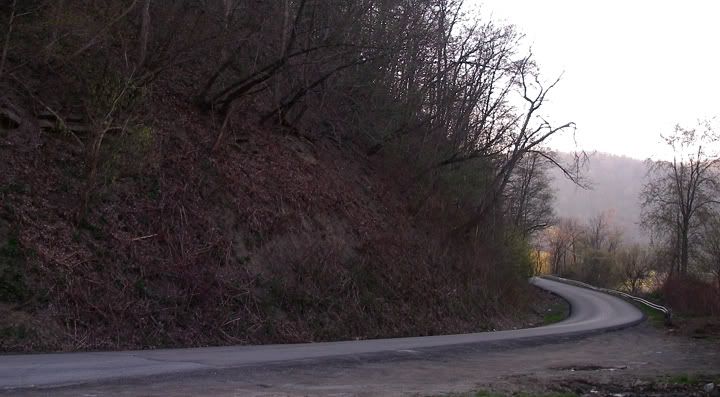 The end of CR4 (Beautiful Ridge Rd.) at 7 in Ohio
No camera on my RAM mount today
I couldn't use the camera that I usually have mounted to my bike, so I can take pictures of the roads while I'm riding. The RAM camera platform was empty all day because a few trips ago I had stripped the tripod socket.
I was hoping to get that figured out before this trip but I ran out of time. I brought the camera with me, tomorrow I will hope to figure something out, some temporary fix. This is why there are no picture of the roads from today's ride. Usually I can pull over and take some pictures that way, but today with 500+ miles to ride, there was no extra time to be pulling over for pictures.