This has been one of the driest winters on record here in Fort Collins and the front range. That's bad for the ski slopes especially in this economy. There was a bit of snow here in December, but not much in January or February so far. February is usually the driest month on the front range but March is usually a snowy one as is November and December. I think it's kind of nice to be able to take a two month break from winter (January and February) smack in the middle of winter.
I've heard stories of past blizzards that have dumped many feet of snow here in Fort Collins and the Denver area. There was so much snow you could actually go snowshoeing and cross-country skiing in town. And the snow stuck around for a while too - a few weeks - not days or hours like this winter.
We haven't experienced any real significant snowfall this year. Most of days when we get snow here is like today, snow falls over night but when the warm sun comes out in the morning it starts to melt. By the time the afternoon rolls around the snow is all gone except for a bit here and there hiding in the shadows. I can't explain it really other than to say the sun is very warm here. 40 degrees, the temperature today, feels warm. A light jacket or fleece is all you need. Back in Chicago a 40 degree day still requires a winter coat.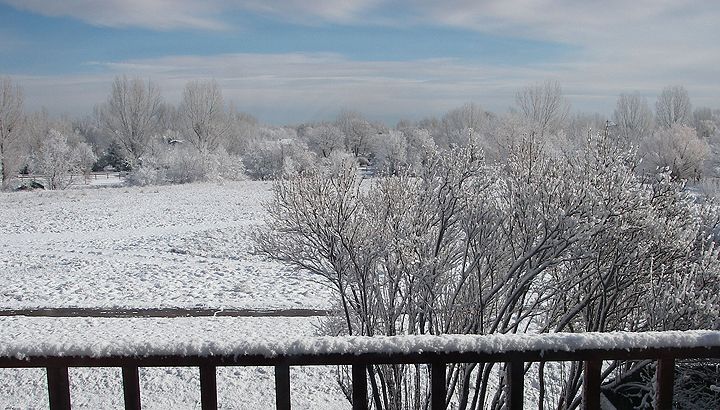 Fresh and unusually wet snow, even at this early hour the bicycle/walking path behind the house is already clear of snow
The picnic table on the balcony full of snow, already melting in the morning sun
So today I was going to take a spin on my mountain bike hoping to capture some nice snowy scenery around town. But of course by the time I drank my coffee, ate my breakfast, checked the new job postings on-line - the snow had all melted. So the only pictures I have are the ones I took out of the living window when I woke up.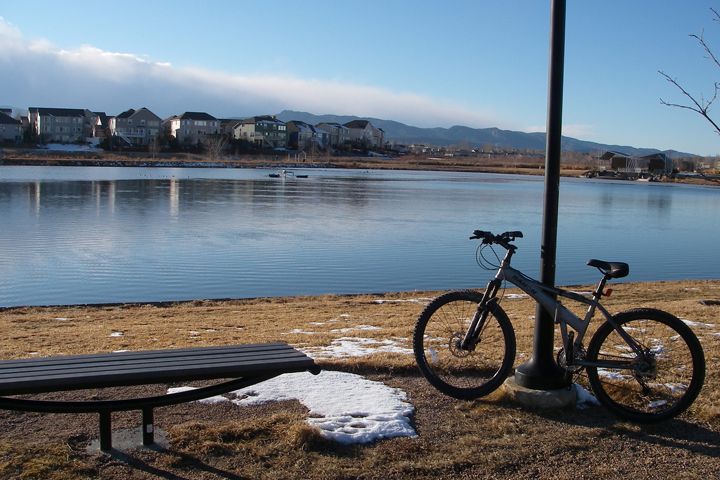 Early afternoon, just a few patches of snow left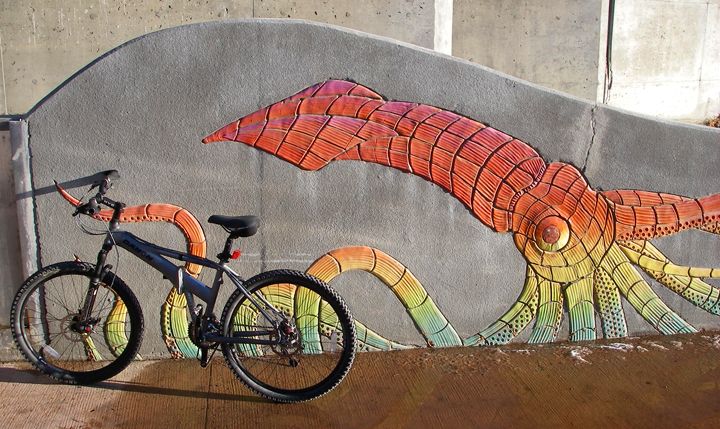 A very wet bicycle path from the melted snow
I've heard someone say once that "Winter in Fort Collins is like Spring in Chicagoland" I can't agree more. There may have been a total of about 7-10 days this winter where you wouldn't want to or couldn't ride a motorcycle in town, because of snow or cold. Many people in Fort Collins commute to work on their bicycles, even in the snow.
I thought that being unemployed over winter would mean staying inside most days, but that hasn't been the case at all. I'm actually hoping for some big snow, the ski slopes need it and it would be nice to not have to drive so far to snowshoe. I guess you could say I really don't want winter to end just yet, I'm having too much fun in the snow.