I headed out to Rocky Mountain National Park today. To get to all the popular snowshoeing trails at the park, one has to take Bear Lake Road. The trails off Bear Lake Road can get pretty packed on the weekends so I decided to drive west on the Trail Ridge Road and see what I could find there. I knew that the Trail Ridge was closed further up but I wanted to see how far I could get. It wasn't too long until I arrived at the "road closed" sign. I turned around and not too far from there I turned in to the Hidden Valley area, where I have not been before.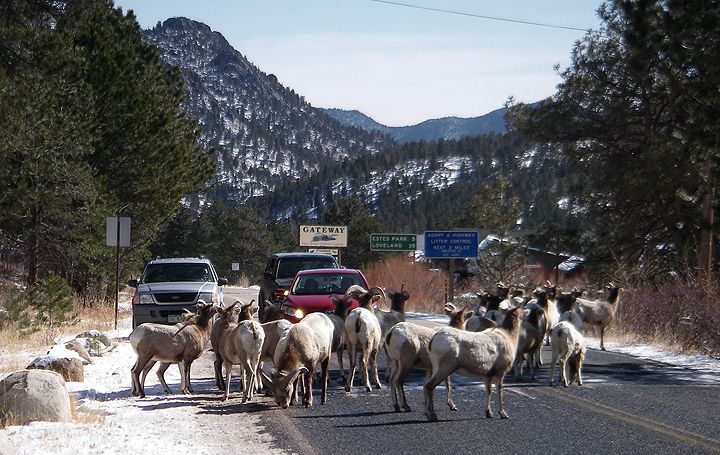 I've never seen so many mountain sheep on the way to Estes Park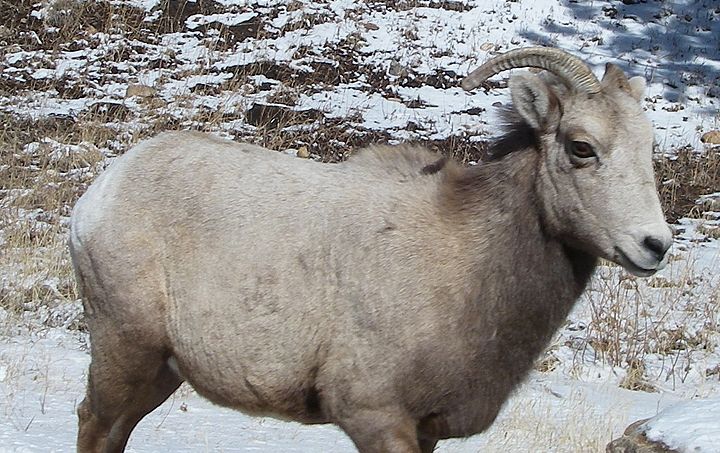 This youngster was eye-balling me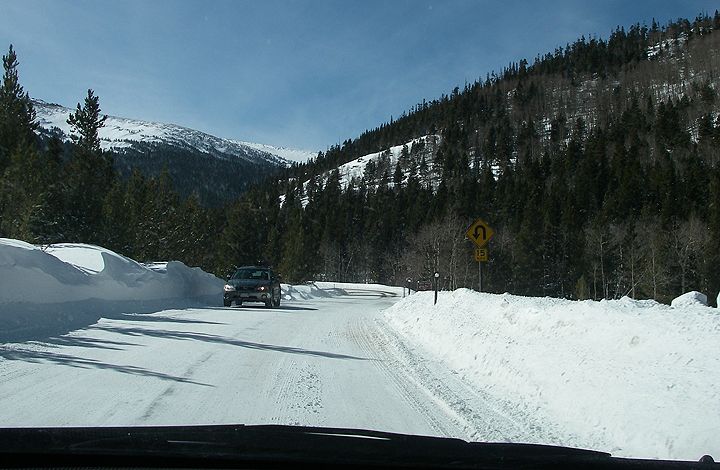 Trail Ridge Road at Rocky Mountain National Park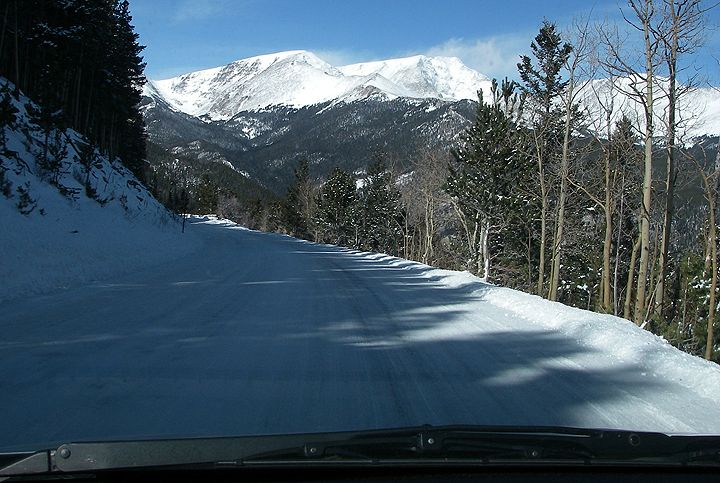 Beautiful views from Trail Ridge Road

The Hidden Valley Ski Area at the Rocky Mountain National Park closed in 1991. When it opened in 1955, it even had chair lifts to the top of the slopes, those have been removed since. Now this area is popular with backcountry skiing and snowboarding enthusiasts. From what I read on the internet, the base elevation here is at 9,500 feet and the summit elevation is at 11,500. There is also a very large parking lot here and a visitor center. Right by the visitor center there are bunny slopes for sledding. Today there was a sea of kids here and their parents enjoying the small hills with their sleds.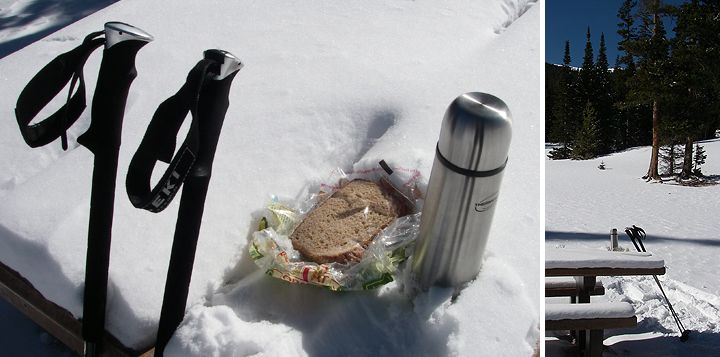 First stop, lunch vith a view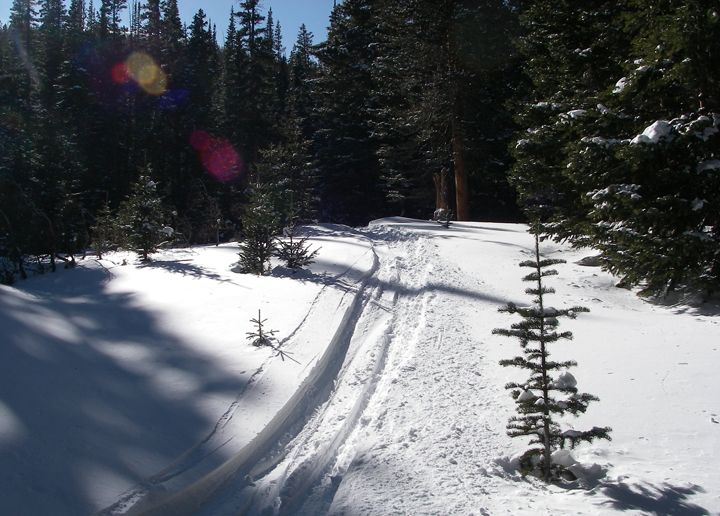 Staying to the right of the ski tracks
Further up the area became wider with deeper snow
I got my snowshoes on and headed out into the slopes behind the visitor center. Today was another beautiful day in the mountains, sunny but chilly in the low 30's and the winds were blowing a bit too.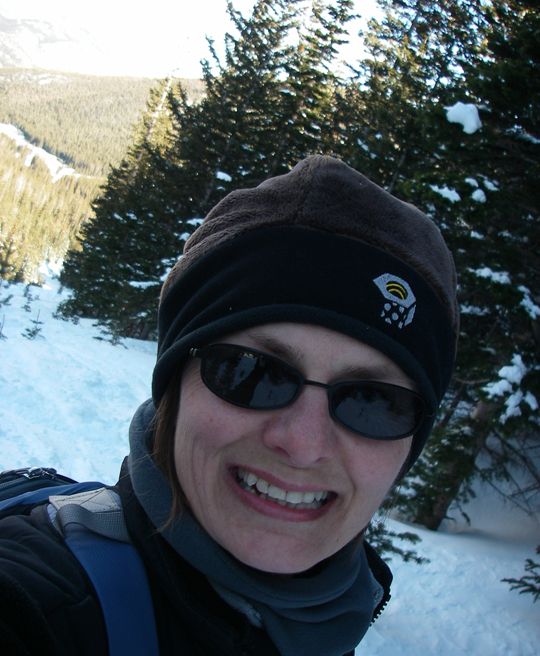 A self-photo right before turning around and heading back down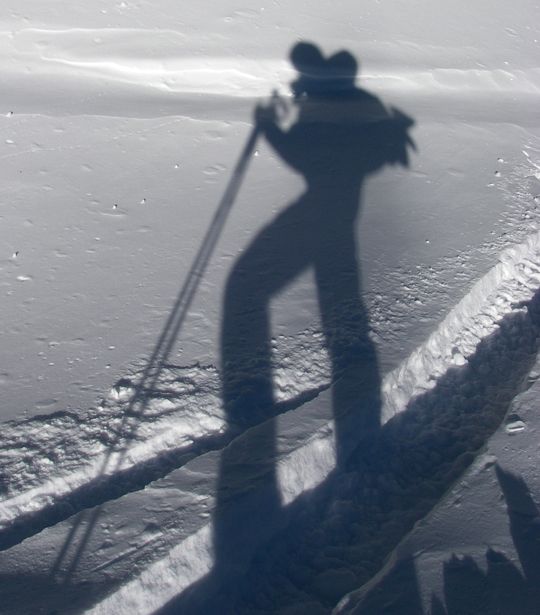 Neat afternoon shadows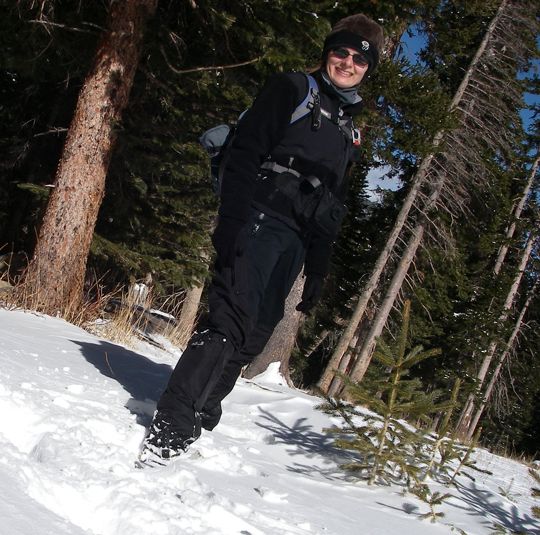 Even in the low 30's my heavy fleece jacket with an insulated turtle neck and a thin fleece pullover was all that I needed but today I actually used my neck gaiter, the wind was cool and at times when it was blowing hard I would pull it up to shield my face, I always take it along but it usually sits in my pack
I would be making my own trail today in the fresh powder. I have found out that I enjoy snowshoeing in deep fresh powder the best, not so much on packed down trails. I just had to make sure I wasn't snowshoeing on top of the ski tracks, but that was not a problem here as this area was wide.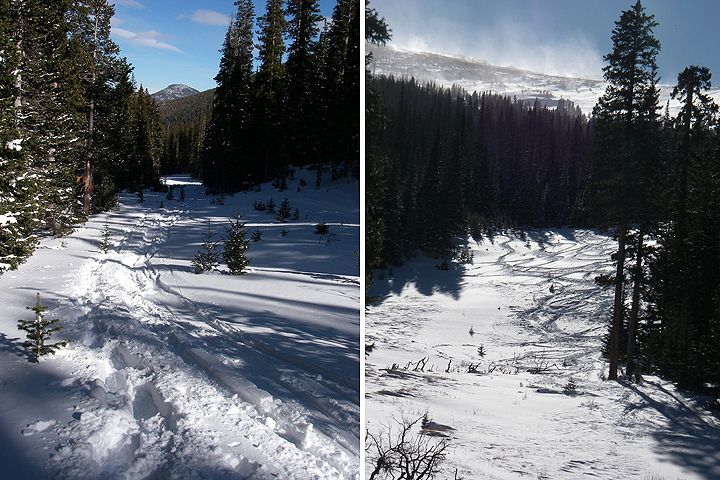 Heading back down (left), check out the wind blowing the snow around at the top of the mountain (right)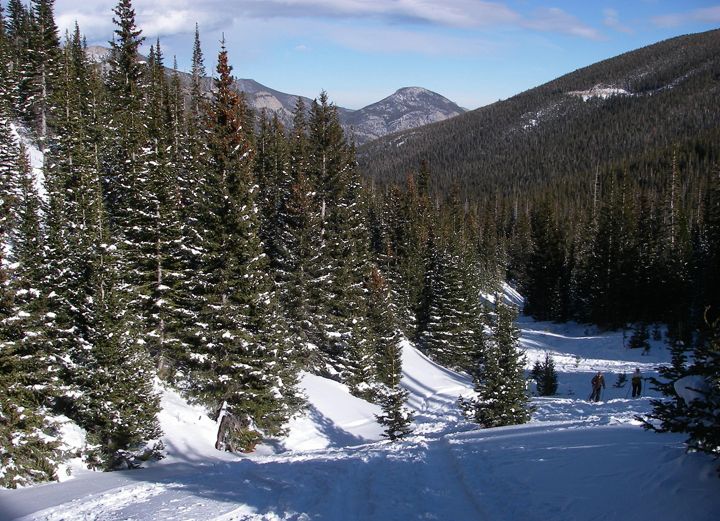 A couple snowshoeing below me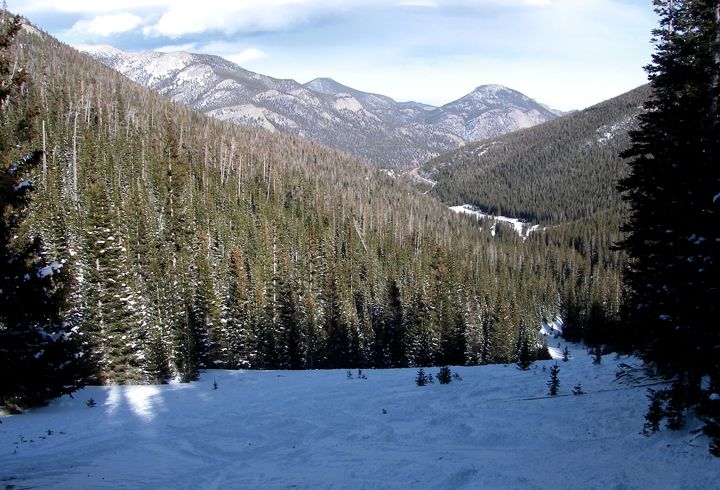 Views from further up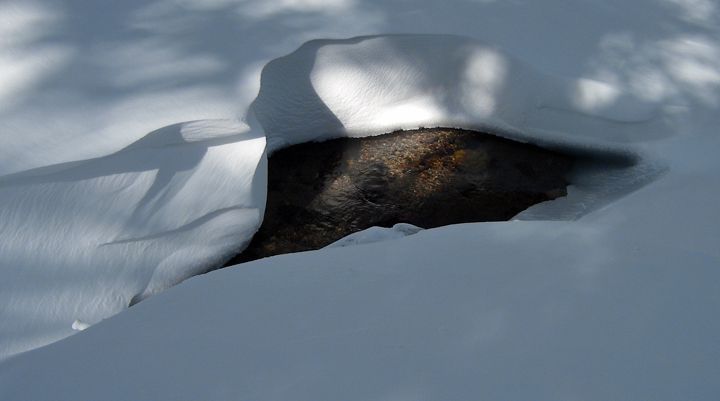 A creek under the snow

According to my altimeter I started out in the parking lot at 8,926feet in elevation and snowshoed up to 9,588 feet. The trek up the side of the mountain took me two and a half hours with lots of stops to check out the skiers and snowboarders and of course the magnificent views. It took me only 45 minutes to get back down the slope. I probably didn't snowshoe very far, maybe 3 miles total, maybe a bit more.
A snowboarder coming down with snowshoes attached to his pack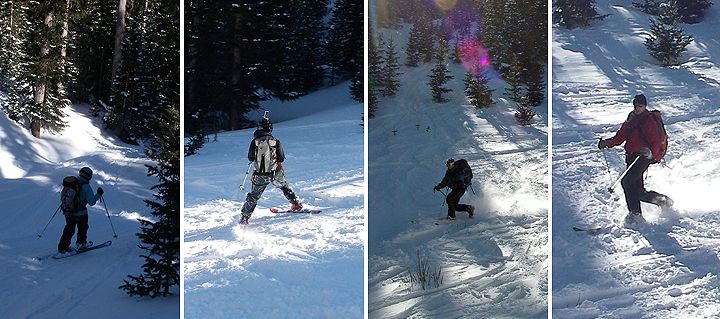 Skiers coming down the slope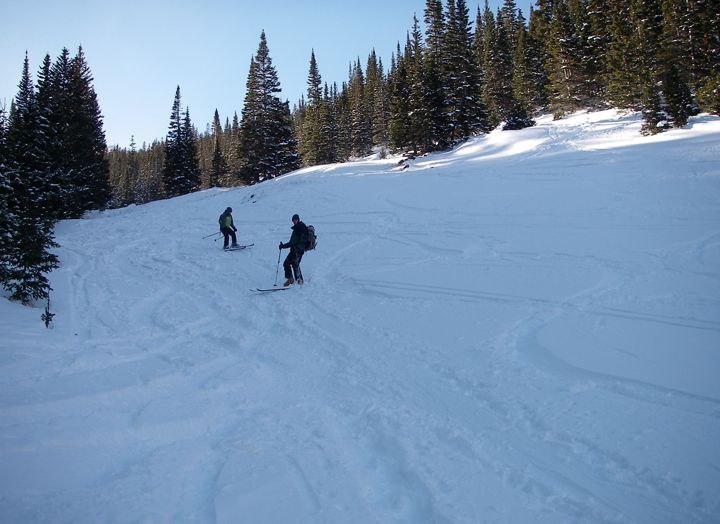 This looks like a lot of fun
This was a great area to snowshoe. It was sleep and wide, full of deep snow and amazing views. And it wasn't very crowded either. There was a couple snowshoeing behind me but they turned around early on. And I saw 8 or 9 skiers as they were coming back down.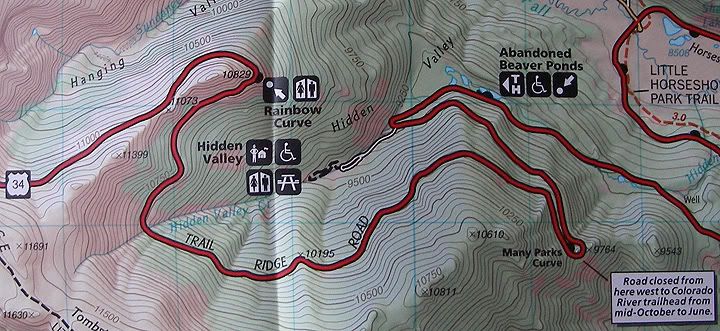 Map of the area
I saw lots of elk on my way out of the park, all males