It was a beautiful but cool morning. Since we were going to camp at the Tall Texan Campground tonight we didn't have to pack up the tents. We took our sweet time in the morning and got ready for our day ride. But before hitting the twisties we stopped downtown Gunnison for breakfast on highway 135 at The Bean. I enjoyed breakfast at The Bean, it's one of those hip and trendy places where there are many healthy and funky food items on the menu. Plus any place that serves breakfast and lets me order a cappuccino or a latte instead of regular coffee gets a thumbs up from me.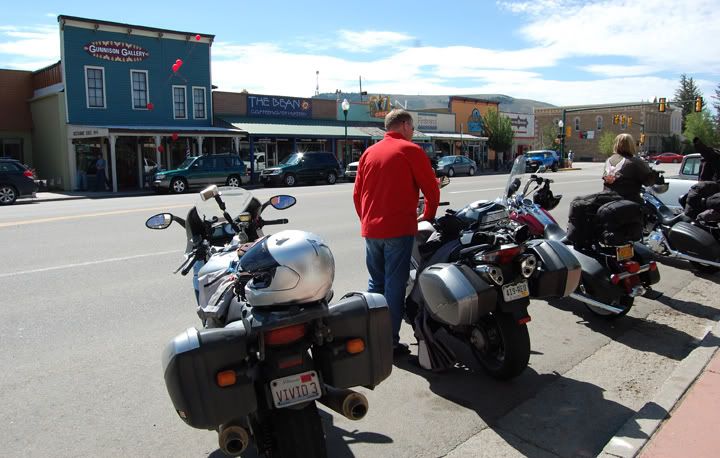 Parking the bikes in downtown Gunnison across the street from The Bean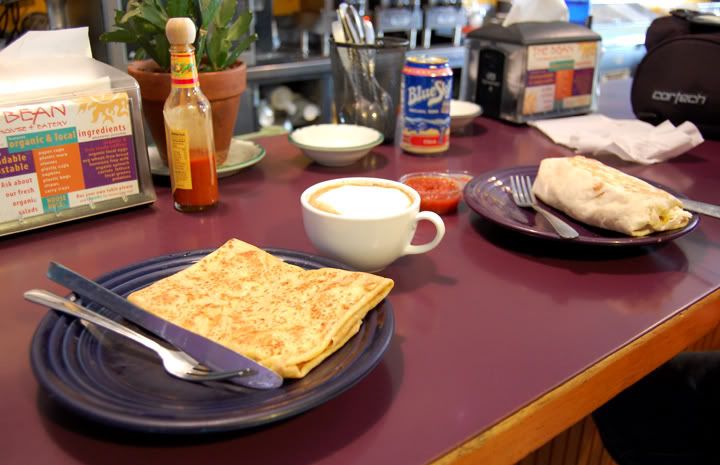 A crepe and cappuccino for me, a breakfast burrito for Dalton
After breakfast we turned on to highway 50 and headed west. Then we turned south on highway 149. I haven't been on highway 149 since my 2004 Colorado and Utah trip. I've only been on that road once before today but after riding pretty much every good road in Colorado on my 2004 trip, highway 149 turned out to be one of my top 5 favorite Colorado roads.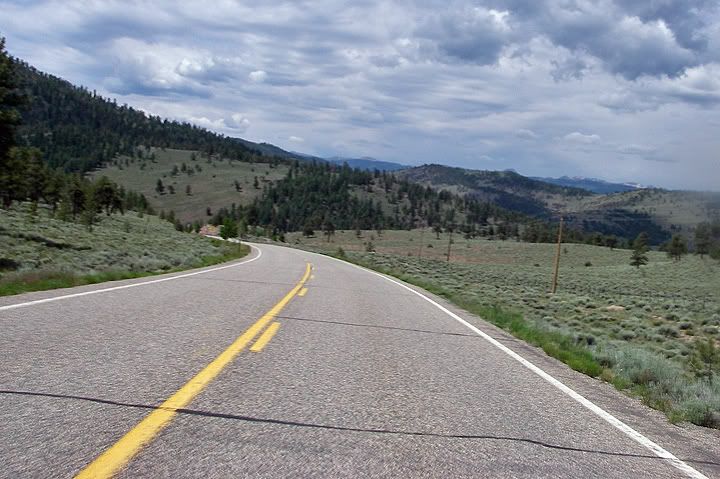 Highway 149
A stop on highway 149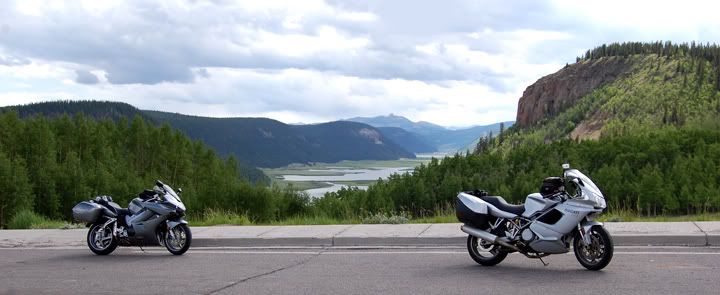 The headwaters of the Rio Grande River in the distance on highway 149
The clouds were moving in and we got rained on just 30 minutes from Creede. The rain didn't last very long. We rolled in to town and decided to find a parking spot so we could explore the town on foot. Traffic through Creede was stop and go and it took us a bit of time before we made it past the downtown area, where we found a spot to park the two bikes.
We didn't know this while we were in Creede but 4th of July is a big day in Creede. According to the internet the population of Creede jumps from 300 to over 10,000 people. There are many activates in town, like a 4th of July parade which we just must have missed before we pulled in to town. Also the Days of '92, the Colorado State Mining Championships, happens over the 4th of July. We caught a bit of the spike driving competition while walking though town.
Parked and ready to explore the town of Creede
Remnants of the mining days
I have actually never seen the town of Creede since if you are riding highway 149 the road turns before you reach the actual down town area. Creede is a neat old mining town. Not very touristy, but touristy enough to keep one occupied for a few hours or a day.
We took a short walk through town and decided to grab some lunch at the Best Little Doghouse in Creede. The food was good but the portions were just too big. My hamburger was gigantic. We couldn't possibly finish these portions and we had to leave some room for ice cream, there was a neat little place down the street.
Outside grilling at the Best Little Doghouse in Creede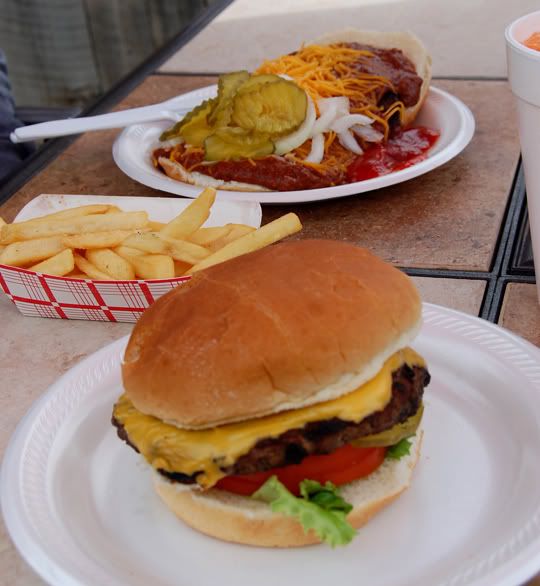 Lunch at the Best Little Doghouse in Creede; a cheeseburger for me and a chili burger for Dalton
After lunch we really started to explore this town. We ended up spending many hours in Creede , we could have spent more. It's a neat little town with lots of history, things to see and do, but it was time to head back to Gunnison. We got back on highway 149, stopping a few times for pictures, and a few hours later we were back in Gunnison.
Highway 50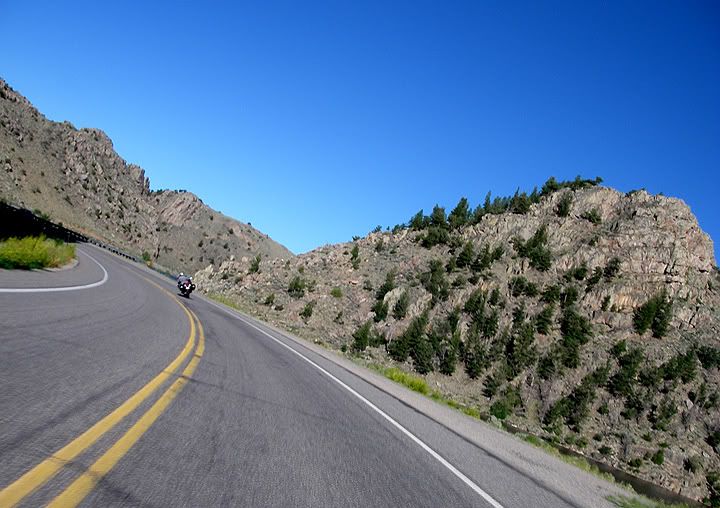 I just love the sweepers of highway 50
Back at the Tall Texan Campground in Gunnison, notice the stuff flying around in the air by the building on the right, lots of cottonwood trees at this campground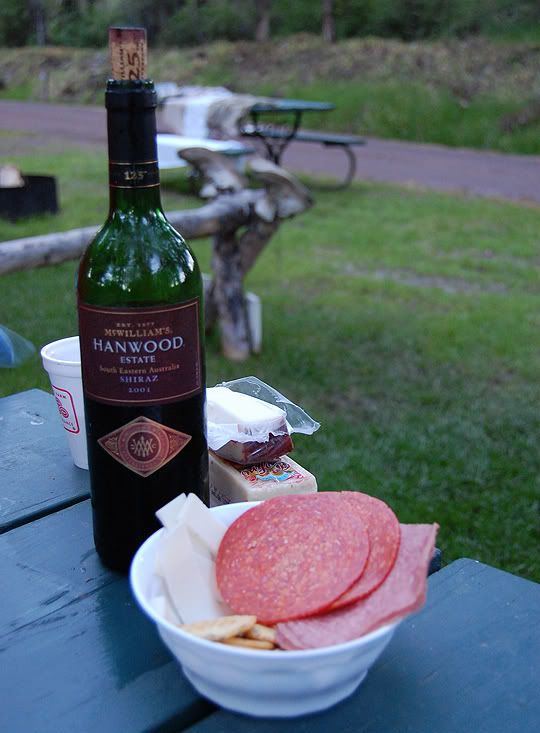 Dinner: wine, salami, cheese and crakers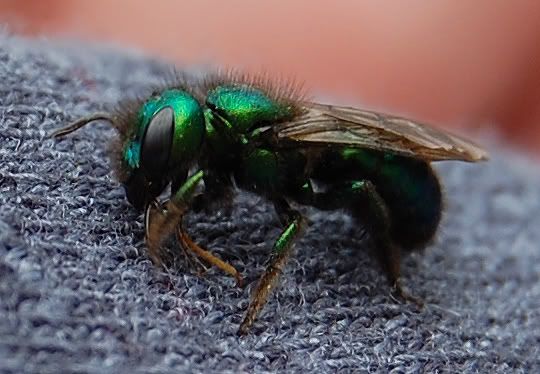 This funky looking green fly was sitting on Dalton's shirt - look at those big black eyes
On the way back to the campsite we stopped in at the super market in town and grab some salami, cheese and crackers since I ended up bringing a bottle of wine from home. When we got back to the Tall Texan Campsite it was pretty much empty. There were a lot of holiday activities and fireworks going on in town and that's where everyone must have been. Once the sun started setting we started a fire and cracked open the wine. Ah, the joys of moto-camping! When it got dark, the fireworks started in Gunnison. We could see the the fireworks from our campsite which was totally cool. About thirty minutes after the fireworks ended the cars started to roll in to the campsite. The night was chilly and I actually had to put on my down jacket which I always bring with me when camping since it packs very small, weighs nothing and is very warm.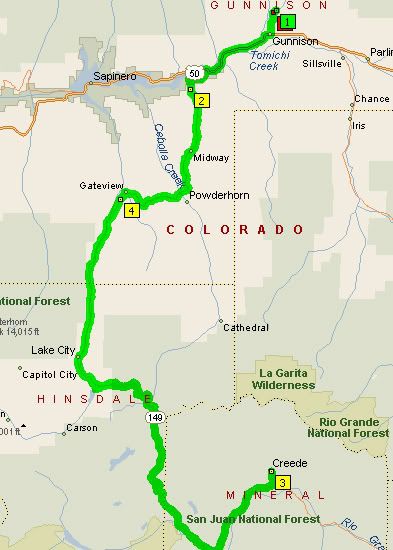 Our 216 miles route for today: highways 135, 50 and 149