So Mike needs his own street bike, but in order to shorten his "bike list" he needs to ride the bikes and since the motorcycle dealers that sell Japanese don't allow test rides, I arranged for Mike to meet up with some ST.Ners this weekend to test ride their bikes. ST.Ners are the nicest people.
First on the list was a second generation Yamaha FZ1. Bill in Peoria, Illinois was kind enough to meet up with us in Mendota, IL, a bit closer north, since after this stop we were heading in to Wisconsin.We arrived in Mendota late since I haven't been out this way in two years and I had no idea that the urban sprawl was in full force all along Route 34. Traffic was horrible, but we made it there only 30 minutes late.
Bill's 2006 Yamaha FZ1
Bill and the 2006 red FZ1 were already there and Mike took his test drive, and since we met up at a McDonalds, we decided to have lunch there. I'm really lovin' the southwest salad and I don't even like salads.
The day was perfect, sunny with no trace of any clouds and in the high 70's. After lunch we rode a bit west and then turned north and crossed in to Wisconsin, at about that time the roads became curvy and hilly and we finally got off the main roads and took some smaller back roads, now heading north and then east.
The big bumps on 78 just south of 39, made me loose my bottle of water that was sitting in my bag with the zipper unzipped. It fell out when I hit a big bump and hit my boot and rolled off in the grass. It was still half full. But loosing a half full bottle of water is nothing compared to what Mike lost on this bumpy road, his camera just jumped out of his pocket and shattered in to a million pieces on the road. He retrieved the memory card from it, although when we got home we found out that the card was damaged, so all the pictures up to this point are gone forever. Bummer!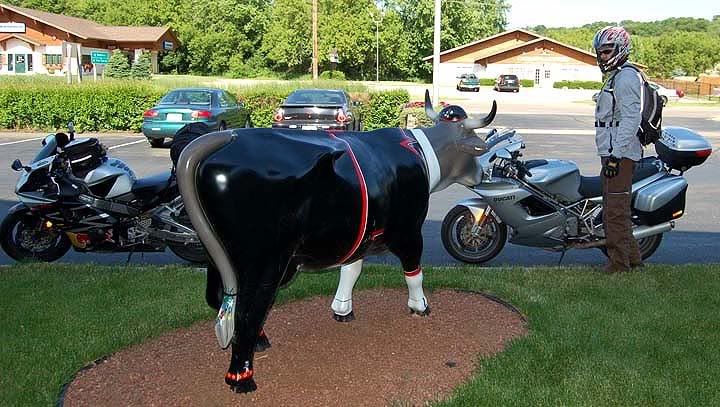 New Glarus, WI - America's "Little Switzerland"
Chelet-style architecture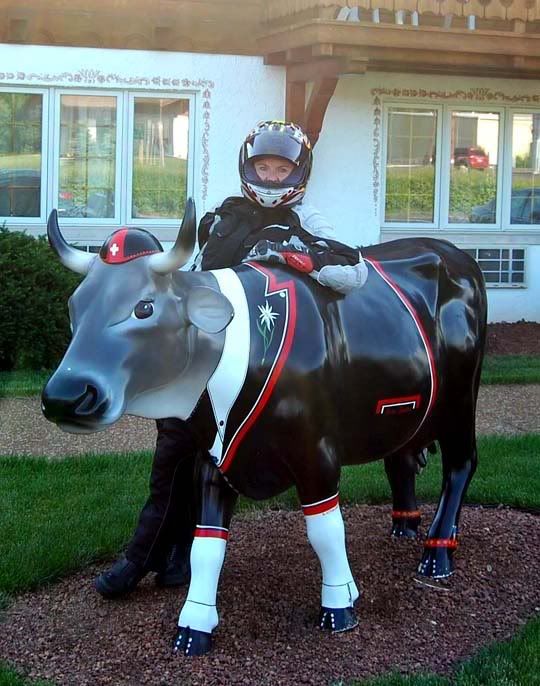 We had no luck finding a camping side for tonight last night on-line, so we brought some phone numbers and now pulled over at the Culver's in New Glarus, WI to make some phone calls. All the state parks in the area were booked up, we found a private campsite in Whitewater, WI that had some tent sites available. After we finished some ice cream Sunday's, we took off arriving in Whitewater before 6PM. We found a hot dog joint downtown on RT 12, the Downtown area was pretty deserted.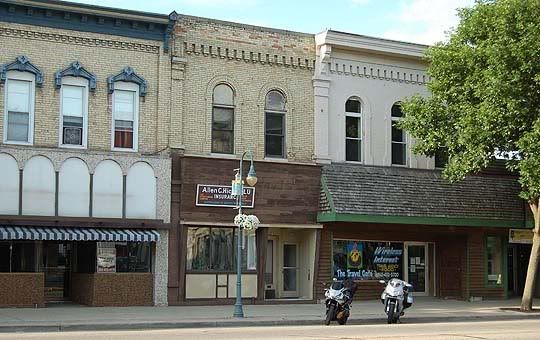 Downtown Whitewater, WI
Dinner at Dapper Dogs in Whitewater, WI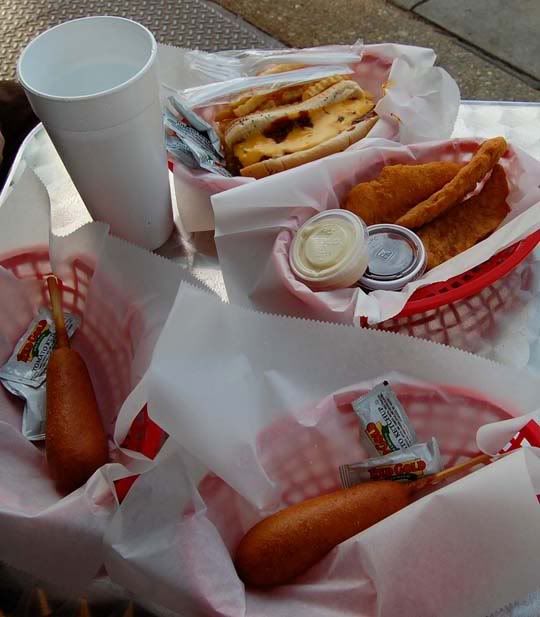 Dinner: For me corn dog and chicken fingers, for Mike corndog and chili dog
Dinner consisted of a corndog and a chili dog for Mike and a corn dog and chicken strips for me. The food was good and cheap. We took off toward the camp site but couldn't find it at first, we did stumble on to a camp site in the Kettle Moraine State Park off "P" road, and even though there was one spot open on the bulletin board, when we rode thought the campsite, we noticed that someone already snagged it.
Whitewater Lake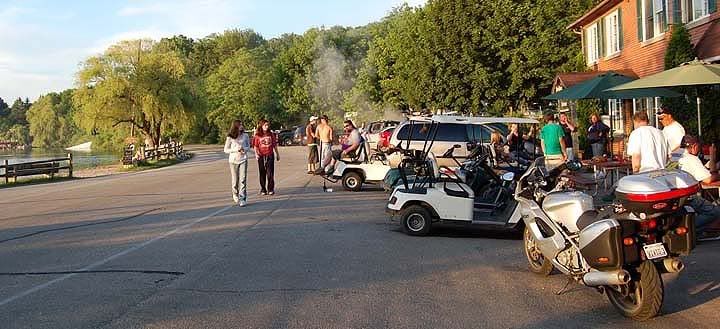 Arriving at the Scenic Ridge campground
After another phone call we had better directions and arrived at the Scenic Ridge camp ground off "P" at the end of R & W town line. This place was part central. We got the camp site, I guess they don't get a lot of motorcycles here because they didn't know how we should fill out the "vehicle" portion of the registration and at $15 per person I can see why more motorcyclists don't come here.
Our camp site
We rode up a hill to our site which was tucked away and surrounded by trees, so we couldn't see anyone. But unfortunately we could hear everyone partying until late at night and because there was a seasonal camp site at the top of the road with campers and seasonal' houses, there were cars and golf cars running up and down the road right next to our camp site until wee hours of the night. It was hard to sleep, but at least the weather was nice and it only got in to the mid 50's at night. I don't recommend staying here unless you want to stay up all night and drink with the people that came here every weekend.