The warm weather continues. It was in the mid 60's today. Finally, my street bike and I got out for a ride. I had no idea my last ride on the Honda was two months ago. My first stop was going to be a gas station. I needed to put air in my back tire, it had about half the pressure it needed. My air compressor for some reason stopped working so I rode down the street looking for an air hose. First gas station had no air, the second gas station - the air hose was out of service.
At this rate by the time I found some air my tires would be warm. I didn't know of any more gas stations in the area so I turned around and headed toward the house, there were a few gas station in the other direction.
Then I passed by this coffee house that I've passed by so many times. There were bikes parked in front of it, as there usually are, so I decided to stop on in and see if anyone knew where I can find an air hose.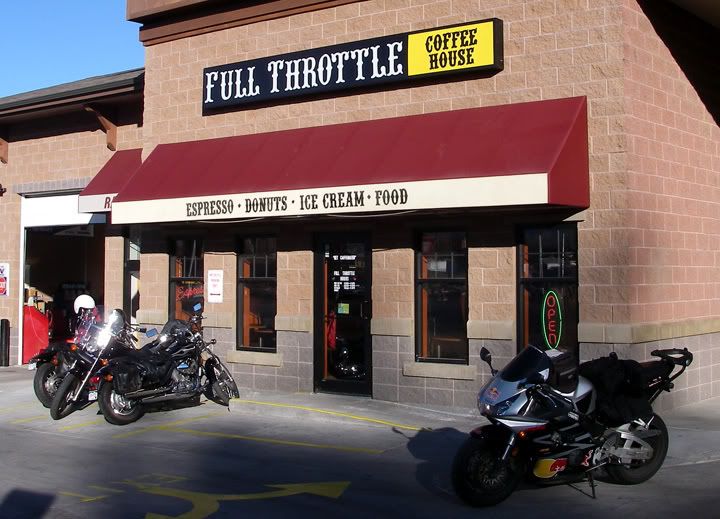 Full Throttle Coffee House in Fort Collins
Since I was at a coffee house, I had to check out their latte. I came in for coffee but also found air - the oil change place next door was going to let me use their air hose.
After a really good latte and some chit chatting with some local riders I rode my bike next door to get some air for my back tire. Then, I did the stupidest thing. The guy at the oil change place was saying something to me and I couldn't hear him over my engine noise. So I put the kickstand down which shut the engine off. Then I got off the bike and totally forgot that the ignition key was still turned and the headlight was still on.
Since the bike hadn't run in two months a few minutes is all it took to kill my battery. By the time I realized the headlight was on and turned the ignition key to the "off" position it was already too late. I had air my back tire now but I couldn't go anywhere with a dead battery.
All I can say is - this was probably the best place to have a dead motorcycle battery because even though all the bikes that were at the coffee house had already left, a few minutes later three more bikes pulled up.
Two of the guys push-started my bike. The battery must have not been very dead because the bike started on the second try. Finally with no further delay I took off for my ride.
Lake Loveland and the Rocky Mountains
Parked in front of the frozen Lake Loveland
A park by Lake Loveland
I headed south to Loveland. Loveland has a lovely lake, I pass by this lake on the way to Rocky Mountain National Park. Today I wanted to stop and check it out. As I headed west on 34 I took a turn on 56 toward Masonville. I remembered another road off of Stove Prairie that I have wanted to check out. This road was 25E, also called Glade Road. Heading back to Loveland now, I passed in the back of the Devils' Backbone Recreational Area. Then back on 34 I turned on to a random road that had a twisty sign posted and followed that to another road, arriving at a road which went to "Carter Lake". I've never been to Carter Lake but in my internet searches for twisty roads I often come up on a blog post about Carter Lake. Apparently road bicyclists like riding out to Carter Lake and the only reason I could think off why they would like the area is that possibly the road is twisty or steep.
31 going to Carter Lake
Unlike the twisty roads west of Fort Collins, there was no sand on these roads
Loveland, CO - a frozen Carter Lake in the distance
31 continues in to the hills
By the time I got to Carter Lake via 31 it was already getting late. The road was nice, gentle hills and curves. The road continued further but I decided to turn around and head home at this point arriving home just as it was getting dark. I rode 70 miles today and even though I brought my Gerbing electric jacket liner with me, it stayed in the tank bag the whole ride.
My route around Loveland