I've been reading about the Old Flowers Road on the net (also knows as CR 52E at the lower elevation and NF 152 at the higher elevation) located just west of Fort Collins. It's a road that is frequented by dual-sport riders. It's supposedly starts as a very easy dirt road, then climbs in elevation and turns steep and rough in some sections.
The beginning of Old Flowers Road and the end of pavement
With the temperatures today in the upper 50's I decided to head out and check out Old Flowers Road. I had no intentions of riding the whole thing, I couldn't do it even if I wanted to. At higher elevations the road was still covered in snow and ice and it might even be closed off with a gate.
A good spot for a lunch break
Heading in to the hills
That sign says the speed limit is 10MPH, in some spots the speed limit was posted at 25MPH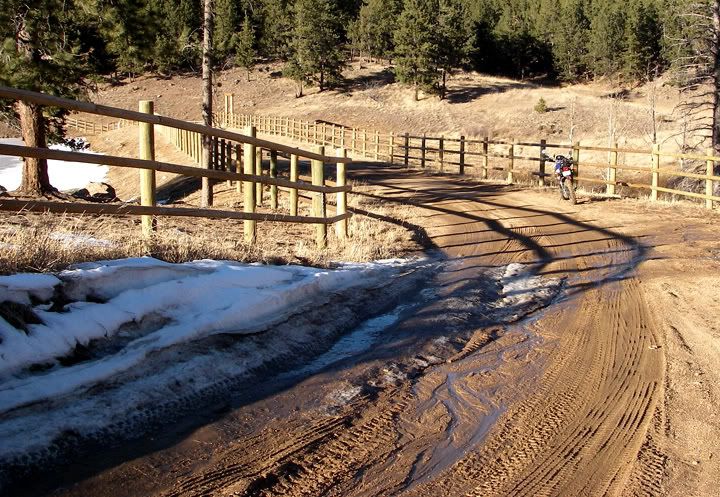 Some muddy parts

Getting more hilly and rocky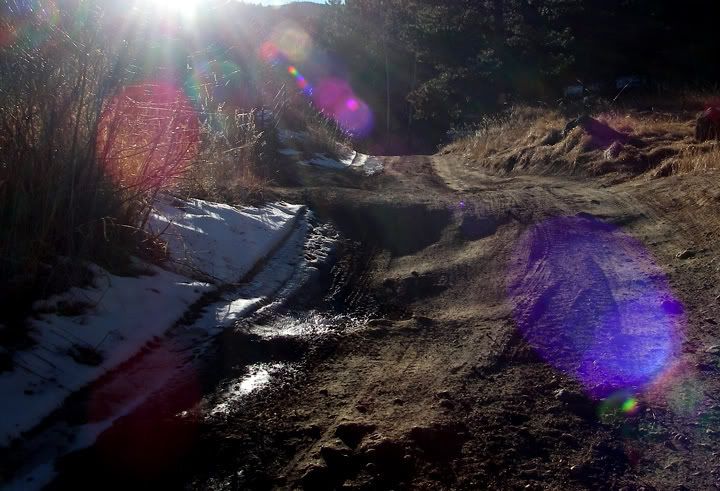 Getting rougher
Coming down a hill, a nice farm house in the distance

Heading back down Old Flowers Road, more nice views
Nice twisty section heading down
Near the beginning of Old Flowers Road , the flat section

The sun sliding behind the mountains
Looking at the hills where I just came from
The portion of Old Flowers Road I did today
When I arrived at Old Flowers Road I decided to stop and eat my sandwich that I brought for lunch. It was cooler up her so I had to put on the extra layers I brought with before I continued up Old Flowers Road. Within a few miles I started to notice snow in some places, and after a few more miles some snow, ice and water on the road, and some muddy and slick spots. The road was still climbing and the condition of it was deteriorating since the further I went the less traveled the road is. I actually only saw two cars on it and that was toward the beginning. Even though I only did about 20 miles, I enjoyed the road very much and I'll have to come back when it's warmer and the snow is all gone so I can ride all of it.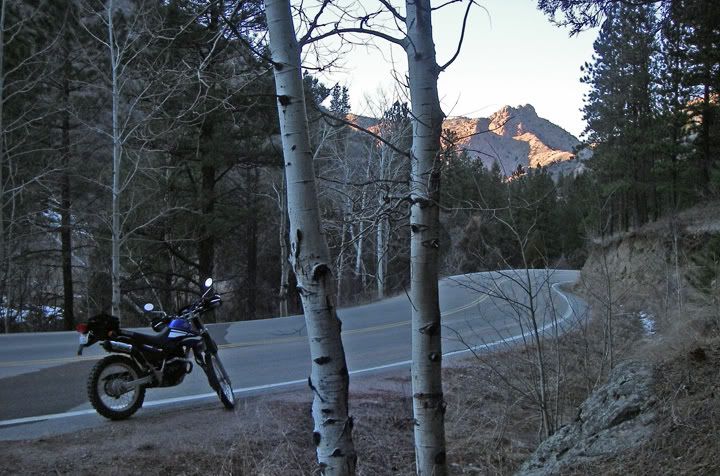 Back on the twisty Stove Prairie Road
Watching the sun set from the very wide dirt road called 27E
My whole loop today consisted of 80 miles. After Old Flowers Road I decided to continue north on Stove Prairie to Poudre Canyon. From 287 I took 54E to 27E, these roads are both unpaved and my new dual-sport route back to Fort Collins.
54E and 27E, my new dirt road detour

My whole 80 mile loop today