Today was warm enough for shorts, 75 degrees and sunny, but windy also. Too windy to ride the motorcycle, although I really wanted to take the 954RR for a spin. With wind gusts up to 30+ mph I decided to take my MTB out for another ride around town. The wind doesn't bother me on the bicycle riding in town as much as on the motorcycle riding in the open spaces and the foothills.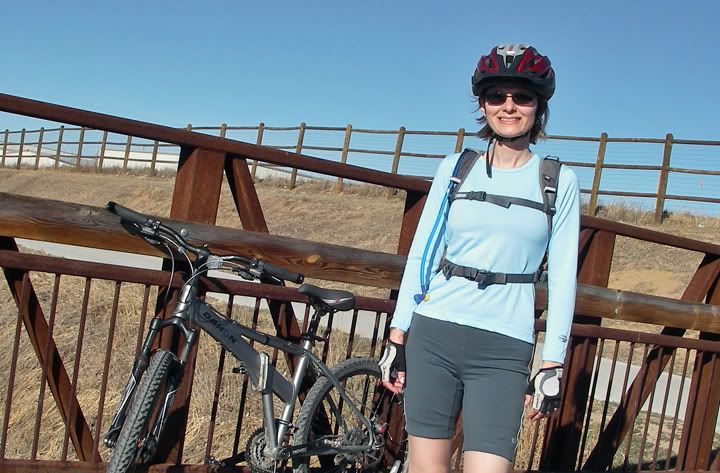 Enjoying the warm weather (I'm faking my smile here since I already know "what" has happened)
I made it about 3 miles from the house when I realized something was wrong. I just had this same sensation a few months ago so I was familiar with it. I got off the bike the check my suspicions.
Yep, my front tire was loosing air. Just a month ago, February 3rd to be exact, my bike became rideable again after
receiving a goathead puncture to the rear tire
in late December. I got my inner tube replaced with a puncture-resistant tube so naturally today I had another goathead stuck - this time in my front tire.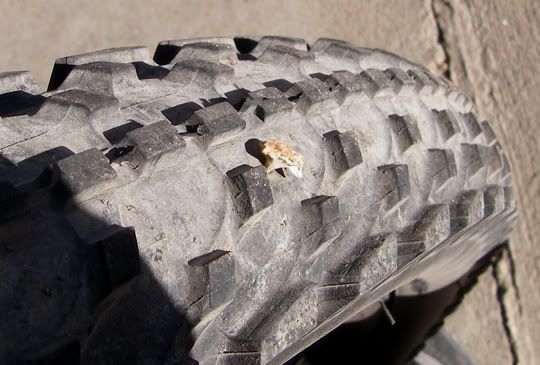 A goathed puncture in my front tire

I knew this would happen sooner or later but I was hoping for later. I still hadn't figured out if I should go with the slimed tubes or those plastic or kevlar insert that go in between the tire and the tube. Either way my plan was replace the front tube, since the tubes that came with my bike were too thin for this goathead infested terrain.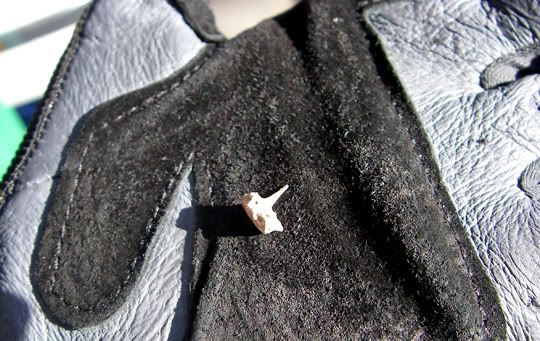 I pulled the nasty goathead out and watched my tire go flat
I didn't remove the goathead from my tire and made it home with some air still in the inner tube. Once I took the goathead out, the inner tube and tire went flat in minutes. It was nice to ride in the warm summer-like air , even if it was just for 6 miles or so.