I wanted to take my
new-to-me cross country skis
out for a spin today, and since Mike has never been on skis before, he wanted to go cross country skiing also. Mike went and rented a pair of skis, poles and boots from Jax in Fort Collins for $12, then we headed west on highway 14 towards Cameron Pass.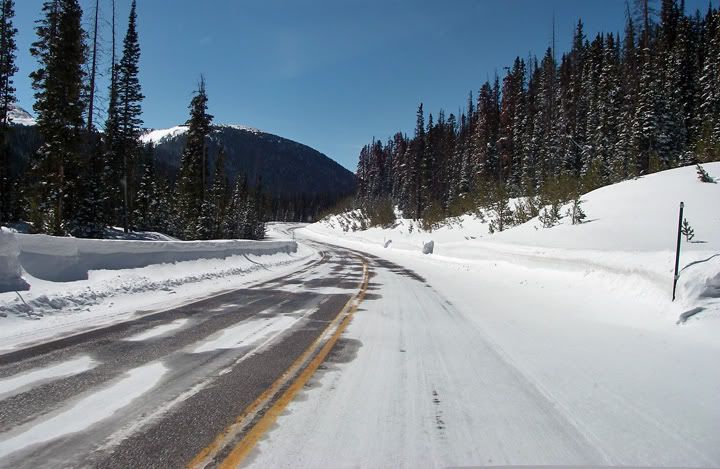 Highway 14 heading toward Cameron Pass
I had a trail in mind for us to ski. I wanted to skis the Cameron Connection trail first, which would take us to the Michigan Ditch trail. Both trails are supposedly easy. We arrived at the Zimmerman Lake Trailhead parking lot around 11:30AM. It was going to be a warm day today, but at this hour it was still in the mid 30's.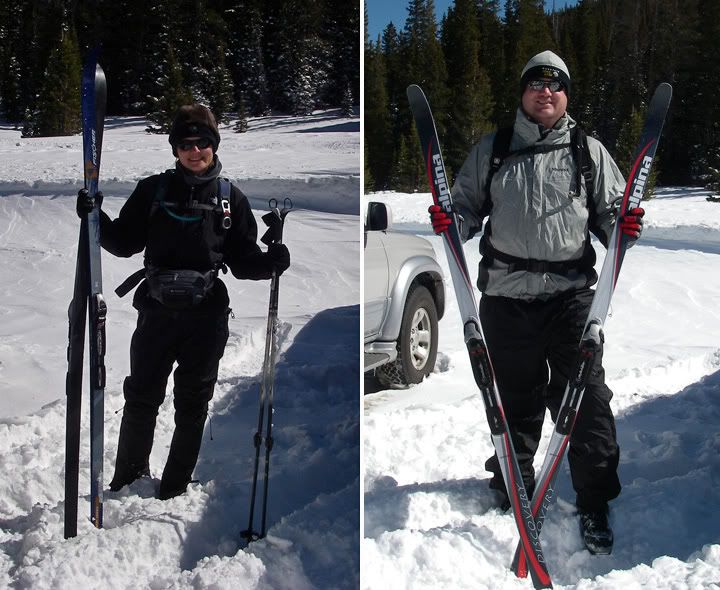 The mandatory poser pictures with skis
As we collected our gear the parking lot was filing up fast. With all the new snow that fell here yesterday, many people has the same idea but most of them were heading out to do the Zimmerman Lake trail or the Montgomery Pass trail.
We needed some help to get the 4Runner out of the parking lot, we really need a four-wheel-drive out here
We grabbed our skis and poles and crossed the roads to the Cameron Connection Trail. The snow was very deep here. We got our skis on and proceeded west but it was hard to make any forward progress. The snow was very deep and it didn't look like anyone had been here yet since the new snow had fallen. There were some small hills on this trail, not even hills - more like bumps the size of large steps, but for whatever reason we couldn't get over them with our skis. The skis were bending, if we tried to climb the hills sideways, we would just end up sliding backward sideways. We just weren't ready to ski trails like these, after a few falls be got our skis off and walked back to the Zimmerman Lake Trailhead parking lot.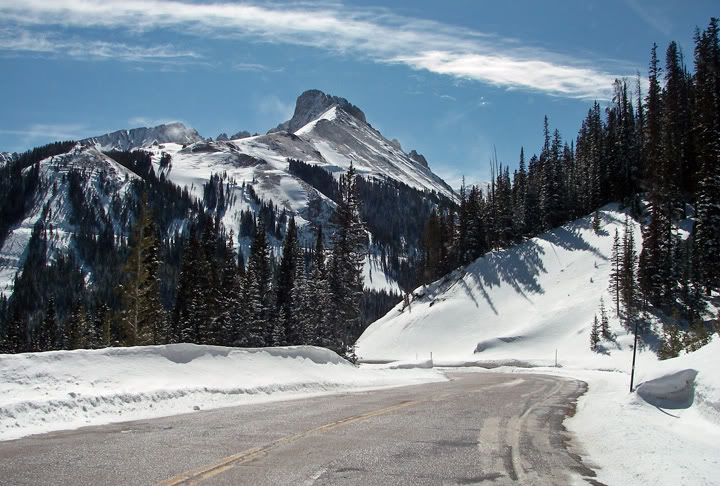 Amazing views from highway 14 of Cameron Pass
We needed a wide, groomed and mostly level trail and I knew exactly where we could go to ski one that wasn't too far away. I was just there yesterday snowshoeing. We would have to pay $6 to cross country ski at the
State Forest State Park
, but I was certain that the Gould Trail would be a perfect trail for us newbies.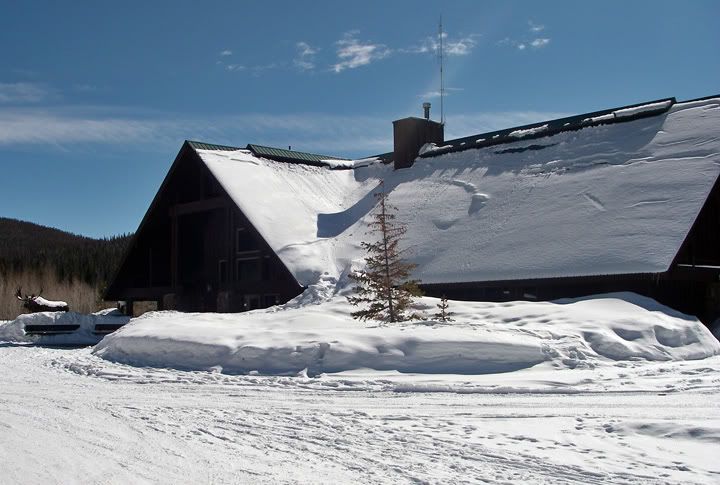 The Moose Visitor Center at the State Forest State Park
Unfortunately, with all the snow in the parking lot, the 4Runner was now stuck in the snow. The Toyota 4Runner is a very popular SUV around Colorado, but unlike all the other 4Runners around here that are four-wheel-drive, Mike's truck is rear-wheel-drive since he didn't need a four-wheel-drive vehicle when he was living in Louisiana. With a little push we were on our way to the State Forest State Park just on the other side of Cameron Pass.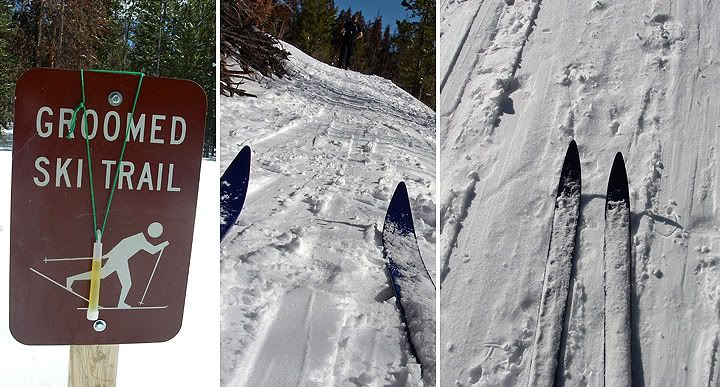 A groomed ski trail is exactly what we needed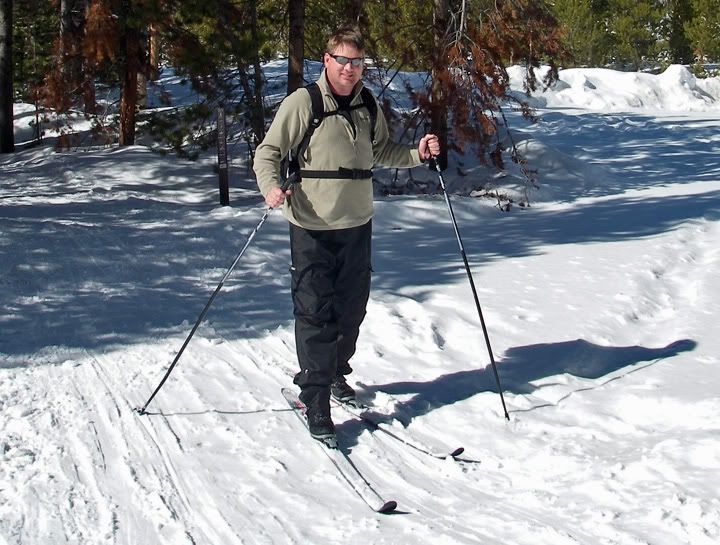 Mike - first time on skis
I'm look like a pro now, having skied two whole times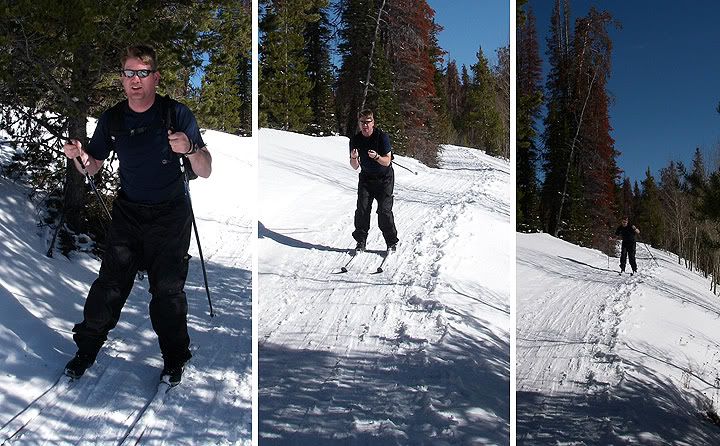 Mike in action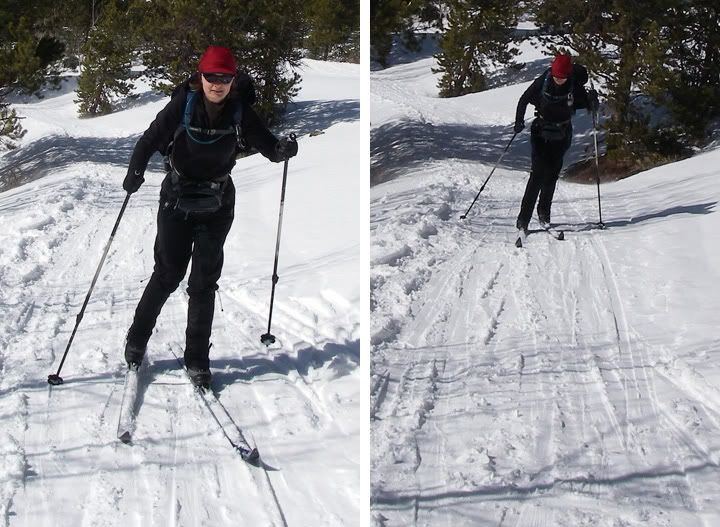 I'm really moving on those things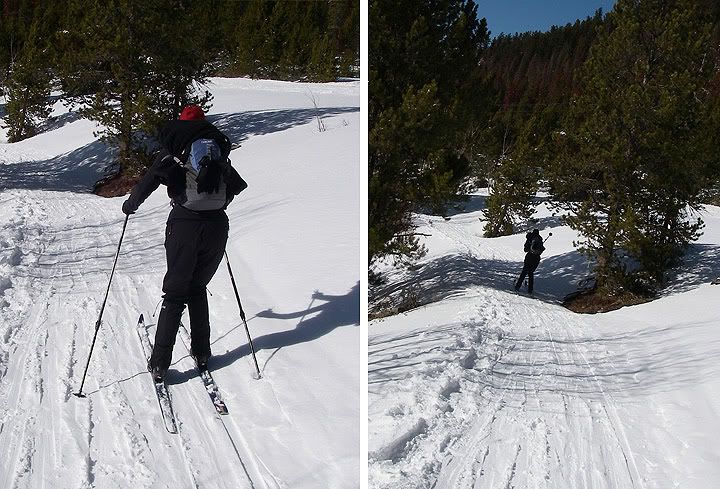 Going downhill is so much fun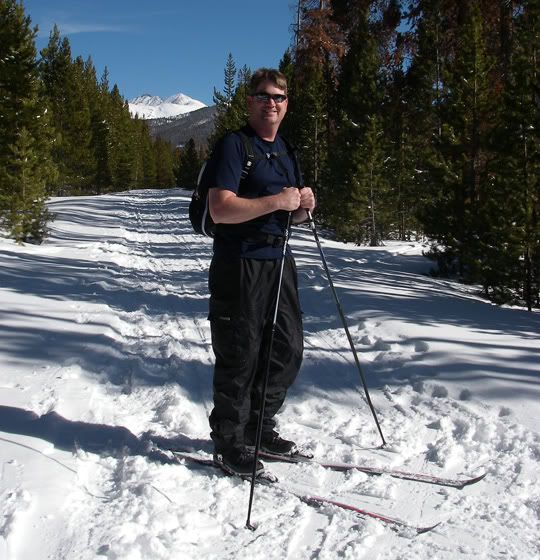 Cross country skiing and getting a tan - that's Colorado
There was only one other car in the lot at the State Forest State Park. We basically had the Gould Trail all to ourselves. The groomed trail was awesome to cross country ski and we were having a blast. The temperature was now in the 50's, which felt like 67 degrees with the warm sun.
Notice the snow in the parking lot has all melted now (there was lots of snow in the parking lot when I shot a picture of the Moose Visitor Center a few hours earlier) the sun is very warm here, the snow melts very fast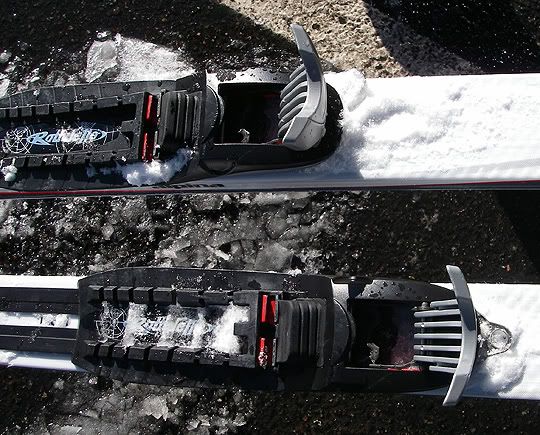 I tried the Alpina skis that Mike rented, they had metal edges, they were much faster then my skis, shorter and wider too, but I didn't not like these Rottefella bindings - no button like on mine which you can press with your ski pole to release the boot from the ski - on this binding there was this grey locking mechanism that you needed to open and close using your hands
I have to say that I was much faster and better on the skis today, then the first time two weeks ago. Also, this trail being wide and groomed, with no obstacles to watch out for, gave me a lot of confidence. We didn't ski the whole Gould Loop which is 6.5 miles long. We skied out about 1.5 - 2 miles and turned around. We probably ended up skiing about 3 - 4 miles today.
Mountain sheep along highway 14, I've never seen them out here, usually they hang out near Estes Park
Now that I've snowshoed and cross country skied the Gould Trail, I have to say that skiing it is more fun because it is such a wide trail and there isn't much of an incline, it's prefect for cross country skiing. And I'm sure I get through the 6.5 mile loop faster on skies then on the snowshoes